This Idaho State Park Is the Right Way to Be Outside
Reach new heights at Idaho's rock-climbing mecca.
Idaho's Castle Rocks State Park is a paradise for climbers, hikers, and more.

| Castle Rocks State Park
Idaho's Castle Rocks State Park is a paradise for climbers, hikers, and more.

| Castle Rocks State Park
Fasten your seatbelt and adjust your mirrors—this is Rerouting, your one-stop-shop for mapping out the ultimate summer road trip, no matter what gets your engine going. Cruise over to the rest of our coverage for pit stops at offbeat roadside attractions, sweeping desert panoramas, epic mountaintop vistas, oceanfront oyster bars, dynamic public art, and so much more.
Armed with sweeping views, dramatic cliffs, and ancient rock formations dating back millions of years, Idaho's Castle Rocks State Park is basically the platonic ideal of a picture-perfect natural escape. Hundreds of groomed and rugged trails criss-cross the 1,692-acre expanse, broken up by campsites and yurts set aglow with bonfires, anglers taking advantage of the crystal clear waters, and relics of indigenous pictographs. The state's biggest pinyon pine forest provides ample shade beneath the towering Smoky Mountain, which stands tall at 7,500 feet.
According to Idaho's Department of Parks and Recreation, people have been flocking to the area to explore, live off the land, or simply admire the views for 9,000 years. 9,000 years! If it ain't broke, right?
Find your groove
"When the mountain iris is blooming out in the pasture, it's a sea of blue," say park superintendent Wallace Keck. "Then another plant will dominate, like yellow pea, and it'll be a field of yellow."
Castle Rocks is beloved for a number of things—wildflowers, birdwatching, hiking, a fishing pond stocked with trout, even an archery range—but the most popular among them is definitely rock-climbing. Beginner-friendly routes abound, while the more technically skilled can wander a mile or two over to City of Rocks National Reserve—one of the premiere climbing destinations in the US and home to hundreds of climbing routes. Also, replicas of historic covered wagons—the famed California Trail, where 19th century emigrants passed through in pursuit of gold, cuts right through the park.
Take in the sights
"The park is here to give people a place to breathe, exercise, and stay safe," Keck says. "Everything folks want to go out in nature for right now is here."
Everything and more, it seems. Castle Rocks State Parks shares a ranger station with City of Rocks National Reserve, acting as a one-two punch for avid climbers and admirers alike. And speaking of admiring, the parks are also a hub for birds, attracting upwards of 175 different species throughout the year and making it one of the most coveted birdwatching vantage points in Idaho.
Curious about the climbing life? Dip your toes in the water—er, toeholds—by booking a session with one of the park's professional climbing rangers. They'll suit you up and lead you on an immersive excursion into the park, providing plenty of pointers, safety tips, and geological information along the way.
Curl up under the stars
After all that excitement, you're probably ready to hit the sack. And you can now do just that in style by reserving a night or two at Castle Rock State Park's new Willow Glamping Yurt. The luxe—okay, relatively luxe, there's no ensuite bathroom here—accommodations include a king-sized bed and separate futon, heaters for breezy evenings, kitchen supplies, a private fire ring, and a propane grill to satisfy all your creature comfort needs.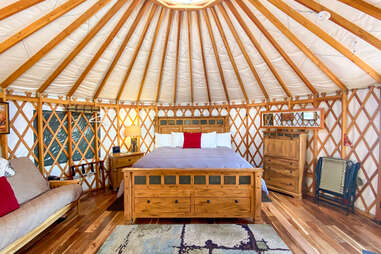 Imagine sipping your morning coffee in the shadow of Cache Peak, the state's tallest mountain below the Snake River, while watching dare devil climbers test themselves thousands of feet off the ground and listening to the songbirds do their thing. It's a little pricier than your average tent situation—reservations run $150 per night for Idaho residents ($155 for non-residents)—but hell, you're worth it.