This Idaho State Park Is the Right Way to Be Outside
Note: We know COVID-19 is impacting travel plans right now. For a little inspiration, we'll continue to share stories from our favorite places around the world so you can keep daydreaming about your next adventure.
Many of our nation's most popular national parks are closing for a while, but this simply invites us to explore the slightly lesser-known national parks as well as our state parks, so long as we don't have to travel very far to do so and remain at least six feet away from others at all times. Fortunately, these conditions are the making of a good state park visit anyway.
One such destination that caught our eye this week is Castle Rocks State Park, in Idaho's Albion Mountains. Castle Rocks has a brief but brilliant wildflower season, and that season is now.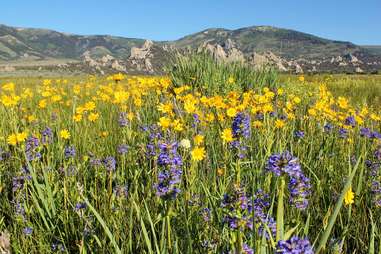 "When the mountain iris is blooming out in the pasture, it's a sea of blue," said park manager Wallace Keck. "Then another plant will dominate, like yellow pea, and it'll be a field of yellow."
Castle Rocks is beloved for a number of things -- wildflowers, birdwatching, hiking of course, a fishing pond stocked with trout, even an archery range -- but the most popular among them is definitely the rock-climbing. Beginner-friendly routes abound, and the more technically skilled among you can wander a mile or two over to City of Rocks National Reserve -- one of the premiere climbing destinations in the US, where you'll find hundreds of climbing routes. Also, replicas of historic covered wagons; you're walking where settlers once did on their push to find gold in California.
"I can't tell if we're on the front end or tail end of spring break, but we were very busy (last weekend) weekend," Keck said. "The campground (was) about 40% full. So it's normal operations mostly." Visitor centers at all Idaho state parks are currently closed, but the parks themselves remain open. Castle Rocks has also temporarily closed some accommodations -- The Lodge, The Bunkhouse, the Willow Glamping Yurt, and its Smoky Mountain Campground. But the park is open for day recreation, including at its Geological Area and the climbing areas. There's a $5 entrance fee for motor vehicles. Keck doesn't anticipate the park will close.
"Keep following the CDC regulations about distancing, but otherwise the park is here to give people a place to breathe, exercise, and stay safe," Keck said. "Everything folks want to go out in nature for right now is here. Thank goodness it's spring."