How to Conquer Cedar Point, the Midwest's Roller Coaster Capital
For people who grew up in the Midwest, Cedar Point basically ruined all other amusement parks for them for life. Imagine going to an amusement park every summer since you were a kid, where the primary focus of the park was to thrust as many full-throttle thrill rides in front of your face as possible, and then, as an adult, going to, say, the Magic Kingdom, where Space Mountain is as scary as it gets (unless you consider the creepy dated animatronics scary, which they absolutely are).
This coaster-centric amusement park is located along the shore of Lake Erie on a peninsula in Sandusky, Ohio, about an hour west of Cleveland. And even though this place is DEFINITELY a magnet for coaster-maniacs, non-coaster-heads will find plenty to enjoy, too. There are more than 70 rides throughout the park, some gentler/less spinny than others; as well as three large themed areas just for kids; the newly-revamped and newly-experiential Forbidden Frontier on Adventure Island (formerly Frontier Town); and loads of surprisingly decent family-friendly live entertainment. The park is also located on a mile-long beach, and if you stay at the Hotel Breakers (one of the park's five on-site properties), you'll have easy access to the park, the beach, AND the adjoining waterpark. Oh, did we not mention that? Yeah, there is a huge waterpark at Cedar Point, too.
The season might be drawing to a close soon, but October might be the best time to visit this oasis of amusement (more on that below!). And while planning a trip to Cedar Point is not nearly as daunting as planning one to Disney World, it's always helpful to have a few pro tips, especially if you're a newbie. Behold: how to have an epic weekend (or day of playing hooky from work) in Cedar Point.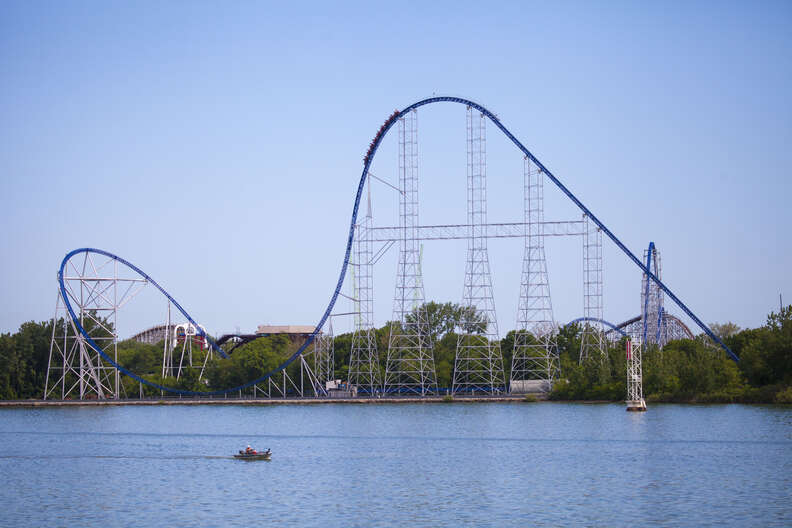 The essential rides at Cedar Point
Cedar Point calls itself the "Roller Coaster Capital of the World," but the title (and registered trademark!) isn't just clever marketing. It boasts a truly whopping 18 different coasters, and while a few are fit for the kiddies, most cater to the most discriminating of thrill-seekers.
Many of these coasters register as mega-, hyper-, and gigacoasters (meaning some variation of really tall, really fast, and really steep), and many of them have broken a collective sh*t-ton of world records. The Magnum XL-200, Raptor, Millennium Force, Mantis (now the vastly improved Rougarou), Top Thrill Dragster, GateKeeper, and Valvran all broke previous world records when they opened -- in fact, Cedar Point has been smashing world records pretty continuously since 1978 (starting with, of all things, the Gemini, which just seems so quaint and folksy now).
Also, with the addition of the wood-and-steel hyper-hybrid Steel Vengeance in 2018, Cedar Point has the most roller coaster track in the world at 11.4 miles, and it's also the only amusement park in the world with SIX (!) roller coasters taller than 200 feet. That one also picked up a slew of world records, including tallest hybrid, fastest hybrid, longest hybrid, steepest and longest drops on a hybrid, and a bunch more. And in addition to smashing records, the park has also won a stupid number of awards for the best of everything ever re: amusement parks and roller coasters.
Ironically, the best coaster in the park didn't break a single world record -- the twisty, turny, stomach-dropping Maverick, which packs a major punch without the need for going bigger, better, faster, or stronger. There is some spirited debate on the Interwebs regarding whether the Steel Vengeance or Maverick is better, but we're sticking with our first pick.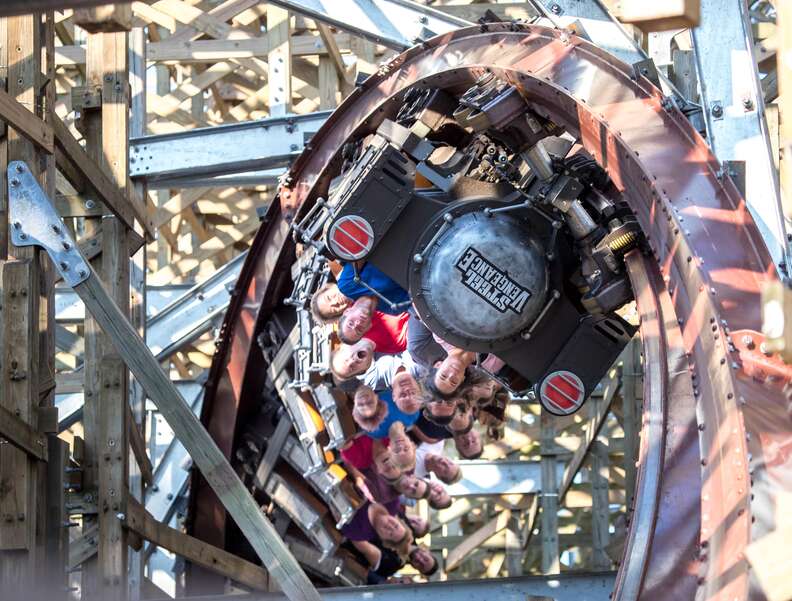 The thrill-seeker musts: Maverick, Steel Vengeance, Valvran, Top Thrill Dragster*
Top Thrill Dragster* is the most imposing of all the coasters in the park -- a very narrow U-shaped single-hill track that goes straight up into the air and straight back down again… and that's it. With its hydraulic launch system, it shoots riders off the platform from 0-120 mph in four seconds up a 420-foot hill with a 90-degree free-fall and its all over in 30 seconds, which means the stomach you left floating in mid-air at the launch will still be floating in mid-air awaiting your return. (Note: Up to 120 mph, depending on the weather, and sometimes it can't get enough speed to get the cars up the hill, which means riders get to fall backwards back down to the launch platform and do it all over again. Fun!)
Steel Vengeance is everything the Mean Streak was back in the '90s when it first opened and was super exciting before the wood started to warp and the ride became more of a punishment than a thrill. As noted above, it stockpiled a bunch of records, yadda yadda, and it is QUITE the coaster -- with almost 30 seconds of airtime, it's got the most sky of any coaster in the world, plus four inversions and a 90-degree drop from 200 feet. The Mean Streak certainly had its day, but the Steel Vengeance coaster's time is now.
Valvran is kind of a greatest-hits of thrill rides: there's the floorless cars (like the Raptor), the dangle before the "free-fall" (like the Power Tower or Demon Drop if you're old AF), and the 90-degree drop (see above). It's a short-and-sweet dive coaster that packs maximum punch for thrill-seekers.
But ah, the Maverick. The Maverick is just the best, which just goes to show that bigger, taller, steeper, and faster isn't always better. The Maverick is just plain FUN. This is the coaster enthusiast's coaster: There's nothing that's going to make you soil yourself (there is *one* portion with a hydraulic launch, but it's not terrible); it's smooth as silk; it twists and turns and climbs and drops and is just HELLA fun. There's a reason that more than a decade and a slew of record-breaking coasters later, this one still always has an hour-plus wait time.
*I've sworn this one off as just simply too intense for my tastes, but you do you. Just know that if there is any wind whatsoever, this ride will shut down, which should scare you off from ever wanting to ride it in the first place but again, you do you.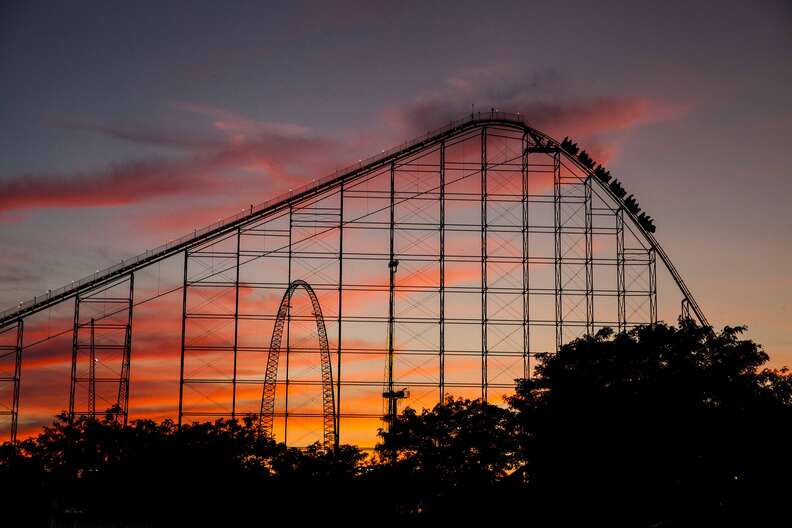 The thrill-seeker classics: Millennium Force, Magnum XL-200, Raptor
Back in the day (1989), the Magnum XL-200 was AWESOME. And it's still pretty damn cool. At 205 feet, it's still a very tall coaster in a world full of very tall coasters and the ride is still pretty smooth…-ish. Maybe not so much compared to everything built post-2000 but it's not bad. The (slow) climb up the first hill has always been my favorite part, with excellent views of the water park and Lake Erie.
The Raptor has six inversions -- another record-breaker at the time -- and is another floorless-car coaster where riders' legs dangle freely. It's still a great ride with a mix of zero-G and G-force sensations in its corkscrews and loops, and it introduced the world's first cobra roll on a coaster.
Opened in 2000 to celebrate the new millennium, the Millennium Force is still the best of the modern classics. The first full-circuit coaster to top 300 feet (the first hill on this is 310', and the second still a whopping 182'), Millennium Force is a towering giant, and the full ride from start to finish is outstanding. And if you can focus your attention on something other than the wicked G-forces on this thing, the views of Lake Erie and the whole rest of the park for the duration of this ride are the best in Cedar Point.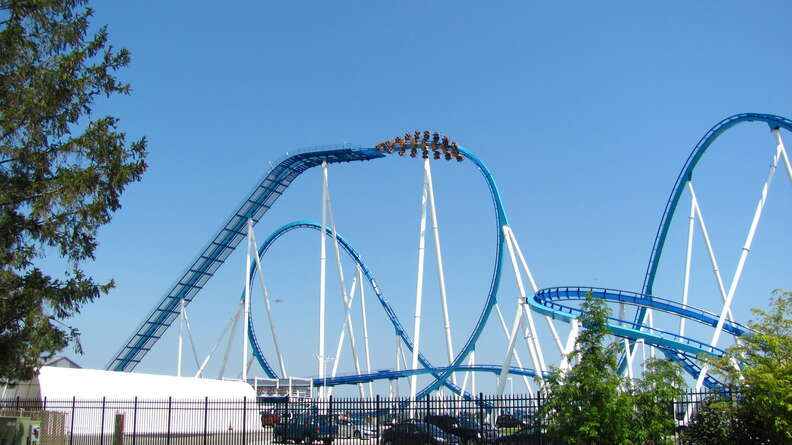 The just-plain-fun ones: GateKeeper, Rougarou, Wicked Twister
"Why don't we just put a coaster right over the front gates?" asked some genius Cedar Point executive at some point, probably, and so the GateKeeper was born. This is a "winged" coaster, so the cars are spread out to the right and left like "wings," and it broke a bunch of winged-coaster records when it opened. It also had the highest inversion in the world at opening. As far as high speeds, whiplash banks, and vertical drops, GateKeeper has naught, but it does have two "keyhole elements" which will keep your heart thumping just as hard.
Wicked Twister is classified as a coaster, but I'd say that's debatable. The track goes back and forth in a U shape, twisting straight up into the air 450 degrees up to 215 feet, falling back down, zooming over to the other side to twist straight back up into the air again, and so on several times (so all riders ride both backwards and forwards on this one). It's also the tallest and fastest (a combo title, as it is neither singularly one or the other) inverted coaster in the world.
Rougarou is amazing and finally shows everything the Mantis could have been had the ride experience not been so damn miserable -- the formerly stand-up coaster was an exercise in neck muscle strength as riders' heads were ping-ponged in the harness for the whole ride (and apparently men had some unique troubles beyond the skull-smashing). Now it's a sit-down floorless coaster on the exact same track and it is FUNNNNNNNN. Damn shame it took them almost 20 years to make that switch, though.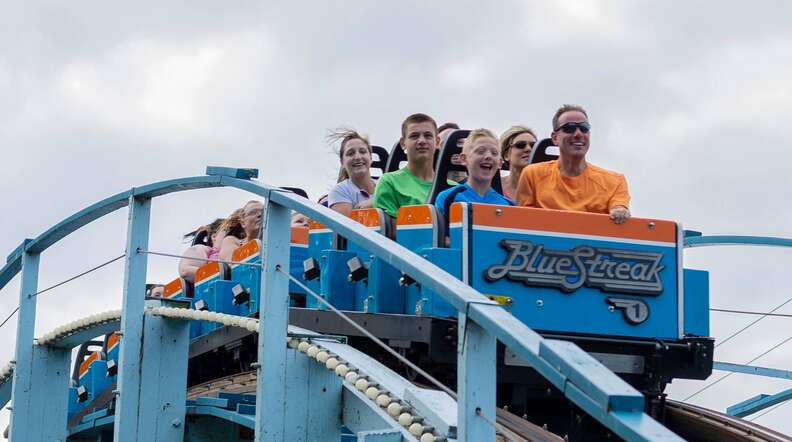 The best old-school classics you could take your mom on: Blue Streak, Gemini, Corkscrew, Iron Dragon
Sometimes old rides just need to go, like the Mean Streak, and sometimes old rides just need to last forever if for no other reason than nostalgia's sake. The Blue Streak is the oldest coaster in the park, opened in 1964, and is my favorite "time to take a break" coaster. It's relaxing with its up-and-down, up-and-down format located way on the edge of the park. Same goes for the Iron Dragon, a fun little dangling swing through a faux lagoon. The Corkscrew is one of the most visually iconic rides in the Point, with its namesake corkscrews suspended directly over the midway, though it hasn't exactly aged well in terms of ride enjoyability. And may all children who grow up in the Midwest forever know the joys of "racing" their side-by-side blue and red cars on the Gemini.
Non-coaster thrill rides that don't suck: Power Tower, SkyHawk, maXair
None of these are coasters, but all of them are designed to test your equilibrium and proneness to motion sickness. The Power Tower will shoot you up or drop you down up to 250 feet; Skyhawk is an extreme swing ride that takes riders up to 125 in the air (at which point they are staring straight up into the sky or down at the ground); and maXair is a giant Frisbee that spins you 140 feet in the air.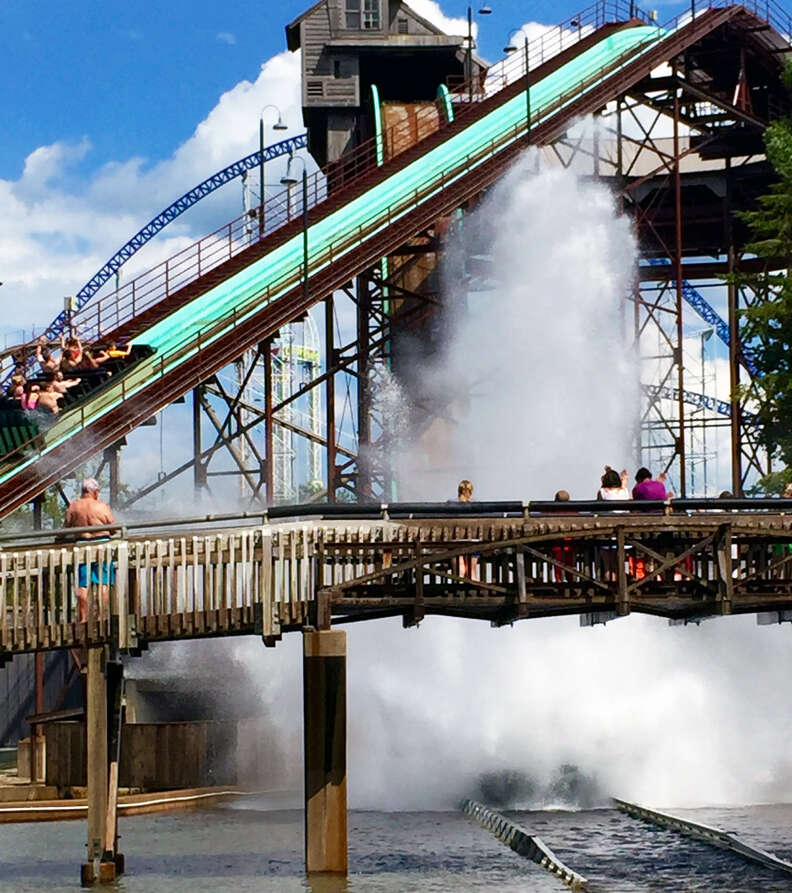 Water rides for when it's too damn hot: Snake River Falls, Thunder Canyon
Thunder Canyon is the classic water ride where riders sit in a giant inner tube and float along a lazy river with plenty of waterfall features that will get you absolutely soaked. No one likes to go on this ride until it's 90 degrees with a thousand percent humidity, at which point it becomes the most popular ride in the park.
Snake River Falls is a shoot-the-chutes water ride and opened as the tallest, fastest, and steepest water ride in the world. It is coaster-like, with an 82-foot hill and a 50-degree drop, and is a good way to cool off in the sweltering summer heat.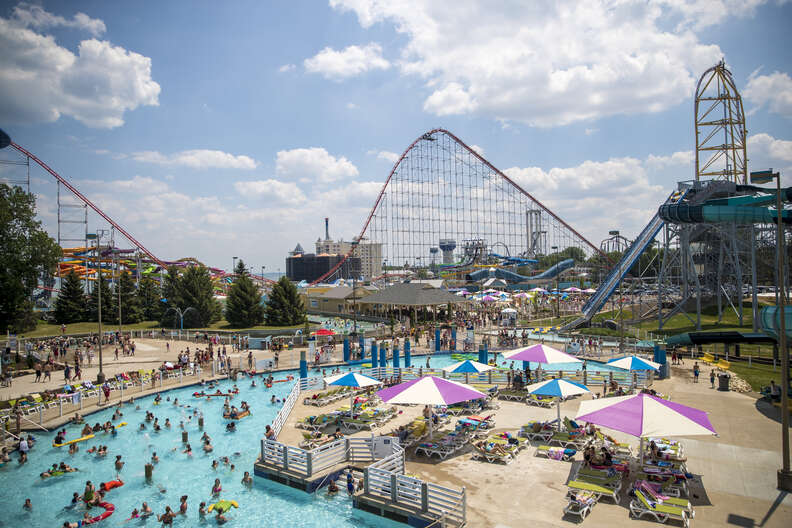 How to make the most of your time in the park
The best defense is a good offense, or something, and by that I mean your first and best bet to avoid crowds is to go sometime other than the weekend. As any born-and-raised Ohioan or Michigander will tell you, a mid-weekday in May is optimal. A Saturday in July is sub-optimal.
But, we gotta make do with what we got and as adults, what we got tends to be not a whole lot of expendable vacation time, so if you must go on a weekend in the middle of summer, heed this advice: spend the extra money on the Fast Lane Plus pass, which gets you expedited access to ALL the in-demand rides that would otherwise suck away hours of your life waiting in line. The price of the Fast Lane Plus add-on does NOT include regular park admission, so you still have to buy that ($49.99 online), and the price is also variable by day and demand—so, while it starts at $85, it can get up to $155 for a Saturday in July. Still totally worth it, and still less than the cost of a customized light saber in the new Star Wars: Galaxy's Edge.
Where to stay while visiting Cedar Point
Staying in the park comes at a slight premium, but you're also paying for convenience and proximity -- as well as early entry into the park and free parking which, IMO, is worth the extra $50-or-so per night.
Hotel Breakers is the classic resort right on the beach and a VERY short walk to the park entrance. They're got pools, chain restaurants, a Starbucks…really everything you could reasonably need for you weekend warrior stay. There's also Lighthouse Point, with cottages, cabins, and RV parking; the Cedar Point Express Hotel, a bare-bones property that's a short drive away and basically just a room to sleep in; Castaway Bay, an indoor waterpark resort; and the Cedar Point Marina, where you can BYO boat and dock for the night.
Off-site there are other themed resorts with even MORE activities for kids, like the Kalahari Resort and Great Wolf Lodge, but really, these places are for high-energy children and their very tired parents. Other options, like the Comfort Inn Sandusky, are cheap and fine. And really, for the most part, you're not going to do much better than "cheap and fine" in these parts, with the exception of the industrial-chic boutique Hotel Kilbourne, which is comparable in price to the area's chain hotels full of families but offers a wholly different (and much more stylish, civilized, and child-free) experience.
Everything you need to eat, from gourmet grilled cheese to famous hot dogs
Like any other amusement park, concessions abound at Cedar Point with plenty of options for pizza, burgers, cheese on a stick, chicken tenders, and giant soft pretzels throughout the park. But there are also a couple of bright spots that foodies (or influencers or whatever they're called these days) can get behind, like Cleveland's Melt Bar and Grilled and Pink's Hot Dogs straight outta L.A.
Also, unlike the long-time teetotalers at Disney, the folks at Cedar Point understand that sometimes mommies and daddies need a beer (also non-mommies and daddies who've had to listen to other people's screeching whelps all day), and that's why park guests can also find reprieve indoors in the A/C with a cold one in hand at the Last Chance Saloon, which also has a solid food menu with pulled pork sandwiches and specialty nachos.
Outside the park there are a whooooooole lot of chain restaurants, but there are also a few bright spots. J Bistro in charming downtown Sandusky serves classic American fare and cocktails and also has live music. Dockside Café serves fish tacos with a great view of the bay from their open-air patio. Barra serves modern Mexican cuisine and craft cocktails in a stylish space. And if you're looking to just grab a pint and maybe catch the sunset, there's no better spot than the rooftop patio at Moseley's Public House inside the Hotel Kilbourne.
Why you should visit Cedar Point in the fall
HalloWeekends. Seriously. Don't miss it. This is one of the best amusement parks for Halloween theming in the country. At other amusement parks (*cough* Universal Studios *cough*), where you would think the whole place would be overflowing with fog and creepy costumed characters (particularly those from their own stable of Halloween-themed franchises, *cough* Universal Studios *cough*), the décor and dedicated "Halloween-ified" spaces are underwhelming, and the haunted attractions, with their agonizingly long lines and astronomical extra expense, don't really feel like enough. For those of you who feel the most alive when the dead roam freely, Cedar Point's HalloWeekends is a delightful, frightful treat, and the haunted houses are included with your regular admission price.