Nothing against the classic summer vacay, but September is far and away the best month to take a beach trip. If you're a kid, or the parent of a kid, your fun-in-the-sun window effectively ends on Labor Day. For that we sympathize. But the weather has not yet caught up with the calendar, even as coastal towns around the country transition into the off-season. You're basically paying winter prices for summer temperatures, so if you've got the means to make one last-ditch getaway, this is your moment to soak up the last of those precious rays. 
For guidance on which beach towns will be cheapest in September -- post-Labor Day weekend, that is -- we asked the folks over at Orbitz to run us some numbers. They compared the average daily hotel rates this September to what they were in August and found which beaches are seeing the biggest price drops. Then we cross-referenced the best deals with the coolest beach towns in America, with attractions and amenities that are best enjoyed with far fewer people around. So spread out, take all the sand you need. 
Recommended Video
Please Don't Hang Up: The Best Things to See, Eat, and Do in Seattle, WA
Oceanside, California
Average September Rate: $100 (down 40%)
Unpretentious, unfussy, chilled-out Oceanside is a classic surf destination and fishing town during the summer months, but an even better catch come September. Cool local events this month include the annual Labor Day Pier Swim, culinary tours, a new queer variety show on the beach, and the annual weekend-long Oceanside Harbor Days celebration: two days of local foods and handicrafts and every conceivable beach activity under the sun. There's even a pirate village for the kids.
Take advantage, too, of the weekly Sunset Market that fills four blocks of downtown with food and live music every Thursday. This is Southern California, where the weather stays blissful basically year round, so indulge in endless summer with all the sunshine, fish tacos, and craft beer you can handle.
MORE: The only San Diego travel guide you could ever need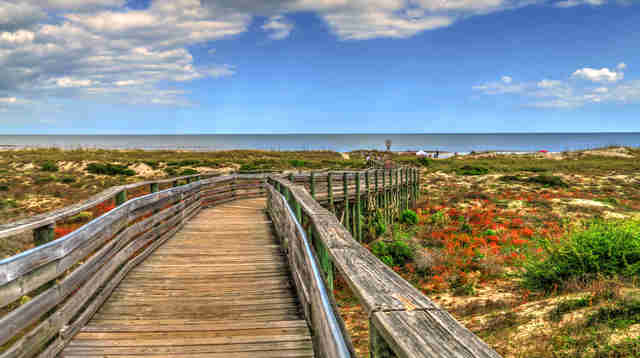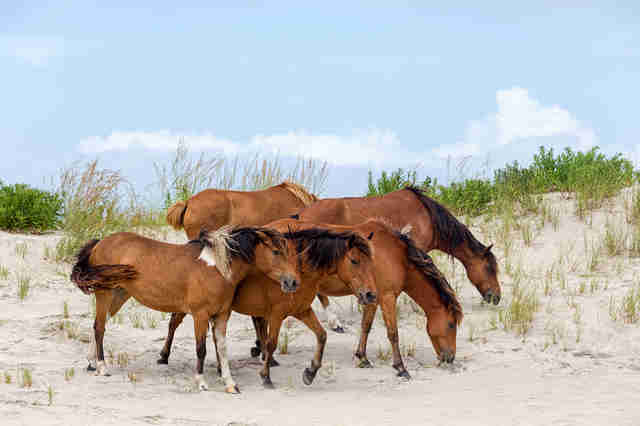 Chincoteague, Virginia
Average September Rate: $118 (down 40%)
I was a Horse Girl growing up. I am not proud of this, exactly, but nor am I ashamed. Anyway, in order to remain a Hose Girl in good standing, you have to read the Misty of Chincoteague series at least once per summer through your formative years, and this is how I and a great many others first learned of Virginia's Chincoteague and Assateague islands.
Famous for Assateague's "flocks" of swimming ponies that draw massive crowds in the summertime, nearby Chincoteague is a perfect September destination for a classic, no-fuss beach getaway where you can still catch a good wine and beer festival if you so choose. Stroll through the farmer's and flea markets in town and along the docks, and make a day trip to Assateague's northern beach -- where you can happily partake in some legal beach drinking.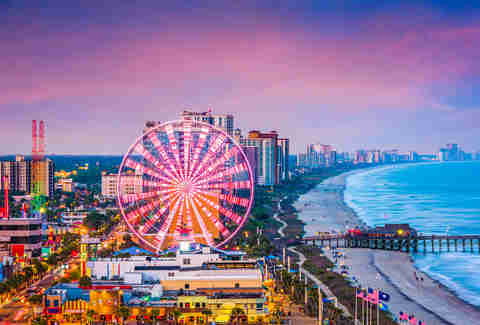 Myrtle Beach, South Carolina
Average September Rate: $126 (down 30%)
Were you hoping Myrtle Beach would pop up on the cheaper-in-September list? Us too. One of America's perennial favorite beach towns, Myrtle Beach not only enjoys flawless weather and steeply discounted hotel rates in September, but hosts cherished annual events like a week-long Mustang Show (the classic car, not more swimming ponies), and a hoe-down harvest festival. There are ropes courses, golf courses, crafts festivals, sculpture gardens to stroll through, clubs like Fat Harold's where you can learn the shag (the official South Carolina state dance), that gorgeous mile-long boardwalk, and of course the beaches themselves -- free of summer tourists, the water not one bit colder than it was in August. Nearby Hilton Head Island and North Myrtle Beach are looking at 20% drops in their September daily rates, too.
MORE: Things to do in Myrtle Beach that aren't total tourist traps
Provincetown, Massachussettes
Average September Rate: $189 (down 40%)
Crown jewel of Cape Cod and a go-to LGBTQ destination, the historical haven of Provincetown looks real good in September. We've got schooler regattas. We've got Gay Pilots Week. We've got book festivals and a Tennessee Williams festival and the one-of-a-kind performance art festival, Afterglow. Now that the crowds from August's week-long Carnival dispersed, September is your chance to wander the nostalgia-evoking, classic New England streets of P-town at your leisure -- the fishing boats, the lobster shacks, the seaside pubs. Don't leave without a visit to Herring Cove, one of the best beaches in Cape Cod.
Traverse City, Michigan
Average September Rate: $178 (down 30%)
Traverse City is one of our favorite beach towns in Michigan, and one of the most affordable to visit this September. West Bay Beach is your first stop for swimming in Lake Michigan, and maybe for some pickup beach volleyball. Downtown TC, right by the water, has more than a dozen excellent breweries (7 Monks Taproom is a slam dunk if you're not sure where to go). On September 6, TC gets a makeover -- art installations, live music, food, the works -- for the annual Downtown Art Walk. And if you've an extra $40 and will be visiting September 7-8, the Harvest Stompede lets you sample the goods from more than two dozen participating wineries (your wine comes with snacks, don't worry).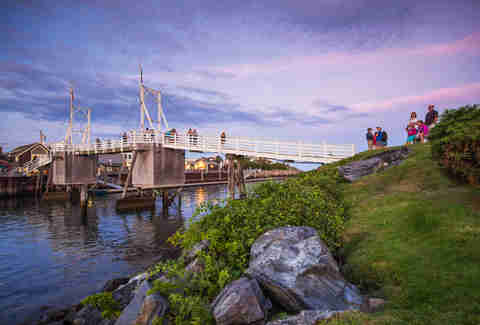 Ogunquit, Maine
Average September Rate: $174 (down 30%)
Unlike the vast majority of Maine's rocky coastline, Ogunquit Beach is actually swimmable with warm tides, and blanketed in the sort of soft white sand that will make you want to never put on shoes again. Another of America's long-time beach town favs, Ogunquit in September is your chance to have all that to yourself. You could park yourself on the beach the entire time -- maybe catch the annual beach race, the Lobster Dash -- but it's worth it to pry yourself away here and there. There's incredible food and drink, drag shows, local treasure Ogunquit Museum of American Art (which only stays open through October) and of course, the first signs of New England fall foliage -- where else can you enjoy the best of summer and fall simultaneously? When dinnertime comes around, head into the dreamy Perkins Cove for a lobster roll at Barnacle Billy's.
MORE: Why Maine is the ideal getaway for late summer/early fall
Virginia Beach, Virginia
Average September Rate: $168 (down 30%)
If sitting still isn't your thing, VB has plenty to keep you occupied, and most of it's either free or very close to free. A big draw is the six-acre Adventure Park forest, where you can kill an afternoon hiking through the treetops on elevated walking trails, climbing up rope ladders, and zipping on zip lines. All of which aren't nearly as enjoyable when you've got a massive group of people stumbling through the course ahead of you. Ah, the bliss of off-season.
If elevated obstacles do not sound to you like a particularly good time, there's a national wildlife refuge to explore, state parks to bike, and three miles of boardwalk to amble down. You'll find far fewer kids scampering through the aquarium in September as well. It's just you and the stingrays, baby.
South Padre Island, Texas
Average September Rate: $122 (down 30%)
South Padre is a party island. A Spring Break island. A summertime island. We're not telling you not to hit up Clayton's, the biggest beach bar in Texas -- all we're saying is that South Padre is good for more than a rager, and the fun does not expire after August. Now that the crowds are down and the discounts are up, September is an excellent time to while away an afternoon over a brick-oven pizza at Gabriella's, then take leisurely strolls across the white sands that make this one of the most gorgeous destinations in southern Texas. Ever seen a crab race? My friends, now is your time.
Ocean City, Maryland
Average September Rate: $184 (down 30%)
For a great many people from the Northeast and Mid-Atlantic, summers in Ocean City are a fond high-school memory. Which is exactly why, for those no longer in high school, it's best to time your visit after the summer rush. The gloriously tacky boardwalk and go-karts are still just as fun, the ocean is still just as refreshing, and you won't have to wade your way through throngs of youths who thought pregaming a roller coaster with Everclear was a stupendous idea. Daily highs are still in the upper-70s, so use some of the doe you saved on the hotel to rent a sailboat and enjoy the sunshine.
MORE: Maryland and Delaware shore towns, ranked
Seaside, Oregon
Average September Rate: $159 (down 30%)
Seaside is the biggest town you'll find along the Oregon coast, and conveniently also a great surf destination. Kayak up the Necanicum Estuary, a birdwatcher's paradise. Taste-test at a jail-turned-brewery that uses fresh rainwater to make its brews, then regain your strength with a crab melt from Bell Buoy of Seaside. A few minutes' drive down the coast, you'll hit the dreamy lengths of Cannon Beach, famous for its formidable 235-foot rock formation from Goodies and Point Break. Stop in at Cannon Beach Bakery for picnic supplies and make a day of it; wander down five miles more and you'll reach Hug Point, a sandy cove that beckons you to explore its waterfalls and tide pools. And for the ultimate nostalgic beach town outing of them all, head into Seaside Candyman for saltwater taffy, of which there are no fewer than 180 kinds.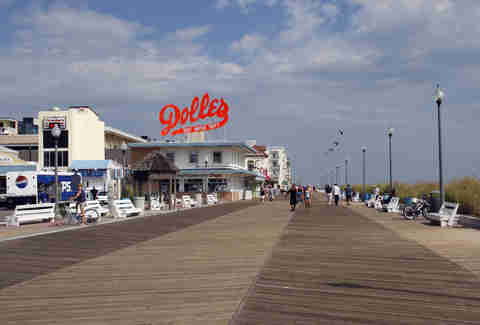 Rehoboth Beach, Delaware
Average September Rate: $171 (down 30%)
Another legendary queer destination, Rehoboth in September means Bear Weekend. It's also time to enjoy sandcastle contests, craft beer, strolls along the classic beach boardwalk, bike rides through the Silver Lake neighborhood, and drag shows at Blue Moon. Get there the first week of the month and beloved amusement park Funland will still be open for the season, too. And at any time of year, Rehoboth stands out from its neighbors because of its food scene -- notably Chesapeake & Maine, the restaurant from famous local brewpub Dogfish Brewery.