How to Get Cheap Broadway Tickets, According to Theater Insiders
If you're even thinking of being in NYC, check out the rest of our DestiNATION: New York City guide. It's stacked with expert advice from locals on what to eat, where to drink, and what to do in the Greatest City on Earth.
So you're ready to wade into the glitz of Broadway and see a show, but don't have the slightest clue how to do it without paying face value. Maybe you're too rich to notice, in which case, great for you. Probably you'd prefer not to spend the equivalent of a month's rent just to take your boo to see singing Mormons or Ozian witches.
When I first moved to New York, I avoided all theater on the assumption that it was out of reach. Little did I realize this city is crawling with cheapskates like me who still manage to wangle their way into lower mezzanine seats. There are plenty of ways to score tickets on the cheap -- some sneakier than others! -- to get a deal so good, you'll feel like you got away with something.
"Thanks to Hamilton, everyone thinks that Broadway tickets are thousands of dollars," says Ken Davenport, a Tony Award-winning Broadway producer and the author of TheProducersPerspective.com. "You might not be sitting in the fifth row on the aisle, but you'll be in 'the room where it happens.'"
First, decide if you really want to pay Broadway prices
You may have your heart set on The Lion King, but there's a whole ecosystem of other performances in this town. Formally, a "Broadway" show takes place in one of 41 theaters, each with at least 500 seats, in the Theater District and Lincoln Center along that famous road called Broadway in Midtown. Then there are the Off-Broadway shows, and the Off Off-Broadway shows. Yes, seriously.
Broadway theaters are generally all on the West Side, while Off-Broadway theaters are all over Manhattan. Off-Broadway theaters have 100 to 499 seats; anything smaller in Manhattan is considered Off Off-Broadway (with a few exceptions). Whether a show is on Broadway or Off-Broadway (or Off Off-Broadway!) is no indicator of its quality -- but lower costs at smaller theaters may mean your best deals for a great show are not on Broadway per se.
Hit up the ticket lottery
If you ask any New Yorker for a tip on how to get show tickets for cheap, they'll probably mention "the lottery." They mean a ticket lottery some shows hold that gives you the chance to buy deeply discounted seats (think $20 per) often in great sections (sometimes, the front row). Some shows host live lottery drawings for discounted seats, and you have to be there in person to put your name in. If you don't have time to spend in line, hit up one of the many ticket lotteries that take place on apps, websites, or social media. Several websites keep track of these; a good bet is always Playbill.
Download a ticket app
You could've guessed it's a digital thicket for this wild marketplace. Matthew Bischoff, who works for Lickability, says his go-to ticket app is TodayTix. "It's great to have an app on your phone that will show you which lotteries you can enter, and which shows have same day or discounted tickets available," he says. "For sheer convenience and price, most of the Broadway and off-Broadway tickets I buy are through TodayTix."
Look into theater organization memberships
The main mission for Theatre Development Fund (TDF) is to make Broadway affordable. So it's no surprise that Gino Dilorio, a playwright and theater arts professor at Clark University, calls a membership to the not-for-profit organization the best way to save money on tickets.
"You pay $30 annually, and tons of shows go up online -- none of them more than about $41," he says. "It's a great system."
Author Brendan Sullivan counted on his membership with LincTix -- the Lincoln Center Theater's discount ticket program for people aged 21 to 35 -- to find tickets marked down sometimes hundreds of dollars. Then, he turned 35, and was back in the pool with the rest of the olds.
If you're making a single visit to the city, the fees might outweigh the benefits. But often your membership will pay for itself if you're looking for a particularly popular show or three.
Follow your favorite shows on social media
One easy way to get treated to discounts and special offers: Think like a superfan, and sign up for all the offers, all the social media accounts, all that jazz.
"A friend of mine has seen Book of Mormon more times than I care to count for something like $25 by following and entering the show's social media lottery," Bischoff says. "If there's a show you're dying to see, follow them on Twitter or on their websites mailing list for contests like these and other types of deals on tickets."
Roll up to TKTS on the day of the show
Buying day-of pays is better than you might expect, especially if you're up to see one of a few different shows. Head to the TDF-owned TKTS Discount Booths in Midtown to check out what's on the board. The booth shows what Broadway productions are on sale that day at anywhere from 20% to 50% off their normal price. "About two hours before curtain, [shows] are posted and you can get tickets for what's not selling," Dilorio says. (Side note: This is literally the only time you'll catch many native New Yorkers making a dedicated trip to Times Square.)
Davenport adds that the weeknights and off-season from September to February are the best for more options. In fact, if you're coming into New York for theater, consider planning your trip around what he calls "industry-wide promotions" like Broadway Week and 20at20.com that feature half-price or $20 tickets to tons of shows.
If you're feeling particularly daring, you can wait until right before a show to buy tickets if you're sure it won't sell out. "If you're buying tickets online from Ticketmaster or another site, ticket prices usually lower right before a show if there are still unsold seats," says Gianluca Russo, an editor at BroadwayWorld.com.
Try rushing
Russo says that she sees almost every Broadway show for less than $50 a ticket. And that includes the afterglow of the Tonys, when people flock to catch the winners. Her two-word strategy: rush line. Russo describes this bit of theater lingo as a small but rewarding window for the brave.
"Most shows have a small number of rush tickets available when the box office opens each day for that day's performance," she says. "With shows like Dear Evan Hansen, some begin to line up the night before to ensure a ticket. There is also a cancellation line, which is less reliable but still a good option."
If you're a student, you can use that to your advantage for student rush tickets -- or you could score standing-room only tickets, available once a performance sells out. "They're cheap," Russo says, "but you have to stand through the whole show (which is worth it a lot of the time)."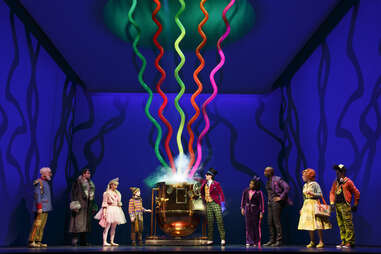 Befriend the theater students
This one's for the advanced traveler only. But if you're a student looking to make new friends, New York University student Isabel Calkins suggests befriending New York students and going to shows with them.
Calkins says she's snagged several Broadway tickets at a massive discount by using her student discount. "How it works is NYU will buy a certain number of tickets for a broadway show or really any kind of event in New York, and then sell it extremely discounted to students," she said. "So from that, I've gotten tickets to a few performances on broadway for like 70% off original retail price. Each student can typically buy up to four tickets at a time, so it's good for a group of friends looking to have a fun and affordable night out in New York."
Remember that this city will always entertain your budget
Sure, Broadway has that big, golden aesthetic -- the word itself even sounds haute -- but you're in the live theater capital of the world, baby. New York has so much more going on than just Broadway.
Bischoff notes some reliable go-tos: "Most UCB [Upright Citizens Brigade] improv shows are $5, The People's Improv Theater offers free return tickets at their bar sometimes, The Comedy Cellar is fairly reasonable if you stick with soft drinks for their drink minimum, and there are always interesting shows going on around the city that don't fall into the Broadway / off-Broadway categories."
In other words, to get the best out of this city, just do what you do at the best of shows: Use your imagination.
Sign up here for our daily Thrillist email and subscribe here for our YouTube channel to get your fix of the best in food/drink/fun.
Sammy Nickalls is a writer and editor based in Brooklyn, as well as the creator of #TalkingAboutIt, a hashtag dedicated to opening up about mental health. She was previously a night editor at Esquire and a staff writer at HelloGiggles. Follow her on Facebook, Twitter, and Instagram.