The Caribbean's Just Fine and Has Crazy Cheap Flight Deals Right Now
One of the more puzzling travel mysteries out there is how a 90-minute jaunt from, say, Miami to the Turks and Caicos will set you back $650, when an eight-hour journey across the Atlantic might cost a low $500. Does humidity make gas burn faster? Are airlines just price gouging? Are pirates still a thing?
But airfares to the Caribbean have finally dropped this fall like a cannonball into Davy Jones' Locker -- much like when flights to Europe fell dramatically over the summer. Our friends at TravelPirates found flights to the Cayman Islands for $64 one-way from Fort Lauderdale, down from about $300 round trip last year. Fort Lauderdale to Aruba is under $200, down from $308. And Martinique can be explored for a silly $188 round trip from JFK. You get the idea.
Smart travelers can not only snag a sexy low price tag to a pristine island, but they'll also deal with way fewer crowds.
After years of prohibitively expensive airfares, why have these short-hop routes finally caught up to our low-fare expectations? If you assume it's just because Hurricanes Irma and Maria wiped the whole region out, you'd be deeply incorrect.
Much of the Caribbean was unaffected, but prices are dropping to lure people back
Only a handful of Caribbean islands were damaged by Hurricanes Irma and Maria -- namely Puerto Rico, Barbuda, Dominica, and the Virgin Islands. But due to the mistaken perception of travelers, places that didn't get so much as a wind gust are seeing a drop-off in tourism.
"People don't understand the geography of the region and think everything was affected," Daniel Marmontello, from CheapCaribbean.com, told Thrillist. "But places like Barbados are 100% fine and saw no impact whatsoever. But as demand has dropped, airlines are doing what they have to in order to get people in." To wit, Barbados has one-way flights from Fort Lauderdale starting at $75, down from about a $225 round trip at this time last year.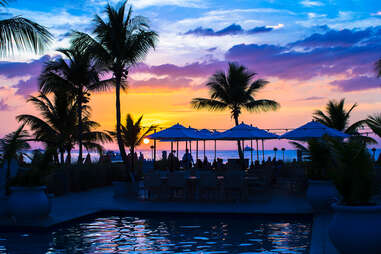 Other islands, like the Turks and Caicos, were threatened with direct hits but only saw minimal storm damage. That archipelago with mesmerizing turquoise water is for the most part up-and-running, but airfares are down about 22% according to Kayak, with round trips from Fort Lauderdale clocking in at $213. With demand down, prices must follow to lure people back.
Which means smart travelers can not only snag a sexy low price tag on airfare to a pristine island, but they'll also deal with with way fewer crowds when they get there.
Discount airlines have created a ton of competition
A few years ago, American, Delta, and JetBlue were all ramping up Caribbean service, and for a brief shining moment, the increased competition brought prices down. But eventually, one airline or another won out in destinations like Barbados and St. Croix, and prices went back up.
This year Norwegian Airlines has increased service to the region, joining its brother-in-bag-fees Spirit. The result? An all-out price war, baby!
Martinique and Guadeloupe have been the biggest beneficiaries of discount airline service. Norwegian Airlines -- of $99 nonstops to Norway fame -- announced earlier this year it was adding direct flights from Providence and Fort Lauderdale to Martinique, as well as doubling its flight load there from New York. It's also begun service into Guadeloupe, instantly making that island a much more attractive destination.
Much like what went down in Europe this summer, when discount carriers begin to spread throughout a region, legacy carriers have to drop fares to compete. And as TravelPirates' Jessica Bisesto points out, "Being on a discount carrier for a short haul is a lot easier than going to Europe. You can go a few hours without a snack." (Here's our very-great guide to flying discount airlines like a pro.)
More seats and less demand means super-low fares to the Caribbean
Sadly, some islands just aren't going to see much leisure travel this year. Places like St. Croix, Dominica, and Puerto Rico, beautiful islands all, don't have the hotels or infrastructure to support tourism right now. With those flights seeing little to no demand, airlines still need to fill the seats, and are moving flights to new destinations.
"Airlines are scrambling to fill planes," says Marmontello. "All these flights that were supposed to go to St. Maarten, St. Croix, the BVI, Dominica, for the airlines to get their first-quarter lift, they have to source those planes into another market.
"They increased flights into Cayman, Aruba, Punta Cana," he continues. "And that's gonna drive the price down because the demand isn't as strong as the additional capacity."
Basically, more available seats (supply) and fewer travelers (demand) equals lower fares for everyone. You may recall this concept from freshman year economics, but it's far more memorable when a white sandy beach is involved.
Airlines were hedging their bets on fuel
Not to get too operations-geeky here, but jet fuel consumption is generally a pretty fixed quantity when flying over a specific route. Oftentimes, airlines will pre-purchase large quantities of that fuel at a lower price, to protect against spiking oil prices or, in this case, specific events that may necessitate dropping airfares to get people back in the skies. This is known as "fuel hedging." It may sound familiar from our last economic downturn when it was credited with Southwest's success when every other airline was in decline.
"Airlines have to drop prices right now to lure tourists back," says Bisesto. "But they can still make money because of the fuel hedge. They buy it in advance in case of disaster, which is what happened this year."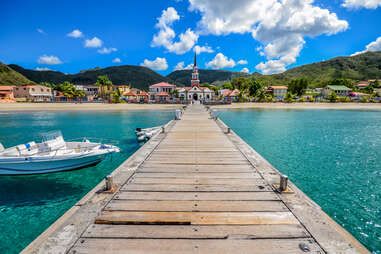 Here's where you'll save the most
As fun as this economics lesson has been, it doesn't mean a whole lot unless they get you under a palm tree pronto. So where are the best deals? Various resorts and cruise lines are offering some damn good deals and discount packages. Here's where to look, flight-wise:
Best bets for long-lasting low fares: Martinique and Guadeloupe get new Norwegian Airlines service, and with those new routes, they'll likely be the hottest low-fare destinations with flights starting under $200.
The most significant price drop: Jamaica, though not eye-poppingly cheap, has seen a huge price drop this year as well. TravelPirates quoted flights to Kingston at about $400, down from $650 at this time last year.
The most widely available: The Dominican Republic has 16 airlines servicing the island from North America, by far the most competition of anywhere in the region. TravelPirates found flights to Punta Cana for as little as $259.
Grab a good deal if you see it: The Cayman Islands have some insanely cheap one-way deals, but Kayak warns that most of them are one-off prices and advises to grab a good deal if you see it. Barbados also has surprisingly cheap fares, starting at under $300 from New York. But with only a handful of airlines offering nonstop service, it's another one to snap up as soon as you see it.
If somehow you're still reading this and haven't jumped over to Kayak already, my final gift to you is this list of the best websites to score cheap airfare. Now go drink some rum already.
Sign up here for our daily Thrillist email and subscribe here for our YouTube channel to get your fix of the best in food/drink/fun.

Matt Meltzer is a contributing writer to Thrillist who actually can't go a few hours without a snack. See what he's eating on Instagram @meltrez1.