The Most Overlooked Mediterranean Paradise in Europe
WitR/Shutterstock
WitR/Shutterstock
When Americans contemplate a European vacation, Croatia usually takes a back seat to the big targets further west. But rethink that hierarchy. While steadily increasing numbers of cruise liners, international partiers, and celebrity jet-setters are discovering a destination long known to Italian tourists, the gorgeous 300-mile strip of Mediterranean real estate that makes up Croatia's Dalmatian Coast is still largely overlooked by American tourists.
While Croatia's Dalmatian Coast is certainly not the quasi-secret destination it once was, it's still the most underrated paradise in Europe. This is why.
It's the most beautiful strip of coast in Europe
Warning: driving the Croatian coastline can be hazardous to your health. Because you'll be gawking out the window the whole time, staring at THIS. Luckily, Croatia's public transit system is clean, efficient, and reliable. (Although having your own boat around here wouldn't hurt.) Nothing against the French Riviera or Italy's Amalfi Coast, but this coastline is something that needs to be seen to be believed. And even then, you'll still be rubbing your eyes to make sure it's real.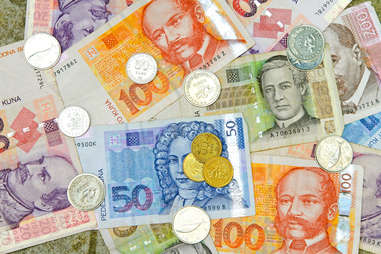 It's still (relatively) cheap
While Croatia joined the European Union in 2013, the kuna (not the euro) is still Croatians' currency of choice. While prices have been steadily increasing in recent years, with hotels in major towns like Dubrovnik and Hvar seeing the biggest hikes, the country as a whole still provides one of the best values in Europe. This is especially true if you travel outside of peak summer months, as many rates are pegged to the season. Due to the relative lack of crowds, weather, and value, October may be the best time of the year to visit.
Its party scene is world-class
Every summer the gorgeous town of Split morphs into South Beach squared when the massive international EDM fest known as Ultra Europe rolls into town, with bikini-clad boat parties and substance-enhanced beach bashes popping up all across the coast. That's not to mention the spring break destination of Zrće (aka Croatian Ibiza) or the infamous Carpe Diem Beach. But if you're not into loud dance music and overpriced cocktails, there are innumerable laid-back waterside bars up and down the coast with plenty of little islands to sneak away to.
It has more than 1,000 islands (several of them secret)
Speaking of islands, there are only about 1,000 of them, the most famous of which, Hvar, is just as sexy as anything you'll spy in Cannes or Lake Como. Brac is another gorgeous island of seductive rolling hills and isolated bays, but for our money the remote Lastovo Archipelago is where to really get away from it all. Made up of 46 islands with a total population of 792, the entire archipelago is a nature park with 60% of its territory covered in forest.
It's got some of the best beaches in Europe (and plenty of nude ones)
Let's be honest: beaches are the main draw here, and the options are endless. Brac's Zlatni Rat and Sakarun Beach on the placid island of Dugi Otok are two of the most stunning in all of Europe, but there's also nothing wrong with picking up a bottle of vino and wandering to the nearest beach from any of the towns dotting the shore to take in the fiery sunsets. Nude beaches are also quite the rage around these parts, with naturalists scampering about in the buff on clothing-optional beaches that dominate small islands like Jerolim.
The food is seriously underrated
When was the last time you turned to your significant other and said, "Let's go out for Croatian tonight"? The Mediterranean cuisine isn't as famous as Italian, which it resembles -- with hints of Turkish, Slavic, and Hungarian influences melded together to create earthy dishes centered around fresh fish like sea bass, tuna, and squid. The lamb dish vitalac is a delicious staple around places like Brac, and the hearty local red wines are as underrated as the food. And you're not leaving here without tangling with the dangerously stiff homemade local fruit booze known as rakia.
It's got awesomely well-preserved medieval towns
Perhaps the most surprising aspect of a trip to Croatia is exploring the vast number of beautifully preserved, highly walkable medieval towns that line the coast, from the churches of Zadar to the fortresses of Sibenik to the famous walled city of Dubrovnik (thanks Game of Thrones.) Less well known is the historic town of Trogir, a UNESCO World Heritage Site making up one of the best preserved ancient cities in all of Europe … which, by the way, also happens to be AN ISLAND.
The mountains are also stunning
While rightly famous for its laid-back beach lifestyle, one of Europe's most rugged and beautiful mountain ranges isn't far off. The expansive Dinaric Alps can be viewed and gawked at from most locales along the coast, from the mountain-dominated Makarska Riviera to Brac's picturesque Vidova Gora, the highest mountain in the Adriatic. If climbing mountains isn't your thing, you can always scale the cliffs and dive into the sea at local watering holes like Dubrovnik's Buza Bar.
Its national parks are ludicrous
Like national parks? How about the 89-island strong Kornati National Park? Or the remote hills of the sprawling Sjeverni Velebit National Park? You can also travel inland to explore the waterfalls at show-stopping natural playgrounds like Krka and Plitvice Lakes National Parks. And let's not forget the glorious Mljet National Park, taking up the entire northern section of the peaceful island of Mljet and home to an eye-popping Benedictine waterside monastery. The monks have been there since the 12th century -- because once you found this place, why would you ever leave?
Sign up here for our daily Thrillist email, and get your fix of the best in food/drink/fun.
Jay Gentile is a Thrillist contributor who has traveled to 30+ countries across five continents, and bungee jumped on three of them. Follow @innerviewmag