Magic doesn't come cheap.

| Flickr/matlacha
Magic doesn't come cheap.

| Flickr/matlacha
How to Go Big at Disney Parks Without Going Broke
Beat the Mouse in his own house.
Walt Disney World may be "The Most Magical Place on Earth," but that magic doesn't come cheap. Add up pricey park tickets, resort stays, breakfast with Disney characters, and those obligatory Minnie or Mickey Mouse ears, and that trip could easily rival one to Europe.
Florida is a theme park mecca (there's a reason why Disney and Universal draw more tourists than the Sunshine State's beaches), and whether you're traveling with kids or just want to feel like one again, these are bucket list spots for many. We spoke to a few Disney mega-fans who live in Orlando primarily to be closer to the parks (and consider dinner at Epcot to be a hot Friday night), as well as Undercover Tourist founder and CEO Ian Ford, whose Disney-specialized travel site is dedicated to helping people navigate trips to Disney.
Whether you're looking for dining hacks to eat cheaply at Disney parks, or want a hotel that's not going to cost the same as a five-star palace in Paris, we've rounded up some of the best tips to help plan your next budget-savvy Disney vacation. Here's how to soak up all that Disney magic without burning through your travel budget for the year (or next five).
Have the photographers use your camera
Though you won't get the framable, Disney-embossed 5"x7", you can still get a picture of your entire family, from the same angle, without having to hand your phone to a random stranger. (Or, worse, using a selfie stick.) The official photographers will actually take the pictures for you if you ask. Because as cast members, their job is to say yes to pretty much any reasonable request.
Buy your souvenirs off-site
It's always fun explaining to your crying child why they can't go home with a souvenir because Disney thinks $45 is a fair price for a stuffed Goofy. Avoid standoffs by buying Disney merchandise in one of the many souvenir stores in Orlando or Kissimmee. Or hit up a Target. Or the Disney Store—which even charges less than the park. Even better, hit up the outlet shops in Orlando, where Disney's Character Warehouse is stocked with official T-shirts, stuffed animals, and toys at (majorly) discounted prices.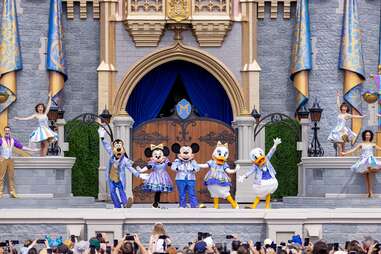 Skip the branded costumes
Instead of shelling out on a Cinderella-branded costume, save the money and use what's already in your closet. The concept has gotten so popular, it even has its own name: DisneyBounding. The idea is simple: dress like your favorite character with clothing in signature colors. For example, a green ensemble could work for Peter Pan or a dress that's yellow and blue for Snow White (Leslie Kay, the blogger who first coined the term, has plenty of examples on her Instagram). This also gets around the rule Disney has on adults wearing costumes outside of events like Mickey's Not-So-Scary Halloween Party. "DisneyBounding is a super fun way to experience the parks, and it doesn't have to be expensive," Kay says. "Quite the contrary, really! And you never know which characters you have hiding in your closet."
Split meals
"A lot of people going to Disney have young kids, and those kids don't really eat their whole meals," Ford says. So he suggests buying one or two things for the family and sharing them, so the kids can get back out on the rides, and you're not shelling out $65 for hamburgers and sodas. "Splitting meals is a compelling way to save money," he says. "It's not just being frugal, it's being smart."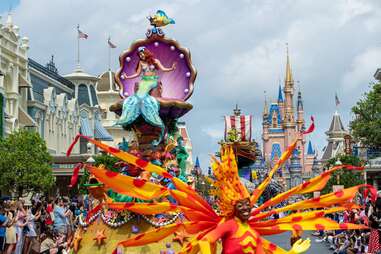 Make a plan
Before you go inside the park, make a detailed to-do list of the rides, shows, and attractions you want to hit. "If my kids get to do all the things they want to do, they'll be happy," Ford says. "And they love tracking it and feeling like they're part of the planning." When the kids are happy, the trip runs more smoothly—simple as that. With a plan in place (and plenty of snacks and pre-purchased toys on hand), you won't be stressed into eating in the most convenient—and likely more expensive—place, nor be saddled with unruly children you end up pacifying with a $30 T-shirt.
Get groceries delivered to your hotel room
Many Disney Resorts and hotels in the area have refrigerators. One of Ford's food hacks is simply to have breakfast in your room (easy enough!). But you can also plan ahead for multiple meals without needing a car. Services like Orlando Grocery Express will bring food straight to your room, so you can make sandwiches and bring snacks for your big day in the park. You can also buy drinks and have stuff to refuel with when you get back after walking all day.
Buy tickets from an independent vendor
Buying theme park tickets at the box office is kind of like taking your car to the dealer for an oil change. Yes, you know what you're getting, but it's the most you can possibly pay. Third-party vendors like Undercover Tourist and its competitors sell passes for as much as 18% off the price at the front gate—which is like a free kid in a five-person family. And they price match, so you know you're getting the lowest possible fare.
Don't go during school holidays
Off-times are great for short lines and cheap flights. In tracking park crowds and airfares, Ford says your best bets are September and October, and mid-January to the end of February.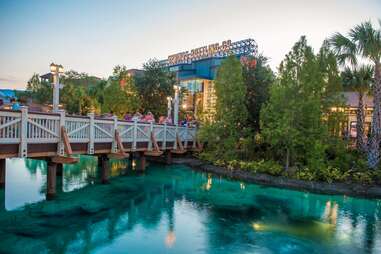 Tour the free areas
To save on park passes, spend a day walking through the resort hotels and Disney Springs (formerly Downtown Disney). "It's almost like being in one of the parks," Ford says. He suggests taking the free boat ride across the main lake, then spending time strolling through the marquee hotels like the Victorian-inspired Grand Floridian and the Contemporary Resort. During the holidays, all of these joints go big with lights, giant trees, and Christmas shows. As for the evening fireworks show at Magic Kingdom, you also don't need to be in the park to catch the action. The beaches around the Seven Seas Lagoon at the Polynesian Village Resort and the Grand Floridian offer fantastic views. And, if you time it right, you can watch the fireworks on the ferry back from the Ticket and Transportation Center.
Pack ponchos
The words "Sunshine State" are misleading when describing summers in the great state of Florida. Disney takes some pity on folks who don't know this, selling bright-yellow Mickey Mouse children's ponchos for around $10. However, they're closer to $1 at Walmart, so if you have a large family, you'll end up saving a lot.
Bring refillable bottles
As part of Disney's sustainability efforts, they've installed water bottle refill stations in each of the parks. It's so hot (remember, Florida), and $3.50 Dasani bottles add up, so bring your own water bottles and refill them at water fountains in the parks.
Don't stay at a Disney-branded hotel
Nothing groundbreaking here, but staying at one of the hotels that surrounds the park can save literally thousands of dollars on a longer trip. And while these hotels all offer shuttles, Ford suggests renting a car, since the shuttles are often painfully crowded and stop at multiple parks and hotels en route. But there's a loophole: you can still stay on-site but not be in a Disney-branded hotel. Marriott and Hilton have properties there. Both Marriott and Hilton have hotels here (you can walk to Epcot from the Swan and Dolphin hotels, which are Marriott properties), and even use your points for free or reduced rooms. Some hotels even offer discounts for certain professions, like first responders and teachers. Florida residents and annual pass holders also get pretty sweet discounts of up to 30% off rooms.
Avoid the daily parking fee
Standard parking at the parks is now $25 per day (or up to $50 if you want preferred parking). But an easy way to get around this (besides taking the shuttle) is by making a reservation for a meal at a Disney hotel located on the monorail or bus routes. Park there, eat, then ride the transport to and from the parks. One tip is to park at the Contemporary for breakfast at Contempo Café (tell the guard gate you're going to get Mickey waffles) and then take the monorail or walk across the street to Magic Kingdom. (They will check that you have a reservation, so you'll actually have to make one in order for this to work.)