Cheap Flight Deal: Philadelphia to Germany for $436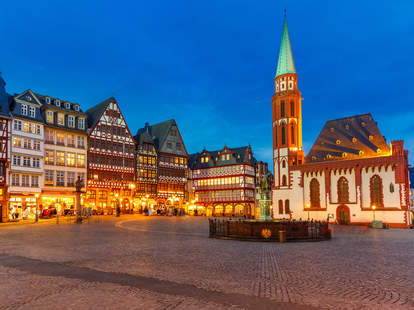 With the US dollar currently Schwarzenegger-level strong against the Euro, now's the time to visit Europe. But, while it's a lot cheaper to stay, dine, and go out on the continent this year, you still need to spend around $1,000 to fly there. Unless you find a cheap deal -- and here's another one.
Right now, you can book from Philadelphia to Frankfurt from just $436. Offered by Bravofly and Tripster, the deal's applicable on round-trip flights from Philadelphia International Airport to Frankfurt am Main and available via Skyscanner on select dates in September and October. Just in time to load up on beer and frankfurters at Frankfurt's version of Oktoberfest!
Skyscanner
​Before you start poking around on Skyscanner for cheap dates, here are just a few sample itineraries you can book: 9/1 - 9/8, 9/8 - 9/17, 9/21 - 9/29, and 10/6 - 10/22.
Bravofly
Just one caveat: there'll be a stop both ways there and back -- in Amsterdam on the way there, and Brussels on the way back. But hey, you'll get a lot more Europe for your buck (flights to Amsterdam and Brussels are going for upwards of $1,000 right now), and if you plan it right, you might even have time to hit the red light district, or if you're in Brussels, to stock up on the world's best beer and, erm, Brussels sprouts?
With all that to tempt you, head over to Skyscanner and start booking; those seats will fill up fast.