Cheap Flight Alert: $40 RT Flights on Frontier
Yes, that's right: for roughly the same price as two IMAX movie tickets, you can score round trip flights to/from many of the country's biggest cities. This massive savings is only available for Tuesday/Wednesday departures from September through November, making them perfect for an impromptu, week-long vacation.
Qualifying itineraries include LA to/from Chicago, SF to/from Chicago, and NYC to/from Miami, Atlanta, and Denver. If you're not in any of those cities, well, sorry. Maybe move somewhere more relevant?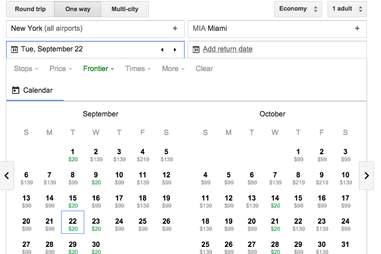 Since Frontier's website is currently down (thanks to the influx of deal-seeking users), you'll have to use Google Flights to search for available fares and lock in these low prices for yourself.
You'll also have to purchase your return ticket separately, since the deal only applies to one-way flights, but the fare calendar still shows plenty of Tuesday/Wednesday departure options to choose from in September (as of this writing). You just have to book as soon as possible. Like, now.
Head over to Google Flights to plug in your city, then book using Expedia (or one of its competitors) and snag one of these ultra-cheap fares for yourself.
Gianni Jaccoma is a staff writer for Thrillist, and he's out of vacation days for this year. Follow his depressing tweets @gjaccoma, and send your news tips to news@thrillist.com