For some people, April's tax season is a downright pleasure. No, it's not universally enjoyable like the Muppets or snow day sex, and if you're an accountant/self-employed, it can drive you to a full month of drinking in bars solo. But if you've got a pretty simple return and the government owes you money, doing taxes is like scratching off a really complicated lotto ticket with 100% chance of winning. What better way to spend that fat refund check than a nice trip out of town?
So, where to go with those long-forgotten dollars you loaned Uncle Sam. Perhaps you should reinvest in the US economy and travel stateside. Or maybe you'd prefer flaunting your refund to people in countries with a 50% tax rate. Wherever you want to go, the folks at the travel app Hopper can help you decide, as they've taken historic data from literally billions of airfares, crunched the numbers like high-paid CPAs, and predicted the destinations both at home and abroad where airfares will drop the most in April.
Recommended Video
Get This Puerto Rican Villa With Private Beach All to Yourself
Staying stateside, you can go and thank the government personally for your windfall as flights to Washington, DC drop 28% to $206. Or do your patriotic duty and help the Virgin Islands recover from the hurricanes... by flopping out on a beach in St. Thomas, where airfares are down 26% to $403.
If you'd prefer to exercise your God-given right to spend your money on fruity drinks and bad decisions, flights to New Orleans or Miami will be down 37% and 26%, respectively. Or head to Colorado, where Denver flights will be down 22% to $167. If the Coors Brewery tour isn't doing it for you, here's the rest of the domestic top 10:
1. Long Beach, California -- $166 (48%)
2. New Orleans, Louisiana -- $297 (37%)
3. Houston, Texas -- $210 (35%)
4. Washington, DC -- $206 (28%)
5. Louisville, Kentucky -- $342 (27%)
6. St. Thomas, USVI -- $403 (26%)
7. Miami, Florida -- $240 (26%)111
8. New York, New York -- $238 (22%)
9. Denver, Colorado -- $167 (22%)
10. Atlanta, Georgia -- $190 (21%)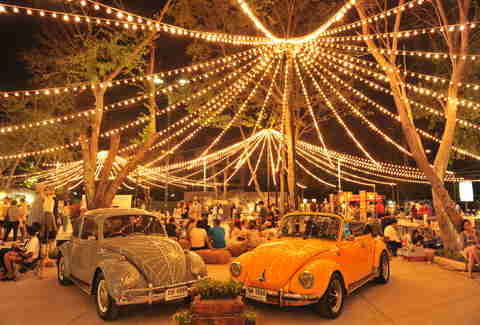 On the international side, use your gifted tax money in the spirit our president intended by spending it all in Bangkok, where flights drop 23% to $548. Or perhaps you'd rather use it to finally go on that house-hunting mission to Canada, land of friendly people and universal healthcare. Get your aspiring-expat on in Vancouver where airfares are down 22% to $230. Or maybe you just wanna remind the British why we left in the first place, by waving your check in front of Buckingham Palace. ("Taxation with representation, suckas!") They'll welcome you with open arms, and London flights down 25% to $597. The rest of the international bargains:
1. Madrid, Spain -- $605 (49%)
2. Tokyo, Japan -- $670 (36%)
3. Barcelona, Spain -- $543 (36%)
4. Paris, France -- $610 (31%)
5. Taipei, Taiwan -- $543 (29%)
6. Guayaquil, Ecuador -- $523 (29%)
7. Frankfurt, Germany -- $811 (25%)
8. London, England -- $597 (25%)
9. Bangkok, Thailand -- $548 (23%)
10. Vancouver, Canada -- $230 (22%)
Of course, unlike death and... OK, you know what? No. Just be aware this info isn't 100% guaranteed, but that Hopper predicts it with 95% accuracy, which is pretty dang close. So if you trust them, enter your desired destination and travel dates into the app, and wait to be alerted when prices begin to drop. If you trust travel apps as much as you trust the government, and would rather obsessively search airfares from your cabin in rural Idaho, that's cool too -- here are the best sites for finding cheap fares.
So even if taxes aren't the highlight of your year April can always be made a little brighter by thinking about your next getaway. Though if your job title includes the words "independent contractor," maybe don't think too hard about how you're going to pay for it.
Sign up here for our daily Thrillist email and subscribe here for our YouTube channel to get your fix of the best in food/drink/fun.