Flights to These 20 Cities Are About to Get Waaay Cheaper in August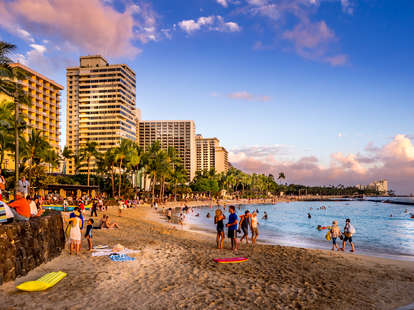 Holy hades it is HOT EVERYWHERE because climate change is real and we're all doomed, so why not cash in whatever savings you've managed to scrounge up and do some traveling this month. The travel gods will reward those courageous enough to brave the heat, with steeply discounted airfare to scorchers like Vegas, Chicago, and Paris (which just broke its all-time high temperature record earlier this week -- hats off, Paris!)
Every month we bring you a run-down of the coolest (in this case, not literally) domestic and international destinations that are most likely to be on sale in the coming weeks. While no one can predict the future, the travel app Hopper comes pretty dang close -- they crunch zillions of numbers to compare flight prices around the world with 90% accuracy. Here are the cheapest places to jet for the dog days of summer.
Want more travel ideas? This is also a great month to travel for food and music festivals -- check out our favorite places to visit in August here.
DOMESTIC
It's hot as sin in Sin City, and temps will remain solidly in the triple-digits well into September. But!!!! Flights are expected to dip 37% (and hotels are also much cheaper), so pack your swimsuit and get ready to hit all the best pool parties. The Las Vegas food scene is "having a moment" -- now's as good a time as any to go restaurant hopping in Chinatown. Just bring a sweater, because summer in Vegas also means "Vegas winter," and everywhere you go it's 57 degrees inside.
Two Hawaiian islands are also on sale in August: the Big Island (down 28%) and Oahu (26%). While we'd argue there's never really a bad time to go to Hawaii, August is the middle of the dry season. Since the kiddos start going back to school, there will also be fewer families and cheaper hotel rates by the end of the month, meaning less overcrowded tourist nightmare. Here's the full lineup:
1. Las Vegas, Nevada -- $208 (37% savings)
2. Chicago, Illinois -- $239 (33%)
3. Phoenix, Arizona -- $243 (31%)
4. Hawaii Island, Hawaii -- $480 (28%)
5. Asheville, North Carolina -- $206 (27%)
6. Ontario, California -- $263 (26%)
7. Cleveland, Ohio -- $221 (26%)
8. Honolulu, Hawaii -- $455 (26%)
9. Miami, Florida -- $264 (25%)
10. Los Angeles, California -- $263 (24%)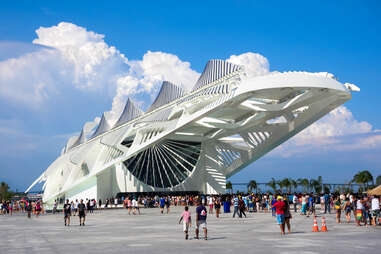 INTERNATIONAL
Colombia is super hot right now, and we're not talking about the temperature, but… yeah, also that. Flights to both Cartagena (down 30%) and Cali (26%) are cheaper than usual in August, and if you go early in the month, you can hop an hour-long flight to Medellín for the annual Feria de las Flores, the city's massive flower festival (it's cooler than it sounds) that is basically their equivalent to Carnival in Brazil. Speaking of Brazil, August is a good time to hit São Paulo (down 27%), where it is currently winter, with much milder temperatures and drier weather -- think upper 70s and mostly sunny. Peep some cool art and architecture, eat street food, etc.
And finally, there is the City of Lights. Much like Hawaii, there is never a bad time to visit… just, slightly less optimal times. Flights to Paris are expected to dip 36% for August as the city empties out for les vacances, the annual month-long vacation that has locals fleeing the city for other popular tourist destinations (this is NOT the time to hit the Cote d'Azur). This means there will be fewer Parisians to mingle with, but let's be real, they don't want to mingle with you anyway. Here's the full lineup of discounted destinations around the world this August:
1. Paris, France -- $476 (36% savings)
2. San Jose del Cabo, Mexico -- $374 (34%)
3. Sydney, Australia -- $973 (34%)
4. Amsterdam, Netherlands -- $603 (33%)
5. Cartagena, Colombia -- $424 (30%)
6. Managua, Nicaragua -- $349 (28%)
7. Dublin, Ireland -- $594 (28%)
8. São Paulo, Brazil -- $835 (27%)
9. Auckland, New Zealand -- $1,127 (27%)
10. Cali, Colombia -- $501 (26%)
To get in on the dollar-saving action, download the Hopper app (and some of these other essential travel apps while you're at it) and plug in the dates and destinations you're looking for. Hopper will send you a notification when flight prices drop as low as they're going to go -- that's your cue to book. Stay cool out there, friends.
Sign up here for our daily Thrillist email and subscribe here for our YouTube channel to get your fix of the best in food/drink/fun.
Nicole Rupersburg is a Thrillist contributor covering food, travel, arts, culture, and what-have-you. She winters in Las Vegas and summers in Detroit, as does anybody who's anybody.