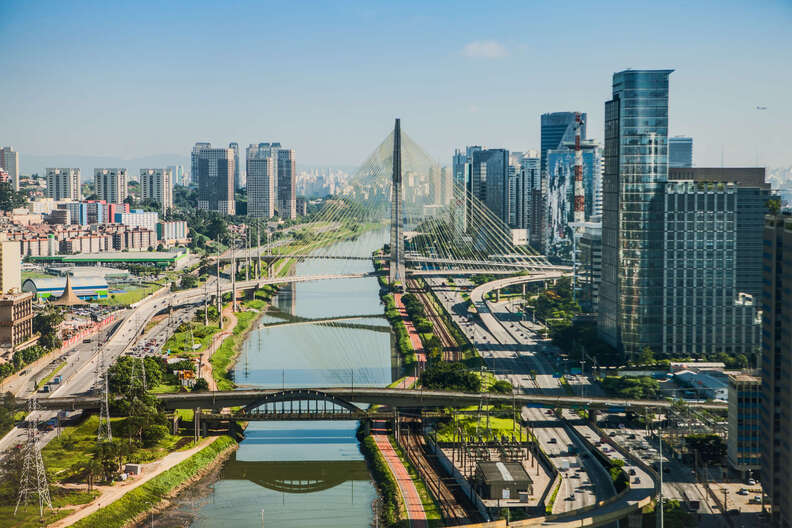 Estaiada Bridge in Sao Paulo

| StockLapse/Moment/Getty Images
Estaiada Bridge in Sao Paulo

| StockLapse/Moment/Getty Images
It's no use complaining that you don't have any time for travel in December, because if you clicked on this article I am going to assume that you've got some nagging interest in a holiday getaway that is both festive and cheap. No matter your circumstance or original intentions, you're in this now. And here's the thing: those overwhelming feelings of not-enough-time/money you may be getting this time of year? Everyone else has those same feelings too, which makes this period between Thanksgiving through Christmas/New Year a bit of a travel deadzone -- which means great deals and fewer crowds if you can swing it.
To isolate some of the best airfare deals this month, we turn to one of the consistently best travel apps in any traveler's arsenal: Hopper. It works by analyzing millions of flights' price point data to tease out predictions for which cities -- foreign and domestic -- are likely to see the biggest drops in airfares going forward. You might have more time this month than you think.
MORE: The winter getaways that will cheer you right up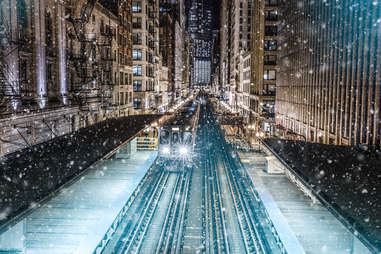 DOMESTIC
If you're down with the cold, December is a magical time to visit Chicago, with prices down 49%. You have your pick of festive ice-skating venues like the McCormick Tribune Ice Rink. You can go sledding behind Soldier Field. You can set up residence in a wine igloo. Or you can stare down the Chicago temperature reading on your phone and say fuck it, and decamp instead to LA (down 41%). The Pershing Square Winter Holiday Festival returns December 7, and the Rolling Loud Festival -- headliners this year include Chance the Rapper, Future, and ASAP Rocky -- comes to town December 14 and 15 (tickets start at $279). Not your scene? There's also the Decibel Metal & Beer Fest on December 13 and 14th (single-day tickets start at $35).
MORE: Actually cool things to do in Chicago right now
1. Chicago, Illinois -- $176 (49%)
2. Los Angeles, California -- $227 (41%)
3. Las Vegas, Nevada -- $177 (38%)
4. Fort Myers, Florida -- $174 (36%)
5. San Francisco, California -- $183 (32%)
6. Ontario, California -- $258 (28%)
7. Miami, Florida -- $196 (27%)
8. Pittsburgh, Pennsylvania -- $278 (27%)
9. Sarasota, Florida -- $262 (26%)
10. Phoenix, Arizona -- $197 (25%)
INTERNATIONAL
You might not have known til this very moment that you want to spend the holidays in São Paulo, where prices are down 46%, but at least you know now. In Brazil, Christmas and New Year's are preceded by révellion -- the traditional all-night dinner/party -- so the country's biggest city goes hard this time of year. And you already know that Sydney (down 41%) is one of the raddest cities in the world to be in for New Year's, which is one of the reasons it's on our list of the best (and surprisingly affordable) places to visit over the holidays. If you're ever going to go to Sydney, now would be the time.
MORE: Here's the deal with Boxing Day, Canada's real but very confusing holiday
1. São Paulo, Brazil -- $1,014 (46%)
2. Hong Kong -- $540 (44%)
3. Havana, Cuba -- $264 (41%)
4. Sydney, Australia -- $1,008 (41%)
5. Dublin, Ireland -- $556 (38%)
6. Amsterdam, Netherlands -- $567 (38%)
7. Mexico City, Mexico -- $404 (38%)
8. San Jose del Cabo, Mexico -- $389 (36%)
9. Quito, Ecuador -- $508 (36%)
10. Santiago de Chile, Chile -- $855 (36%)
Hopper's airfare predictions are reliably 95% accurate, so, as we gently remind you here each month, if you trust condoms you can trust Hopper. Getting started is easy -- download the app, plug in the travel destinations you're interested in, pick the calendar dates you'd like to go to them, and then set off a number of smoke alarms in succession as you attempt festive projects like mulling your own wine while you wait. Hopper will send you handy notifications when the relevant flight prices bottom out at what's expected to be their lowest. There are many fun and festive ways you can save money on flights this holiday season, but this is one of the best places to start.