January is a long, dreary month… but it's also the perfect month for a quick trip, when you think about it. Your vacation days are replenished, your seasonal depression is peaking, and you desperately need something to look forward to after the emotional and physical endurance test that is the holiday season.
So here's a full-on blast of sunshine: January is far and away the cheapest month of the year to book air travel, according to Skyscanner -- one of the best travel apps in existence for finding cheap flight deals. Their data shows that flying to pretty much any major US city -- NYC, Miami, LA, Chicago -- will be about 20% cheaper in January than the yearly average, and flights to dreamy international locales like Paris and Barcelona can be found for 30% off.
But considering how aggressively December is eating through all your disposable income, let's dig way, waaay deep into the bargain bin. For that we turn to Hopper, which crunces the price data for millions of flights to predict which destinations, both in the US and abroad, will have the steepest discounts next month. Get ready to click the "buy now" button.
Domestic
Our advice for the new year blues? Migrate south to warmer temperatures. Flights to Florida will be 30-35% off, but the less obvious and thus much cooler choice would be San Antonio, Texas (39% off). January 14-20 marks the return of the much-beloved San Antonio Cocktail Conference, a mixology extravaganza featuring tastings, cocktail parties, and seminars by top bartenders. And January 21-February 2 is Restaurant Weeks -- a celebration of local cuisine that will give you a taste of this vastly underrated food city. Here's the full breakdown of domestic discounts:
1. San Antonio, Texas -- $445 (39% off)
2. Miami, Florida -- $269 (35%)
3. Tampa, Florida -- $195 (33%)
4. Chicago, Illinois -- $199 (33%)
5. Las Vegas, Nevada -- $194 (33%)
6. Phoenix, Arizona -- $213 (32%)
7. Los Angeles, California -- $223 (31%)
8. Salt Lake City, Utah -- $238 (30%)
9. Myrtle Beach, South Carolina -- $184 (28%)
10. Newark, New Jersey -- $326 (26%)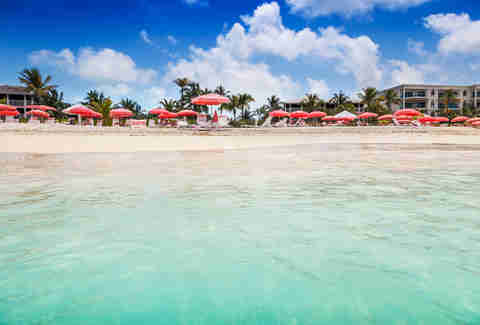 International
Oh, this is good. Turks and Caicos (33% off) is a two hour flight from Miami, four from New York -- totally feasible for an extended weekend getaway. It's so over-the-top beautiful that we can't really tell if the above photo was digitally enhanced… it honestly just looks like that in real life. Grace Bay is not only one of the best beaches in the Caribbean, but one of the best beaches in the world, period. That being said, Turks is wildly expensive once you're on the ground -- so if you were an overly-generous gift-giver this year, maybe explore Colombia instead (29% off).
1. Providenciales, Turks and Caicos Islands -- $404 (33% off)
2. Oranjestad, Aruba -- $391 (33%)
3. Delhi, India -- $1,234 (32%)
4. San Jose del Cabo, Mexico -- $317 (32%)
5. Singapore, Singapore -- $695 (31%)
6. Shanghai, China -- $1,015 (30%)
7. Paris, France -- $433 (30%)
8. Medellin, Colombia -- $594 (29%)
9. Copenhagen, Denmark -- $409 (29%)
10. Bangalore, India -- $1,786 (29%)
Historically these Hopper predictions hold up with 95% accuracy, so we feel comfortable saying that if you trust condoms you can trust Hopper. To stay on top of these travel deals yourself, download the app, enter the destinations and dates to suit your needs, and then sit cross-legged in front of your seasonal-depression lamp and positive-visualize the discounts into being. Hopper will alert you when it's time to buy.
Sign up here for our daily Thrillist email and subscribe here for our YouTube channel to get your fix of the best in food/drink/fun.