Flights to These 20 Cities Are About to Get Wildly Cheap Next Month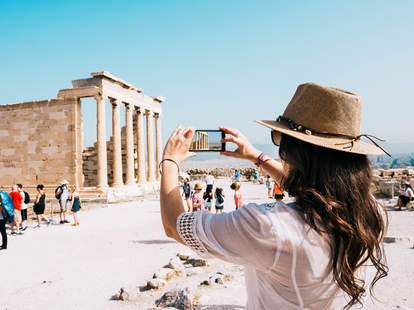 July means many different things to many different people -- fireworks on the Fourth, balmy summer barbecues, getting absolutely no work done on a summer Friday, etc. But one thing that is definitely not synonymous with high summer is cheap flights. Usually.
Enter Hopper -- the travel app that crunches zillions of pieces of data and compares flight prices around the world, revealing where and when you can fly for cheapest. What a hero. This month, like every month, we're bringing you the destinations Hopper expects will have the steepest discounts in July, both within the 50 states and to far-flung cities abroad. So buckle up and prepare to book -- if you haven't got your summer vacation sorted already, here's some fresh inspiration.
Napali Coast on Kauai island on Hawaii, USA

| Alexander Demyanenko/shutterstock
Domestic
There's a good chance you're craving some sizzlin' sun by the sea right about now. Solution? Florida. Flights to Orlando (down 30%) are among the bargain buys this month, so you'll have more cash to splash at SeaWorld. Over on the Gulf Coast, Fort Myers (down 29%) is the move. And obviously there's never a bad time to be on a beach in Hawaii (flights to Lihue on the island of Kauai are 32% down).
If you want to max out on savings, Dallas (35% down) is for you -- it's hot as hell, but there's a packed calendar of summer events to hit up while you're there. Or head to St. Louis (30% down), where the entire population will be high on Stanley Cup success until at least November, presumably. If all you're after is a cold craft beer in the summer sun, where better than Brew City itself (flights to Milwaukee are 31% cheaper than usual).
1. Dallas, Texas -- $215 (35% savings)
2. Boston, Massachusetts -- $283 (33%)
3. Lihue, Hawaii -- $479 (32%)
4. Milwaukee, Wisconsin -- $266 (31%)
5. St. Louis, Missouri -- $281 (30%)
6. Salt Lake City, Utah -- $273 (30%)
7. Orlando, Florida -- $175 (30%)
8. Fort Myers, Florida -- $221 (29%)
9. Nashville, Tennessee -- $253 (29%)
10. Columbus, Ohio -- $245 (28%)
Mmmm, Italian gelato.

| Alina Zamogilnykh/shutterstock
International
Two heavyweights of classical civilization -- Athens (40% down) and Rome (37% down) -- are slugging it out at the top of the leaderboard this month. Yes, each of them has thousands of years of history and enough blockbuster sights to fill several summer vacations, but don't go thinking they're stuck in the past. Scratch beneath the surface of the tourist trail in Athens and you'll find a counterculture arts and music scene, at its most vibrant in Exarcheia, one of Europe's coolest under-the-radar neighborhoods. And in Rome -- when you're not doing your Russell Crowe impression at the Coliseum -- check out all these affordable things to do. Or just eat your way around the Eternal City, because pizza.
Here's the rest of the top ten, including Manchester (36% down), where you can catch the closing stages of the Cricket World Cup (it's like baseball… but not).
1. Athens, Greece -- $672 (40% savings)
2. Rome, Italy -- $633 (37%)
3. Manchester, United Kingdom -- $755 (36%)
4. Panama City, Panama -- $339 (34%)
5. Lisbon, Portugal -- $681 (33%)
6. Montreal, Canada -- $327 (32%)
7. Bogotá, Colombia -- $447 (31%)
8. Mexico City, Mexico -- $375 (31%)
9. Delhi, India -- $926 (30%)
10. Quito, Ecuador -- $544 (29%)
Hopper prides itself on the reliability of its predictions -- and at around 90% accurate, it's got plenty to be pleased about. To get in on the dollar-saving action, all you have to do is download the Hopper app (if you haven't already -- it's on our list of essential travel apps, after all) and plug in your ideal dates and destinations. Then sit back and let Hopper do the legwork -- you'll get a notification from the app when flight prices drop as low as they're going to go, which is your cue to jump on that booking.
Sign up here for our daily Thrillist email and subscribe here for our YouTube channel to get your fix of the best in food/drink/fun.