Saying "you're never too old for spring break" makes you sound a little like that dude with gray chest hair strolling the beach in Cabo offering beer bongs to coeds. Ew. But creepy as that guy is, the sentiment is right. Maybe you're too old to spend a week subsisting on tequila and regret, but you're definitely not too old to take a week in March and escape from reality. And maybe even eat this time!
Since there's nobody "on campus" at your office park hawking group trips to Daytona, the question then becomes where, exactly, you should go for your grown-up March getaway. And here is where our friends at the travel app Hopper come in. They've analyzed literally billions of airfares from spring breaks past, crunched the numbers, and can predict the spots in the States and abroad where airfares are likely to drop. Spend less on flights and you can spend more on drinkable booze, meaning you won't spend half your vacation nursing a well-drink hangover. Adulting: It's amazing.
Recommended Video
Join Us for This Year's Best Day of Your Life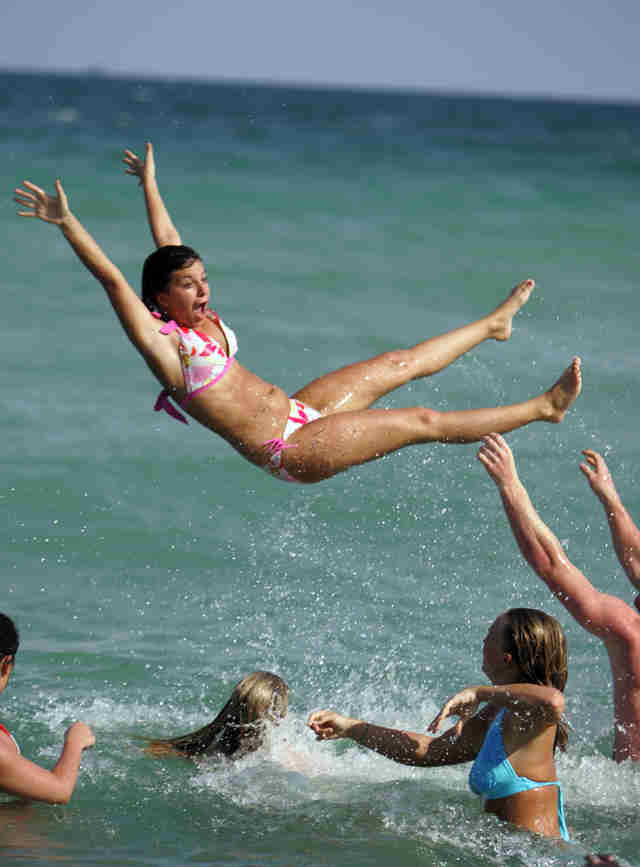 Since you're over 21, and won't need to leave the country to legally imbibe, US destinations are all on the table. Spring break powerhouse Florida has three cities in the top 10, with Orlando, Fort Lauderdale, and Tampa all seeing airfares drop by over 20%. If you'd like a little more sophistication and charm in your spring getaway, flights to Charleston are down 19% to $260. On the other end of the spectrum, if you're looking to abandon all pretenses of maturity and live like you're 19 again, Myrtle Beach has airfares down 22% to $145. Just don't expect to get carded. The rest of the domestic top 10 (including Newark!):
1. Houston, Texas - $187 (38%)
2. Orlando, Florida -- $183 (26%)
3. Fort Lauderdale, Florida -- $149 (25%)
4. Philadelphia, Pennsylvania -- $184 (23%)
5. Myrtle Beach, South Carolina -- $145 (22%)
6. Dallas, Texas -- $166 (21%)
7. Tampa, Florida -- $198 (20%)
8. Charleston, South Carolina -- $260 (19%)
9. Ontario, California -- $238 (19%)
10. Newark, New Jersey -- $174 (19%)
Of course, you might have some discretionary income now that doesn't come from your parents' credit card. And perhaps a party trip to some exotic international destination is in order. Lucky you, the world's best party city tops this month's list of cheap airfares, as Seoul will have flights down 35% to $589. If you'd like to see a side of Mexico that doesn't include beer bongs on the beach, Mexico City flights are down 26% to $289. And if mainlining hard liquor for a week still holds a perverse appeal, San Jose del Cabo will be 30% cheaper in March, with flights for $292. The rest of the international deals:
1. Seoul, South Korea -- $589 (35%)
2. Santiago de los Caballeros, Dominican Republic -- $428 (30%)
3. San Jose del Cabo, Mexico -- $292 (30%)
4. Rome, Italy -- $546 (28%)
5. Venice, Italy -- $666 (26%)
6. Mexico City, Mexico -- $289 (26%)
7. Athens, Greece -- $734 (24%)
8. Nassau, Bahamas -- $399 (24%)
9. Munich, Germany -- $621 (23%)
10. Zurich, Switzerland -- $614 (23%)
Much like the quality of a whistle-blower's tequila, none of this is guaranteed. Though Hopper does predict this stuff with 95% accuracy, which if they were playing beer pong would pretty much make them Kings of Spring Break. If you're keen on going somewhere this March you can download the Hopper app, enter your desired destination and dates, and wait for them to alert you when airfares start to drop. Or you can spend your downtime scouring the internet to catch the best deals. As the great 20th-century philosopher Humpty Hump once said, doowutchyalike.
Spring break doesn't have to mean acting like a college kid again. It can, but it can also mean taking some time when the weather starts to warm, and getting the heck outta town. Whether it's partying, immersing yourself in another culture, or just Instagramming pictures of yourself with fruity drinks on the beach, spring break is still a helluva concept. Especially when you're old enough to make slightly better decisions.
Sign up here for our daily Thrillist email and subscribe here for our YouTube channel to get your fix of the best in food/drink/fun.