Flights to These 20 Cities Are About to Get Way Cheaper in May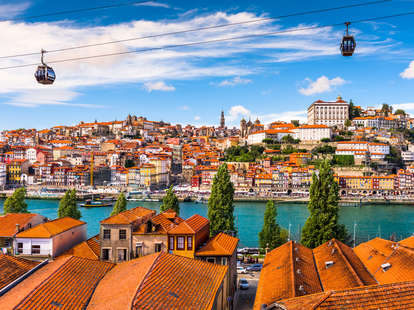 I wore shorts today. For months now, I've been lurching out of bed each morning and shoving myself into the same pair of sweatpants to go buy yogurt and coffee and maybe an empanada unless all they have left are the cheese ones -- until today, when I checked the weather on my phone. This winter has been so long I'd forgotten I owned any shorts, but it turns out I do, and so I wore them.
May is that glorious month when the warmth of spring and the promise of impending summer nights finally hit you. May is the month of pools and school ending and Memorial Day weekend and when you really start thinking about getting away. To help you take full advantage of May's tantalizing goodness, we've scoped out the best upcoming airfare deals. For this we turn to the good folks at Hopper, the travel app that analyzes data from billions of past flights and crunches the numbers to find 20 cities, both foreign and domestic, where flight prices are likely to drop the most this May.
Domestic
Home to one of the best beaches in Florida, Fort Lauderdale (where flight prices are down 41%) is lovely this time of year before all the humidity kicks in for real. Enjoy the city's free outdoor movies and live music along the boardwalk. Plus there'll be a Paraguayan "Polkas and Guaranias" music festival on May 18 (tickets start at $35). If Florida doesn't do it for you, NYC (down 35%) is well and truly entering festival season. NY Beer Fest returns to City Field on May 4 (tickets start at $50) and the NYC Independent Film Festival lasts May 5-12. Don't miss Fleet Week, when "sailors on leave" is more than just an expression -- ships from the United States Navy, Marines, and Coast Guard will be docked in the city from May 23-29. And of course, perennial favorite Governors Ball returns on May 31 (tickets start at $115). Here's the full breakdown on the domestic side:
1. Fort Lauderdale, Florida -- $237 (41%)
2. Austin, Texas -- $235 (39%)
3. Minneapolis, Minnesota -- $338 (38%)
4. Charleston, South Carolina -- $276 (35%)
5. New York City, New York -- $207 (35%)
6. Newark, New Jersey -- $209 (33%)
7. Atlanta, Georgia -- $196 (33%)
8. Kansas City, Missouri -- $200 (33%)
9. Indianapolis, Indiana -- $232 (31%)
10. San Juan, Puerto Rico -- $317 (30%)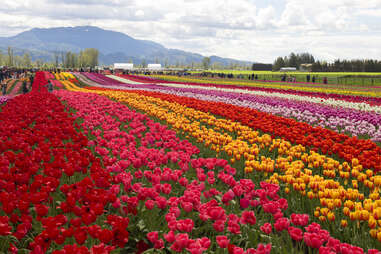 International
May, as it happens, is one of the best times of year to visit Porto, Portugal (down 46%), a vibrant coastal hub full of unparalleled sun, seafood, and of course, port wine. Carve out a day to head to some of the nearby secret beaches. If you'll be there over Memorial Day weekend, scoop up some tickets (starting around $40) for North Music Festival, an electronic indie rock fest that returns to the city May 24-25. There are direct flights to Porto from Newark, NJ these days, but those of you on the West Coast who want to get out of the country, yet need something a little closer to home, can still escape to Canada. Grab a flight to Vancouver (down 31%) and check out the Vancouver Comic Arts Festival on May 18-19. You can also catch the tail end of Western Canada's largest tulip festival and then transition right into the wildly colorful Abbotsford Tulip Festival; tickets are just a couple of bucks. Here's the breakdown on the international side:
1. Porto, Portugal -- $628 (46%)
2. Cancún, Mexico -- $350 (44%)
3. Vieux Fort, Saint Lucia -- $591 (39%)
4. Phuket Town, Thailand -- $724 (37%)
5. Havana, Cuba -- $292 (35%)
6. Puerto Vallarta, Mexico -- $318 (35%)
7. Vancouver, Canada -- $241 (31%)
8. Milan, Italy -- $643 (30%)
9. Medellín, Colombia -- $344 (30%)
10. Munich, Germany -- $832 (29%)
Hopper's price-point predictions have historically been about 90% accurate, which is to say they're gonna work better than any random guesswork on your part. To let the app find you those cheap cheap rates, download the app if you haven't already and plug in your dates and destinations of choice. Then you just wait for a bit, during which time you can dig out your shorts and go outside instead of just comparing all these flight prices yourself. You'll get a notification when the prices have dropped as low as Hopper thinks they're gonna, at which point it is time to buy. Don't forget sunscreen.
Sign up here for our daily Thrillist email, and subscribe here for our YouTube channel to get your fix of the best in food/drink/fun.