Milan, Italy

| Viacheslav Lopatin/Shutterstock
Milan, Italy

| Viacheslav Lopatin/Shutterstock
November is a month in which a lot of you already plan to travel to see family, so any time you take for yourself is gonna have to be somewhat strategic. This is where it can be helpful to know what destinations will be easiest (meaning, cheapest) to get to. Enter Hopper, one of the most useful travel apps around, which tracks data from millions of flights to predict which travel destinations, both foreign and domestic, are going to see the steepest discounts next month. So take those sick days that won't roll over and enjoy a couple of days of vacation, either as a detour on your way to Thanksgiving or on your way back. Sometimes the best places to travel in November are really just the cheapest ones.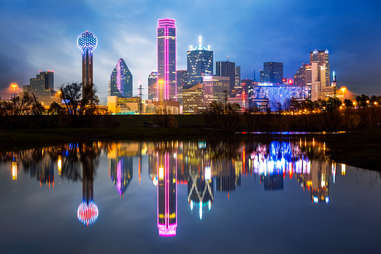 DOMESTIC
Is November a good time to visit Florida? Actually, yes. Like, extremely yes. The rainy season has just dried up, and the crowds of tourists have evaporated, too, which makes Orlando (down 35%) a great scoop here. From November 2-3 Orlando puts on Fiesta Fall in the Park, a (free!) festival where hundreds of local artisans come out to sell and showcase their work. November 8-10, it's time for EDC Orlando -- Deadmau5, Above & Beyond, Diplo, dozens of others. Tickets start at $120.
We know not all of you wanna be cold this time of year. Dallas (down 33%) is another excellent bet this November for many reasons, among them the fact that the weather is perfect for all our favorite Dallas-area activities … but also because of the Dallas Taco & Margarita Festival on November 9th. Tickets start at $5.
1. Orlando, Florida -- $179 (35%)
2. Dallas, Texas -- $179 (33%)
3. Boston, Massachusetts -- $174 (33%)
4. Burbank, California -- $193 (31%)
5. Kansas City, Missouri -- $236 (30%)
6. Milwaukee, Wisconsin -- $258 (27%)
7. Salt Lake City, Utah -- $216 (27%)
8. Nashville, Tennessee -- $238 (26%)
9. Portland, Maine -- $275 (26%)
10. Palm Springs, California -- $307 (26%)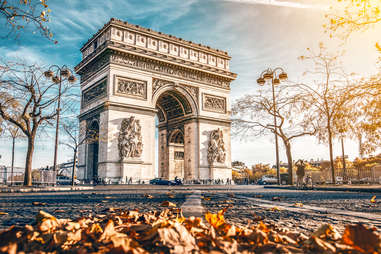 INTERNATIONAL
These discounts usually don't get over 50%, so if you've been thinking of planning a trip to Paris (down 51%) this might very well be the time to do it. In case any of you reading this happen to be young itinerant writers, my ~insider tip~ for you is that you can sleep in the legendary Shakespeare and Company bookstore for free, provided they have room and they like you. You will not regret Paris in autumn.
Been dreaming more about Italy? The move here, I think, is to rent a car and use Milan as a jumping-off point to explore all the delicious things you can eat in northern Italy's small mountain towns. Balsamic vinegar in Modena, prosecco from the Prosecco Road, prosciutto di Parma in Parma...
1. Paris, France -- $461 (51%)
2. Delhi, India -- $857 (41%)
3. Rome, Italy -- $589 (40%)
4. Bogota, Colombia -- $419 (38%)
5. Lisbon, Portugal -- $621 (37%)
6. Guatemala City, Guatemala -- $437 (36%)
7. Singapore -- $601(36%)
8. Taipei, Taiwan -- $616 (35%)
9. Milan, Italy -- $564 (34%)
10. Lima, Peru -- $583 (34%)
Hopper's discount predictions have historically been 95% accurate, so -- regular readers, please say it with us -- if you trust condoms you can trust Hopper. To actually turn any of this data into a travel plan, you can download the app, enter the cities you want to keep tabs on, then the dates you're free to travel and… just wait. You'll get notifications when the flight prices dip to what's expected to be their lowest, meaning that's when you should book. There are lots of different ways you can save money on flights, but this is a good place to start.
MORE: France's most underrated cities