October is a fantastic month to travel for a whole mess of reasons, but in terms of your budget, remember this: While hurricane season is finally winding down, flights to hurricane-endangered cities are still heavily discounted. But which are the biggest bargains of the lot? To find out, we turn once more to one of the best travel apps around, Hopper.
Hopper crunched data from millions of flights over the years and predicted which top destinations, both abroad and in the US, will have the steepest discounts in October. If you missed the opportunity to squeeze in an island vacation this summer, now's your chance; if you'd rather stay dry there's also a bunch of incredibly fun cities on the list that ain't on a coast.
Recommended Video
These Eco-Friendly Domes Give You Breathtaking Views of the Swiss Alps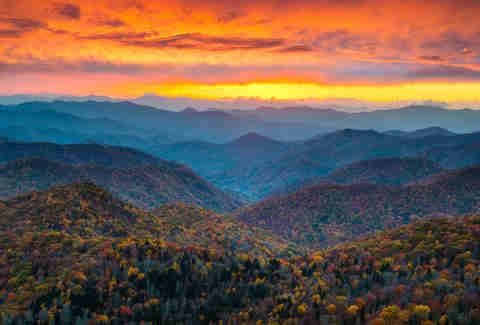 DOMESTIC
Starting with the domestic destinations, there's never been a better time to visit Puerto Rico, and flights there are 35% off this month. We're just past the one-year mark for Hurricane Maria, and while many on the island are still struggling to recover, the commercial areas of San Juan are open for business and enthusiastically welcome your tourism. As does a destination that arguably needs it even more -- the US Virgin Islands (28% off) -- where residents are determinedly restoring some the stunning Caribbean vistas and could do it a little faster if you went and spent a few bucks enjoying fresh seafood and rum. October 25 in the USVI is Hurricane Thanksgiving, which is another reason we've already named it one of the best places to travel to in October.
Flights to Asheville, North Carolina, will clock in right around $200 (36% off). The foliage season here is one of the longest and most vibrant, so the move here is to ensconce yourself in the Pisgah National Forest and camp out at this rustic pay-what-you-want hippie retreat. Reps from Explore Asheville confirmed that the foliage won't have been compromised by the recent hurricane -- if you are looking for a way to support North Carolina residents affected by Hurricane Florence during your time off, you can use Asheville as a jumping-off point. The state is registering disaster-recovery volunteers here.
1. Asheville, North Carolina -- $199 (36% off)
2. San Juan, Puerto Rico -- $244 (35%)
3. Nashville, Tennessee -- $345 (34%)
4. Ontario, California -- $228 (33%)
5. Fort Myers, Florida -- $233 (31%)
6. Kansas City, Missouri -- $192 (29%)
7. Austin, Texas -- $257 (29%)
8. Saint Thomas Island, US Virgin Islands -- $309 (28%)
9. Fort Lauderdale, Florida -- $161 (28%)
10. Key West, Florida -- $370 (28%)
11. Pittsburgh, Pennsylvania -- $214 (27%)
INTERNATIONAL
On the international side, you can prolong the summer vibes and head to Bali ($655, down 22%), undoubtedly one of the most gorgeous places to visit in Southeast Asia. Or visit Amsterdam ($570, down 29%) and discover for yourself why Dutch people are such lovable assholes! And finally: It is now Northern Lights season (at least, now is the best time to see them), which means Reykjavik is a must ($367, down 21%). You probably knew this was a great time to go because all of your friends are going, or else they've been already. Don't be the only friend who hasn't been to Iceland.
1. Cancun, Mexico -- $300 (36% off)
2. Santiago de los Caballeros, Dominican Republic -- $413 (35%)
3. Frankfurt, Germany -- $688 (30%)
4. Amsterdam, Netherlands -- $570 (29%)
5. Mumbai, India -- $1,082 (26%)
6. Beijing, China -- $510 (25%)
7. Osaka, Japan -- $410 (24%)
8. Bali, Indonesia -- $655 (22%)
9. Dublin, Ireland -- $528 (21%)
10. Reykjavik, Iceland -- $367 (21%)
Hopper's fare predictions are 95% accurate, so if you trust condoms you can certainly trust Hopper. To nab these prices you can download their app, plug in the destinations you're interested in, and add your preferred dates. Then… that's pretty much it. Hopper will send you notifications when prices for your ideal flight sink to their lowest, i.e., when the moment is just right for you to book. If that's simply too easy and you don't know what to do with all the extra time you now have on your hands, here are some other sites that'll help you save money on flights.
 
Sign up here for our daily Thrillist email and subscribe here for our YouTube channel to get your fix of the best in food/drink/fun.