October is upon us and that can mean only one thing: It's time for Christmas sales. Sure, Halloween is still a month away and Thanksgiving is so far off the turkeys still think everything's cool. But it's never too early to start blaring Christmas music over the loudspeaker and offering 20% off mattresses because "it's almost the holidays."
You know who else is offering some crazy deals in October? The airlines. Our friends at the airfare-watchdog app Hopper crunched data from millions of flights over the years, and found the top destinations where prices have historically dropped the most in October.
Recommended Video
Lovers Are Making the Pilgrimage to Kiss In This Hidden Alleyway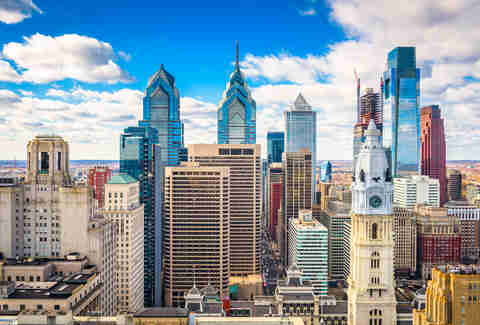 This month, cities in the NFC East have airfares as painfully affordable as their football is painfully unwatchable. Tops on the list is Washington, DC, so if you're looking to go check out the new District Wharf you can get there for $187, down 38%. New York ($226), Philly ($196), and Dallas ($143) also make appearances in the top 10, less than the cost of good seats in most of those stadiums. If beaches and sunshine are more your October getaway style, Long Beach, California has average flights of $134, down 34%.
The rest of the top 10:
Domestic destinations
1. Washington, DC - $187 (38%)
2.  Long Beach, California - $134 (34%)
3.  Philadelphia, Pennsylvania - $196 (33%)
4.  New York, New York - $226 (32%)
5.  Chicago, Illinois - $150 (31%)
6.  Atlanta, Georgia - $189 (31%)
7.  Denver, Colorado - $149 (29%)
8.  Oakland, California - $122 (28%)
9.  Dallas, Texas - $143 (25%)
10. Detroit, Michigan - $232 (24%)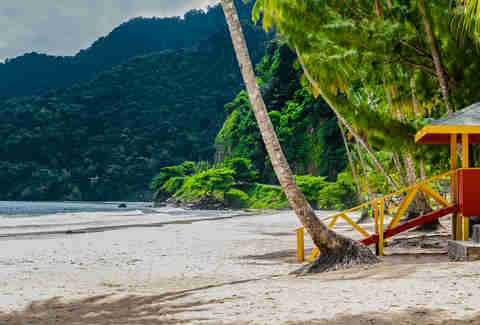 Internationally, this should be your year to spend Halloween in Colombia. Because nothing ramps up a Halloween party like arepas. And you can buy vastly more of them -- or whatever else you'd want to buy in Colombia -- with flights to Bogota down 48%, and flights to Medellin down 32%. Crossing the Pacific will cost you less than a trip to most Midwest regional airports this October; flights to Tokyo and Osaka are both down 34%, to $579 and $555 respectively.
International destinations
1.  Bogota, Colombia - $405 (48%)
2.  Tokyo, Japan - $579 (34%)
3.  Osaka, Japan - $555 (34%)
4.  Port of Spain, Trinidad and Tobago - $559 (33%)
5.  Liberia, Costa Rica - $512 (32%)
6.  Medellin, Colombia - $396 (32%)
7.  Oranjestad, Aruba - $426 (32%)
8.  Paris, France - $621 (32%)
9.  Guayaquil, Ecuador - $569 (31%)
10.  London, UK - $622 (31%)
Unlike Christmas starting earlier every year, none of this is guaranteed. And while Hopper does predict flights with an impressive 95% accuracy, hey, that's one time in 20 they get it wrong. So you can follow these airfares every day in between perusing online holiday specials. Or you can download the Hopper app, enter your destination and desired dates of travel, and wait for them to alert you. You're saving money either way.
Instead of getting caught up in holiday hoopla before temperatures in Duluth are making the news, call your friends, book some plane tickets, and go see someplace new. Believe us, the Christmas sales will still be there when you get back.
Sign up here for our daily Thrillist email and subscribe here for our YouTube channel to get your fix of the best in food/drink/fun.