In case you felt left out of yesterday's Brazilian flight deal (which you totally were if you're in New York), there's a newer, even better deal on offer: $350 round-trip flights from the Big Apple to Foz do Iguaçu, a Brazilian border city that sits right next to the spectacular Iguaçu Falls pictured above.
This time, availability's from mid-August through November, and you'll be flying with LAN Airlines (a partner of American Airlines). Peak cheapness depends on your airport of choice and your desired dates -- Los Angeles and Miami are still in on the deal, with flights starting at $375 and $423 respectively, but flights from Orlando are the cheapest of all, starting at $286 in August. For reference, flights to this part of the world generally run upwards of $1,000, which is way more dollars.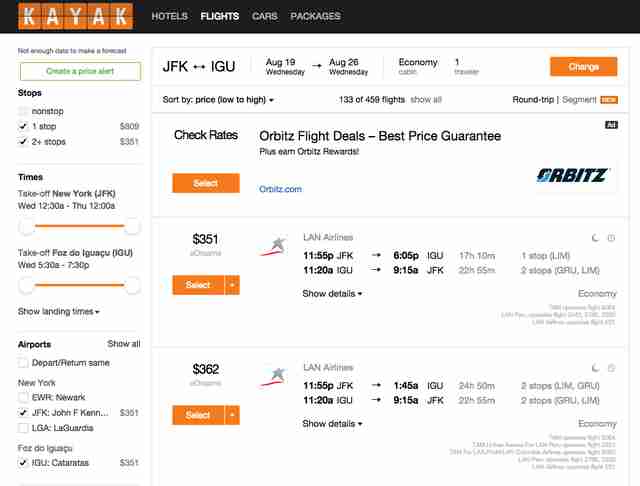 There are two catches here, though. First, you'll only find these low prices by searching through Kayak (Priceline and Orbitz show significantly costlier flights). So much for Captain Kirk's vaunted negotiation skills.
Second, and more importantly, the travel times can get pretty long, depending on the day you fly and your home airport -- that $286 fare from Orlando, for example, comes with an insane 13-hour layover in Lima, Peru. But hey, since Peru doesn't require Americans to get a visa, you can use that time to explore Lima's killer food scene or down a few pisco sours. It's win-win! As much as a 13-hour layover can be.
Make sure you put in IGU as your destination airport from any of the cities listed above, and search August through November for the crazy deals. Just don't forget -- Brazilian visas for Americans run $160, so factor that into your plans if you book this crazy-cheap deal.

Gianni Jaccoma is a staff writer for Thrillist, and he's all about chasing waterfalls, TLC be damned. Follow him to the rivers and the lakes that you're used to on Twitter @gjaccoma