Norwegian Air Is Driving Down Flight Prices to Europe. Here Are Its Best Destinations.
Norwegian Air called its shot years ago. You know the airline now as a sort of Southwest for transatlantic trips, but before the discount carrier started routes between Norway and New York, the concept of a stripped-down flight to Europe was still novel.
Quoth The New York Times in the winter of 2014: "Norwegian started flying between Oslo and Kennedy Airport in New York in May and has round-trip fares starting at $509. The second-lowest price found recently was $895 on United Airlines flying out of Newark Liberty International Airport."
Today if you look up Norwegian flights from NYC to Oslo, you can score a trip for as little as $330. This ain't exactly a fancy way to fly, but if you're cool with not picking your seat and not checking a bag, you can go smell the aging timber of the Viking Ship Museum for about what it would cost to get a dishwasher installed in your kitchen. Due props to Norwegian's chief executive, Bjorn Kjos, who told the Times back in 2014: "We expect to see more dramatic reductions in fares."
Norwegian and its fleet of Boeing Dreamliners gets travelers bargain trips from 14 US airports -- LA, Chicago, Oakland, Vegas, Seattle, Denver, Austin, and along the East Coast. If you're sizing up a sale, you probably know some of the European hubs pretty well: Dublin, Oslo, Madrid, London, Barcelona. But discount airfares on Norwegian (not to mention EasyJet, RyanAir, Vueling, Wizz Air, and WOW) can also get you to some off-the-beaten-path destinations on various continents for relative peanuts. This is truly a golden age of flight, if you don't mind treating yourself like a human suitcase.
Here are some of the more obscure, but still incredible, picks for the next time Norwegian throws some ludicrous sale. Flight times and prices are out of the NYC area, flying the lowest round-trip fare possible (because even if flights are cheap, money's still pretty damned expensive).
Bergen, Norway
Shortest flight: 7 hours, 5 minutes
Cheapest flight: $230 direct from NYC
Perfect for: Fans of street art and/or fjords. See where Banksy inspired a generation of artists whose murals decorate the city's buildings. For a glimpse of Bergen's past, visit the old wharf and Bryggen, where Bergen's oldest buildings have sat since the 1700s. It rains a lot in Bergen, so after wandering the streets, check out the burgeoning third-wave coffee scene at Bergen Kaffebrenneri, loiter at the Krok og Krinkel Book Café, or just dry off with a shot (or two) of locally made aquavit. Foodies will want to blow their budget on the "neo-fjordic" cuisine at Lysverket or try the fish and chips at the Torget Fish Market. Your day-trip assignment: Take a boat through planet Earth's sickest fjords.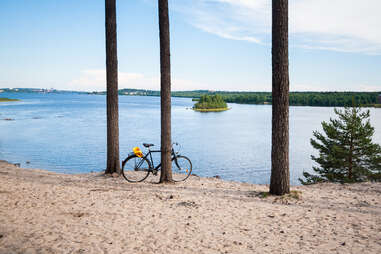 Luleå, Sweden
Shortest flight: 9 hours (with layover in Stockholm)
Cheapest flight: $540
Perfect for: Adventure seekers who want to see life above the Arctic Circle. Winter in this coastal city in Swedish Lapland features ice fishing, snowmobiles, dog sled rides, the northern lights, and saunas galore. In summer, kayak through the archipelago under the midnight sun.
Agadir, Morocco
Shortest flight: 11 hours (with layover in London)
Cheapest flight: $175 (from London, itself $350 from NYC)
Perfect for: Sunbabies who are tired of the Jersey Shore. Tucked into the foot of the Atlas Mountains, Agadir suits the traveler who want to go a step beyond well-trod tourist spots like Marrakech and Tangier yet still find three-star beachside resorts. Throw down a towel and scope out the Atlantic from a broad swath of blond sand. When you've earned your base tan, head to the Crocoparc, the preserve for Nile crocodiles, or wander through the old town and find yourself a Kasbah to rock.
Nice, France
Shortest flight: 9 hours (layover in London)
Cheapest flight: $460
Perfect for: Sophisticates, celebrities, and the louche. Vacationing on the French Riviera is all about the good life -- sun, wine, art, and incredible food. Start with a glass of vin naturel, wines produced without chemicals or sulfites, paired with a socca, the chickpea-and-olive oil crepe that is a specialty of the region. Spend your days on the pebbly beach (bring a folding chair and sandals) of the Côte d'Azur or visit the Musée Matisse or the Musée National Message Biblique Marc Chagall. When darkness falls, dance the night away at a nightclub, ideally on a rooftop bar filled with yacht owners.
Riga, Latvia
Shortest flight: 9 hours (with layover in Oslo)
Cheapest flight: $450
Perfect for: European history buffs on a budget. Head to the Museum of the Occupation of Latvia and then The Corner House, a former KGB headquarters full of Soviet secrets. Architecture aficionados will love the combination of art nouveau, modernist, and Soviet Chic buildings and re-purposed spaces like the Riga Central Market, built in an old Zeppelin hangar. Or time your trip for August and head to the Positivus Festival, the local music festival on the Baltic Sea where you can sit on the beach, sip a local liqueur called Black Balsam, and listen to Grandmaster Flash.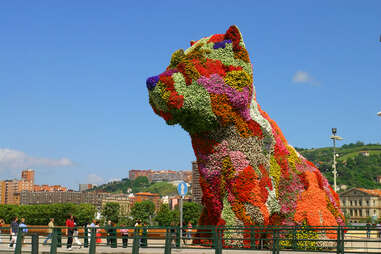 Bilbao, Spain
Shortest flight: 9 hours (with layover in Madrid)
Cheapest flight: $76 (from Madrid, itself $350 from NYC)
Perfect for: Anyone with eyes or a mouth. Spain's Basque Country is a circus of pintxo bars serving up slivered Iberico ham, bocaditos, and briny anchovies paired with txakoli, the local sparkling wine. Eat your way through the art deco Mercado de la Ribera, a food hall filled with Spain's finest fish, fruit, jamon, and cheese. Art lovers will park themselves in the vaunted halls of the Frank Gehry-designed Guggenheim Bilbao. Pull yourself away to see the Azkuna Zentroa, the old wine warehouse that Philippe Starck transformed into a culture and leisure space that includes a movie theater and a glass-bottomed pool that affords an unusual view of the city (and the swimmers). Then, wander the Seven Streets of the Casco Viejo, the oldest part of the city, to find a vermuteria (vermouth bar) for a nightcap.
Amman, Jordan
Shortest flight: 12 hours (with layover in Barcelona)
Cheapest flight: $400 (from Barcelona, itself $400 from NYC)
Perfect for: Anyone who wants to get in touch with their inner Indiana Jones. Jump on a camel and head directly to the ancient city of Petra. The archaeological wonder dates back to 300 BC and alone is worth the trip to the city. Learn more at the archaeological museum, tour the stone-carved columns Temple of Hercules and vaulted roof of the Umayyad Palace, or shift lanes entirely and head to the Royal Automobile Museum. Keep up your energy with falafel and shawarma, sate your sweet tooth on flaky baklawa at the Souk Al-Sukar, or sugar market, and seek out the unexpected local microbrewery scene, helmed by Carakale Brewing Company. No trip to Jordan is complete without a trip to the shore of the Dead Sea, the lowest point on Earth, for a float in the mineral-rich salty waters.
Kos, Greece
Shortest flight: 11 hours (layover in London)
Cheapest flight: $168 (from London)
Perfect for: The tan and the lazy. Pick a sandy spot on the shores of the so-called green-beach of Lambi, where the ocean water is an unworldly emerald, or visit the hot springs at Therma. Sip glasses of raki and mastika, made from the resin of the mastic tree, and fill up on the incredibly fresh local seafood. If lying around looking good isn't enough for you, explore the Asclepeion, the ancient temple dedicated to the Greek god of medicine, and see the artifacts at the Archaeological Museum. Be sure to pause and sit under the Tree of Hippocrates, where the teacher is rumored to have taught his students, and see if any inspired thoughts strike you.
Sign up here for our daily Thrillist email and subscribe here for our YouTube channel to get your fix of the best in food/drink/fun.