Flight Prices to These A-List European Cities Have Dipped 30% This Year
prague, czech republic

| TTstudio/Shutterstock
prague, czech republic

| TTstudio/Shutterstock
By now it's about as shocking to see historically cheap flights to Europe as it is to see Roger Federer win a tennis match. So why is Europe getting so cheap? More competition from discount airlines is the easy response. In cities where more low-cost carriers have opened up shop, prices have dipped.
But you, good American traveler, should also take some of the credit. You've shown you're willing to pay dirt-cheap airfares for stripped-down service, and you've prompted second-tier US airports to offer international flights.
"The intriguing thing is how many US airports -- especially smaller ones like Providence -- are starting to offer direct flights to Europe on these discount airlines," says Emily Fisher of CheapFlights.com. "It's tapping into other markets with lower costs at their airports, and they're strategic about how they expand, which is helping people find lower fares."
So, yeah, it's shaping up for a great year for a Euro trip. But while flights to some parts might be cheap, it's not true everywhere. To nail down the bargains for you, we got the scoop from the folks at Kayak, who broke down the destinations that have seen the biggest airfare drops since last year. Then we did a little homework to find out how you can do those cities for the least money. Here's where you can take the trip of the year on a relative shoestring.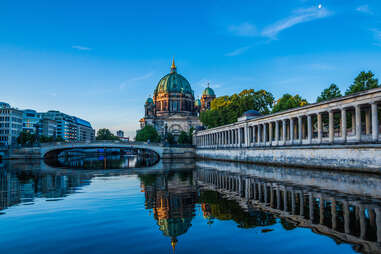 Berlin, Germany
Flights cost: 19.6% less
Berlin has a worldwide reputation as a party city, home to clubs like OHM that host some of the best DJs in the world. And though there's no shortage of music or parties here, it's not always a budget trip. So if you want to save money for your big nights out, spend your day visiting the historic sites. The Reichstag Dome, the museum at the old Gestapo headquarters, and the Berlin Wall Memorial are all free to visit.
To experience the more affordable part of Berlin's food scene, hit up the Kollwitzplatz Market on Thursdays and Saturdays, or the Turkish Market at the Kreuzberg Canal. Some of the music can be had for free too, if you peruse the local music rags and look for free shows. Or try being a musician yourself at Sunday Bearpit Karaoke im Mauerpark.
Paris, France
Flights cost: 34.9% less
Nobody's mistaking Paris for a "value destination" but with flights down over a third and hotels for under $95 a night, it's cheaper than it was. Listen to the right people and you can do the city on 19 euros a day, with affordable options not limited to taking pictures from outside the Eiffel Tower or the ground floor of Notre Dame.
The Musée des Arts et Métiers is free for everyone after 6pm on Tuesdays. Cathedrals that aren't famous for their hunchback are also free and worth a visit, like the Basilique du Sacre-Coeur and the Basilica of St Denis. Wine is readily available for only a few euros at a lot of stores, and crepes, croissants, and falafels aren't much more.
Amsterdam, Netherlands
Flights cost: 36.3% less
Unfortunately for SOME travelers to Amsterdam, prices in the hash bars and red-light district haven't dropped much since 2016, and don't look to any time soon. But you don't need vice to enjoy this city, and there's plenty of stuff to do for well under 10 euros.
Just renting a bike and taking in the wonders of engineering that made this marshland a viable city is fascinating, as is the architecture along the canals. Rooftop movies at spots like Floor 17 are popular when the weather is hospitable. When it's not, there are non-Heineken brewery tours at de Prael and Brouwerij 't IJ for under 5 euros (including beer!). Or climb the church tower at Westertoren for some fantastic views of the old city.
Bucharest, Romania
Flights cost: 24.1% less
This grand capital embodies a certain kind of deep discount in Eastern Europe, where you can find lots of great bargains. Prices in Bucharest have fallen as Romania aims to adopt the euro in the coming years, as a condition of its joining the European Union, which trips a lot of favorable dominos.
"In these cities, prices are half what they are in Berlin," says Steve Cuffari of Couponbox.com. "These places are on the waiting list to get the euro and they're basically cheaper because they're anticipating it. They're gearing up for it, which may be part psychological and part the market."
Romania's capital has not-terrifying hotel rooms for $7 a night, according to Kayak, and simply strolling the streets to see the mishmash of medieval, classical, and brutalist architecture is a captivating and free way to learn the history of the city.
Beyond that, the street art in Garajul Ciclop always makes for some good Instagram posts, and the city offers free walking tours daily. Beer culture is big here, and cheap, so take a trip to the old town and crawl through bars like the student-heavy Club A, or try one of the 100 beers at the appropriately titled La 100 de Beri.
Prague, Czech Republic
Flights cost: 21% less
Though Prague and its stunning Romanesque architecture have become as much of a stop on an Eastern European itinerary as the beaches of Croatia, the city still isn't horribly overpriced. Gone are the weekly free days at museums, but the galleries in the Smichov district can be just as provocative, and cost just a little over 5 euros.
If you've got kids, absolutely check out one of the famous Prague puppet shows, a dying art that you can catch for a few euros at Divadlo Minor. Goulash is your go-to for food, which is both a hearty local specialty and a great value for about 6 euros in most restaurants. Though you might want to try the surprisingly good selection of pho spots opened by the city's sizable Vietnamese population.
Copenhagen, Denmark
Flights cost: 22.6% less
This Danish gem is another city notorious for sticker shock during the euro-dominant 2000s. But look a little closer and there are deals to be had. The $60 Copenhagen Card gets you on the city's public transportation for free, as well as into 79 attractions including boat tours, the circus museum, and the national aquarium.
The iconic amusement park Tivoli Gardens isn't horrendously expensive, with an unlimited rides ticket going for a little over $20. Food isn't cheap, but venture to Copenhagen Street Food and you'll find a range of cheap eats, including Indian, hamburgers, and Mexican.
Rome, Italy
Flights cost: 24.3% less
Surprisingly, the most quintessentially Roman things you can do are either cheap or completely free. Sipping an espresso outside at Sant'Eustachio? A euro and a half. Strolling through streets casually surrounded by the world's greatest collection of architecture? Free. St. Peter's Basilica? Also free, though paying 30 or so euros for a guided tour will help you skip long lines.
You get the idea. For something a little more off-the-beaten-path, try the Museo Criminologico where for 2 euros you can see centuries' worth of torture devices. Food is the other obvious draw in Rome, and the best gelato you'll ever have is rarely more than 4 euros. For a full meal, get out of the city center and its tourist trap restaurants and gorge yourself on pasta at Pasta Chef-Street Food.
Dublin, Ireland
Flights cost: 10.4% less
Ireland, for some reason or another, has a reputation for drinking. Not to play that up, but if you DO feel like going to visit the Guinness Storehouse, it'll only run you 6 euros per person to tour the place. The Jameson distillery will give you a tour and pour whiskey into you for 18 euro. And having a pint with a toastie at Grogan's pub will cost you less than 10.
Come to think of it, Dublin might be the odd European city where hitting all its iconic, tourist-friendly food joints will actually SAVE you money, with chips at Leo Burdock only 3 euros, ice cream at Teddy's only 2.40, and a full fish and chips anywhere less than 10. Burn at least a little of that cheap food off by hiking to the top of Killiney Hill for the best view of the bay. Then maybe stroll through the National Museum and the Science Center at Trinity College, which are both also free.
Barcelona, Spain
Flights cost: 30.6% less
When you have as many sunny days as Barcelona, cheap thrills are easy to come by. The obvious way to spend an inexpensive day is at the beach. But simply strolling Barcelona's streets can be an education, stopping in spots like Can Paixano for cheap glasses of cava, and munching on street tapas at Calle Blai for about a euro each. The Rambla is the famous shopping street, and it's worth a lap or two if you hold onto your wallet and don't buy anything.
The best views of the city are also free if you head to the top of Turó de la Rovira and peep the skyline from old anti-aircraft bunkers. To view art from one of 20th century's greatest painters, hit the Picasso Museum on Sundays when it's free from 3 to 7pm. Get hooked, and you may just want to move here to work remotely.
Warsaw, Poland
Flights cost: 7.7% less
Americans rarely stop to really ponder how many buildings in major cities in Europe had to be completely rebuilt after World War II. Nowhere is this more impressive than Warsaw, a 1,000-year-old city all but demolished in the war that has come back as one of Europe's most beautiful capitals.
Seeing this rise from the rubble won't cost much: The Warsaw Uprising Museum has free admission on Sundays, and the completely rebuilt Royal Castle does as well. Warsaw also has surprisingly lively beaches, and the sands along Vistula River play host to beach parties all summer long. Afterwards, cool off with a beer at PiwPaw, the most extensive craft beer bar in the city.
Sign up here for our daily Thrillist email and subscribe here for our YouTube channel to get your fix of the best in food/drink/fun.

Matt Meltzer is a contributing writer to Thrillist who's never down year over year. Follow him on Instagram @meltrez1.