Why Flights to Europe Are Going to Get Even Cheaper This Summer
Nerja, Spain

| AFP Contributor/Getty IMages
Nerja, Spain

| AFP Contributor/Getty IMages
The bitch seat of the skies is taking its act across the pond.
In March, American Airlines announced it was joining Delta in expanding its basic economy fares on flights to Europe. "Basic economy" is a clunky term for a clunky ride, but at least you're about to have more no-frills, wait-I-can-actually-afford-this seats on transatlantic flights. Skinflints, rejoice!
Or should you? While it's one thing to roll the dice on getting a middle seat and pack just a laptop bag for an overnight to Dallas, it's quite another for a 12-hour flight and a week abroad. And while we know you'll be getting less, it's not yet clear how much less you'll be paying. Still, if you shop on price, it'll be fascinating to watch American truly compete, you hope, with the eye-popping $99 fares from WOW and Norwegian.
We talked to some industry experts to find out what this new class of dirt-cheap Euro flights means for you, the cash-strapped traveler. Here's everything you need to know when considering a basic economy trip across the pond.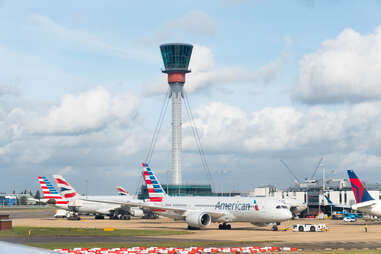 Why are legacy carriers taking basic economy abroad?
Legacy airlines like American and Delta would much rather charge you in the mid-three figures for your jaunt to Lisbon or London, but the discount carriers like WOW and Norwegian have drained market share from the big guys. Basic economy is how legacies aim to get back some of that pie, and maybe create some new loyal customers in the process.
Because here's the thing about flights to Europe: Most of us would figure out a way to make a vacation work if we felt we could actually afford the flight. So... what happens if everyone with $300 tucked under the mattress feels flush enough to book that trip?
"It's going to increase the amount of business and make pricing even more competitive," says Tom Spagnola, a senior VP of vendor relations at Cheapoair. "For people who hadn't thought about a European vacation, it's so reasonably priced basic economy fares will be able to put new plans in place. It's really a win-win for the industry and anyone looking to travel."
The catch is obvious. Airlines aren't offering up seats at deep discounts just so the masses can get a little continental culture. They, like you and I, gotta get paid. And they fully intend to do that by getting people to purchase options on top of those basic economy fares, driving up the price you pay to feel like an actual human when you fly.
"American's philosophy with this is to try an upsell the basic economy customer," Spagnola says. "So for a few more dollars you can buy a seat, or check a bag, or whatever. For an extra $40 or $50, it'll add up."
Without upgrades, you'll board last, you'll pay to check a bag, and you'll ride in whatever seat the airline hands you (read: I hope you like elbows hitting your elbows). Still, you'll get a little more than you would with the domestic version.
While American's domestic basic economy fares won't even let you use the overhead bins, international basic economy includes a personal item and a carry-on, so at least you won't have to wear a week's worth of clothes to avoid fees. You'll also get the sustenance that other main cabin passengers enjoy: sodas, snacks, and whatever food might be served. So flight attendants won't be handing the person next to you dinner while you stare on like some Dickensian orphan until you shell out for a snack pack. Delta, another new player in basic economy fares to Europe, offers free alcoholic beverages in the main cabin and meals on some long-haul flights.
Checking a bag will cost you, a new concept on European flights on American and Delta. You also won't get to pick your seat ahead of time (also available for a fee) or get any upgrades even if you're an elite flier. Families might not be able to sit together, and you'll board in the last group unless you have elite status.
But if you're a single person who's traveling light and good at sleeping on your own shoulder, this looks like a win.
Legacy airfares still might not drop to discount levels
Delta and American haven't announced what their new European basic economy fares will be, but don't look for $99 fares right out of the gate.
"American is going to look at the way things are pricing now with the WOW's and Norwegians offering $99 flights, and I think they're going to have to be close to that," Spagnola says. "But it'll go up as summer goes on, and will vary with the seasonality."
Also, don't assume dirt-cheap seats will be available on every flight. The airlines manage their inventory carefully, so each plane has only a certain number of rock-bottom fares. Much like the nosebleed seats at the ballgame, once they're gone, they're gone. Plan early, request your vacation based on the cheap airfares, and you'll have better odds of saving money.
Who should skip over the basic economy fares?
While basic economy might work well for people who know how to pack light, or don't mind a middle seat, it might not be optimal for everyone. In fact, it's going to be not-great for lots of travelers.
"Let's say there's a destination I go to with my family, and now I have these transatlantic fares aggressively priced, so now we can have a new experience for the same price or cheaper," Spagnola says. "It comes down to asking 'How does this destination compare to a place I'd usually fly into?' And how does that compare to an experience flying basic economy to Europe?"
The key word here is experience. If flying is part of your overall travel "experience," basic economy will be the part of the trip you likely try to forget.
"The trick is understanding what you're getting when you pay a rock-bottom fare," says Gabe Saglie, a senior editor at Travelzoo. "You're giving up creature comforts, and you don't get a free checked bag. And remember, you're boarding last, so there's a chance you'll be squeezed out of the overhead bin space. People don't always consider that."
They also don't consider the contingencies. Say you get stuck on a tarmac for three hours. This is when you'd want a bigger seat. Or some dang food. You might also end up in a middle seat all the way from Atlanta to Athens, which might not cross your mind as you sit behind a computer in a comfortable chair comparison shopping online.
"Streamlined travelers who are used to fending for themselves for food or entertainment, or who aren't particular about where they sit will benefit the most from this," Saglie says. "When I'm traveling nine to 12 hours, I like to pick my seat, and that first free bag is key. But for people who are all about the destination and not the journey this is pretty appealing."
One thing you'll start to notice about the destinations: Cheap flights are sure to bring more Americans, as anyone who's been to Reykjavik or Madrid lately can attest. But if you're willing to put up with some hassle, this might just be the catalyst you need to book that trip to go island-hopping around Greece or making 10 new friends a night in Dublin. Just make sure to know exactly what you're getting for the price, and learn how to pack like you're in the Marines.
Sign up here for our daily Thrillist email and subscribe here for our YouTube channel to get your fix of the best in food/drink/fun.
Matt Meltzer is a contributing writer to Thrillist who believes some things in life are just worth paying for, and leg room is one of them. Follow him on Instagram @meltrez1.