Flights to Hawaii Are Getting Crazy Cheap
yuruphoto/shutterstock
yuruphoto/shutterstock
Ask anyone who has ever been: The premier vacation spot in the United States isn't even part of North America. In Hawaii, the most remote major human settlement on the planet, you have eight major islands, at least four of which -- Oahu, Kauai, Maui, and the Big Island of Hawaii -- are places people wait their entire lives to visit.
But who has that kind of time? Not you, that's who. So this year, pull together just a little bit of scratch and book a trip to those vaunted islands in the Pacific for a fraction of the usual cost (how does $400 sound?). Tons of new flights are opening up to Hawaii later this year, and as a result, prices have already started plummeting to unheard-of lows.
In the month of August, Alaska Air was hawking direct flights between Maui and San Francisco for $384, while tickets from LA to Kahului were only $473. On Google Flights, United and Delta are selling late September flights from Portland to Kailua for just $362, albeit with layovers. The prices are also shrinking from the East Coast, with Delta offering sub-$700 fares from New York to Kauai early next year.
The best part? If the rest of the year sets up the way analysts are predicting, you should get accustomed to booking sub-$400 fares on a permanent basis. And in an even stranger twist, you can thank United Airlines for that cheap vacation of a lifetime -- even if you wind up flying American, Hawaiian, or any of the other carriers that are jockeying to whisk you to paradise.
After a crud-tastic spring, United is eyeing a Mele Kalikimaka. Starting December 20, it's ramping up service on 11 of its routes for a total of 40 daily flights from the mainland to the Aloha State. At that point, United will have the most daily flights to Hawaii of any airline, it claims, as it increases service to Lihue (Kauai), Kona (the Big Island), Maui, Hilo (the Big Island), and Honolulu (Oahu) from Chicago, Denver, Los Angeles, and San Francisco.
What were once seasonal-only flights from Denver to Kona, Lihue and Maui, and Chicago to Maui are soon to be daily year-round. Flights from LAX and SFO to Hilo, Maui, Lihue, and Honolulu are also increasing to varying degrees.
United's moves are big enough that they could pull down Hawaii fares across the industry for the foreseeable future. Hawaii still won't be cheap, exactly, not with average historical prices for a round-trip from LAX to Honolulu at $736, according to Fare Detective. But even now, you can find flights to the islands for half of that. And after all, this frenzy is occurring despite the fact that United hasn't even started servicing its 11 new routes, and won't until December. At that point, the holidays should seem less about arguing with your uncle over the electoral college and more about embarking on a sun-dappled journey through black sand beaches, active volcanoes, and jungles that are literally straight out of Jurassic Park. (Feel free to mark your calendar, you're gonna get lei'd.)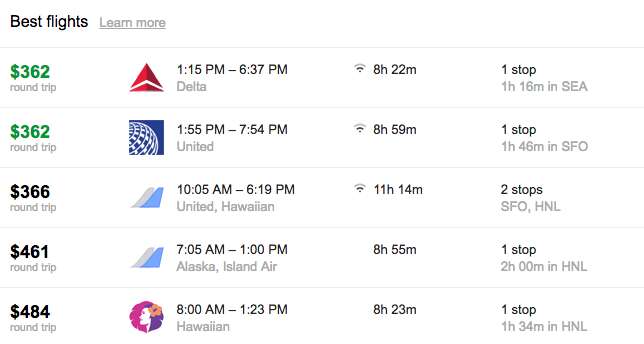 Scott Keyes, the guru behind Scott's Cheap Flights, says United's plans might trigger an across-the-board reduction in fares to the state. Keyes has been watching prices to Hawaii fall gradually even before United's big announcement, when we saw declining fares in the mid-$300 range earlier this summer to destinations like Kona.
"It's more likely than not that prices will continue to fall on flights to Hawaii (and elsewhere)," he tells Thrillist. We saw cheap summer flights to Italy and Spain fall similarly when discount air carriers, especially, started adding more routes to those prime destinations. "With more flights and more seats to fill, I'd say there's a strong chance fares could fall even further," he says.
John Monahan, President & CEO of the Hawaii Visitors and Convention Bureau, says he doesn't expect airfares to crater any time soon. But he does note that the overall supply of seats flying to Hawaii keeps increasing summer-to-summer. That can only portend cheaper flights for you, fair traveler.
There's not a bad chance, in fact, that we're seeing a potential price war brewing.
Emily Fisher of Cheapflights.com notes that several airlines this year have made clear they're going to compete hard for a bigger stake in Hawaii. Take American Airlines. In April, the carrier announced a new daily, seasonal route from Dallas to Lihue, and is increasing service from LA to Maui and Honolulu. Delta in December is launching daily non-stop service from Seattle to Lihue. Even Southwest -- which doesn't yet have flights to the islands -- has its "sights on Hawaii," an airline spokesperson said in an email.
This is all in addition to Alaska Air's 28 daily departures to Kona, Honolulu, Maui, and Kauai from the mainland. Meanwhile, too, Hawaiian Airlines is phasing in two new A321neo and re-purposed A330 aircraft by 2018 that will further increase the supply of available seats. Says Robert Mann, an independent airline industry analyst: "United is attempting to re-establish dominance in the U.S. mainland-Hawaii market after years of watching other carriers -- Alaska and Hawaiian among them -- grow rapidly."
If any of these carriers' prices are most likely to move in tandem, look for it to be United and Hawaiian, he says. They'll be watching each other's prices intently. Consider it a cue.

Sign up here for our daily Thrillist email and subscribe here for our YouTube channel to get your fix of the best in food/drink/fun.
Sam Blum is a News Staff Writer for Thrillist. He's also a martial arts and music nerd who appreciates a fine sandwich and cute dogs. Find his clips in The Guardian, Rolling Stone, The A.V. Club, and Esquire. He's on Twitter @Blumnessmonster.