Somebody out there knows Americans are gonna be looking for an escape towards the beginning of next year. Clearly the confusion over the college football playoff and the very real chance of the Buffalo Bills making a playoff run is just too much for people to handle. So a bunch of airlines have slashed airfares to Italy for early next year, like they're a bunch of YOLO mattress salesmen who just lost their leases.
Those Crazy Eddies of the sky -- Delta, Alitalia, British Airways, United, and TAP Portugal -- are all offering flights to Italy in the $400-and-up range if you book, like, this week. The best deals are out of Boston, Dallas, Miami, New York ,and Philadelphia, though LA, San Fran, DC, Houston, and Atlanta are all pretty cheap too. Your destination? Oh, just a choice between Rome, Milan, Venice, or Bologna. And no, $400 isn't exactly chump change, but probably still less than the Christmas flight you looked up yesterday that seriously made you wonder how much you love you family.
Booking is pretty simple. Just go to your favorite search engine and look for flights to those airports from any of the above-mentioned cities. Make sure you're traveling from January through April of 2017, and shop on different dates. Maybe you want to take bae to Italy for Valentine's Day. Flights for $400-ish aren't unthinkable...
Or maybe spring break in Venice is more your speed? That's cool, much like with every Miami Marlins game in history, plenty of good seats are still available…
And if, for some reason, January 20th is just a day you'd rather not be in our great nation, four Ben Franklins and a Lincoln can have you in the heart of a country than knows a thing or two about political hijinks...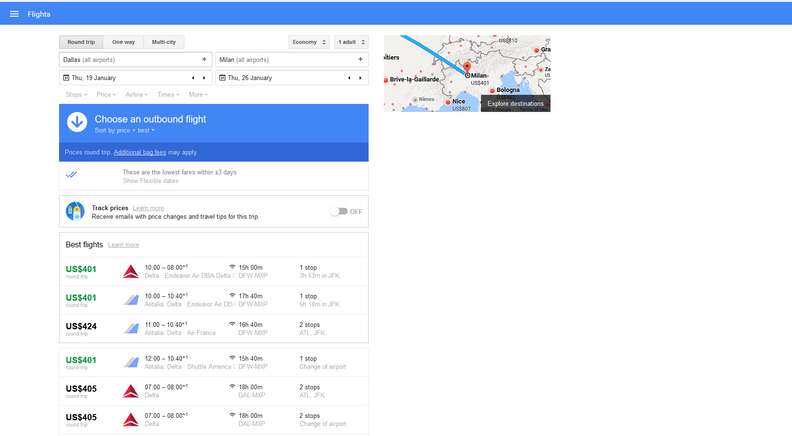 Obviously, these flights are subject to change as seats fill up. And getting to the choice destination airports might be a little tougher if you don't live near them. But, hey, for a $400 trip to Italy, maybe the trouble is worth it. Just don't think too hard about what's waiting for you when you get home, and remember that visa is good for only 90 days. If you want to stay longer, look at one of these great expat countries.
Sign up here for our daily Thrillist email, and get your fix of the best in food/drink/fun.