About the time you finally got around to vacuuming the Memorial Day beach sand out of your car, it's August already. And as you realize Memorial Day was the last time you actually went to the beach, it seems like this last month of summer would be a good time to go again. But maybe this time, fly somewhere so the beach doesn't end up in your car.
Good news this August: Both within the United States and abroad, tropical beach locales are about to have some stupid cheap airfares. Our favorite airfare monitors at the travel app Hopper have crunched numbers from literally billions of flights, taken the historical data, and predicted 20 destinations where airfares should drop in August. And most of them are next to a nice, long strip of sand and clear blue water.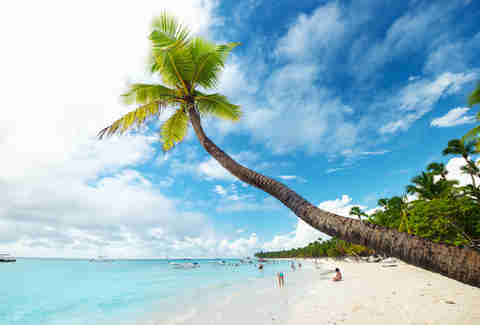 If you want to get out of the country this month, eight of the top-10 international destinations predicted to see big August price drops have world-class beaches. Leading the way is Trinidad and Tobago with 36% drops, to $519 -- shark bake not included. For just a little more, you can check out the beaches in Thailand with fares down 21% to $581, or head to Bali, down 21% to $633.
If going overseas is just too much to plan with what's left of summer, a Florida vacation is your best bet. Fort Myers leads the domestic pack with fares dropping 24% to an average of $230. Tampa and West Palm Beach also crack the list, with respective drops of 18% and 16%. Or if the cheap housing prices in Boise got you intrigued, get up to Idaho and see if you like it with fares down 24% to $236. No beach, but still no shortage of outdoor fun.
Newark makes the list, which you should read as a cheap trip to New York. It's in Jersey, but it's closer to Midtown Manhattan than New York City's hometown airport JFK.
The full breakdown of upcoming discounts:
DOMESTIC
1. Fort Myers, Florida: 24% ($230)
2. Boise, Idaho: 24% ($236)
3. Tampa, Florida: 18% ($207)
4. Savannah, Georgia: 16% ($170)
5. West Palm Beach, Florida: 16% ($202)
6. Newark, New Jersey: 15% ($239)
7. Myrtle Beach, South Carolina: 15% ($161)
8. Detroit, Michigan: 14% ($211)
9. Charlotte, North Carolina: 14% ($218)
10. Cincinnati, Ohio: 13% ($205)
INTERNATIONAL
1. Port of Spain, Trinidad and Tobago: 36% ($519)
2. Osaka, Japan: 34% ($558)
3. Seoul, South Korea: 28% ($584)
4. Providenciales, Turks and Caicos: 27% ($413)
5. Medellin, Colombia: 21% ($409)
6. Santo Domingo, Dominican Republic: 21% ($410)
7. Guatemala City, Guatemala: 21% ($487)
8. San Salvador, El Salvador: 21% ($510)
9. Bangkok, Thailand: 21% ($581)
10. Bali, Indonesia: 21% $633
Much like the books you read on the beach, none of this info is 100% accurate. So if you spot the city of your summer crush, you should probably keep an eye on the fares throughout the month and pounce when you feel lucky. If that's just too much of a time commitment, download the Hopper app, enter your desired destination and travel dates, and let them alert you when prices go down. Whatever's clever.
So, relax: A solid summer beach vacation is still within your reach. Whether it's to Florida or Thailand, you've still got a good month to get some solid sand time in. Just try not to think too hard about what's around the corner in September.
Sign up here for our daily Thrillist email and subscribe here for our YouTube channel to get your fix of the best in food/drink/fun.