Mid-December through the first week of January is the most expensive time to fly all year -- yes, even more expensive than around Thanksgiving. The trouble is, it's also precisely the time of year when you've already committed to flying home to see your grandma, or you're feeling guilty about not flying home to keep said grandma company, or you need a warm-weather break that conveniently doubles up as an excuse not to see said grandma. Any way you look at it, it's all the more important to get a good deal on flights at Christmas and New Year's.
But don't panic. We know you didn't ask, but we talked to the folks at some of our go-to sites for cheap-ass flights, like Hopper and Hipmunk, nonetheless. And guess what, they came up with heaps of fun options for you. Round-trip airfare to somewhere warm (or cold!) for $100? Happy Holidays!
Recommended Video
Double Chicken Please Is a Traveling Bar in the Back of a 1977 Vintage Van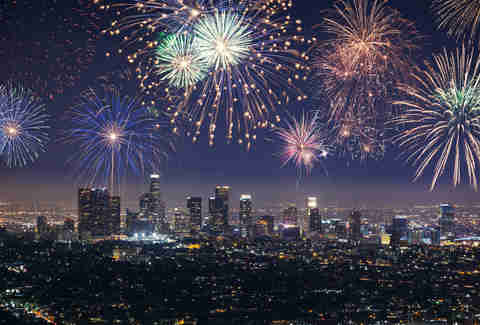 Los Angeles, California
If you're in the Minneapolis area boy are you in luck. Folks at handy travel app Hopper predict that flights from Minneapolis-Saint Paul International Airport will drop a full 60% in early December -- down to under $100. Whether you can work remotely or have friends in LA or just hate snow, that's a steep enough discount to warrant a trip. Start with the interactive light shows at Grand Park's Winter Glow, or keep things more rock and roll with the annual KROQ Almost Acoustic Christmas concert. This year it features a highly nostalgic lineup including Smashing Pumpkins, Third Eye Blind, and Thirty Seconds to Mars. And Florence + The Machine.
West Palm Beach, Florida
Before actual Christmas, it's worth taking a couple of days just to breathe. How about somewhere warmish, where the air soothes that acute bronchitis you get in mid-November every year? Hipmunk has found some steep discounts running to West Palm Beach from December 21-24. If you leave from New York, what's usually a $738 round-trip flight is now a $483 round-trip flight. Pop over and make giant snow-people at SnowieVille, or go see Sandi, the "world's only 600-ton sand tree," which is on display through the end of December. Don't miss the "snowfalls" at CityPlaza, when (fake) snow drifts down in the evenings.
Atlanta, Georgia
Are you conveniently located in: Orlando, Detroit, Fort Lauderdale, Minneapolis, New Orleans, Miami, Philadelphia, Tampa, or Dallas? You can catch a round-trip December-to-January flight to Atlanta for between $45-$100. There are a tonnnnn of additional cities offering Atlanta flights for just a few bucks over $100, too. You can, of course, check out the memorable items on our Atlanta bucket list in any season, but this is an especially great place to be at the most wonderful time of the year. There's the Atlanta Santa Speedo Run (yes) and Atlanta Santa Pub Crawl on December 8 and, if you're still in Atlanta and still alive, the Ugly Sweater Crawl on December 15. If you're looking for a hotel/DJ/VIP ballroom sort of New Year's Eve, Atlanta NYElectric might be for you, or you can keep things slightly chiller (and cheaper) by sticking to the city's incredible food and bar scene.
Dallas, Texas
Hopper (also on our handy apps list) predicts that flight prices to Dallas will drop 36% in December, as low as $216. Which is fantastic, because December is a very good time to get to know the Big D. Ice skating at Panther Island is a seasonal favorite, but if you've not that much faith in your ability to stay upright/ unembarrassed in front of strangers you can get your winter wonderland fix touring the endless displays of holiday lights. In addition to the famed Neiman Marcus store windows, these include Enchant Christmas, which bills itself as "the world's largest Christmas light maze and market" (running through December 30). The massive Galleria Dallas shopping center will hold a nightly Hannukah menorah lighting from December 2 through 10. Tickets to the Dallas New Year's Eve Bar Crawl start at $15.
St. Thomas, United States Virgin Islands
This is for those of you who are hellbent on fleeing whatever sleet-soaked town you live in. Post-Irma and -Maria, the USVI capital of St. Thomas is in the midst of a renaissance. Many hotels are still closed, but many are open. Hurricane season is over and the water is still warm. There's a Holiday Bazaar on December 8 and the St. Thomas Lighted Boat Parade on the 21st. Flights are yours for under $300 this December if you're coming from Orlando, Fort Lauderdale, Washington DC, New York, Atlanta, or Tampa.
St. Louis, Missouri
Flights to St. Louis from Owensboro, Jonesboro, Tampa, Jackson, Las Vegas, Burlington, Fort Dodge, Chicago, Fort Myers, and Sioux Falls are all under $150. The first weekend of December will see the International Institute's Holiday Bazaar, and all month long you can check out the extremely rad holiday lights display at the St. Louis Zoo. At the Missouri Botanic Garden, you'll find the festive "Garden Glow" display, as well as the Chanukah Festival of Lights on December 2. There's a Christmas Tree Walk on December 6, Kwanzaa at the Garden on the 26th, and a New Year's party cruise at the Gateway Arch.
Hawaii, Hawaii
The folks at Hipmunk discovered that December 29 flights from LAX to Kona International Airport will be down 25%, or around $545. Daytime temperatures in Hawaii will still be in the low 80s, which is plenty warm enough to justify a pina colada or three. Hilo Bay is debuting its first NYE fireworks display, which you can catch for free -- or for $89 f you'd rather witness it from a champagne-laden kayak in the sea. You can also hop over to Oahu for the iconic NYE festivities at Waikiki Beach, where more than 1,800 fireworks are launched at midnight. Hau'oli Makahiki Hou! This, as you've hopefully guessed, means Happy New Year.
Fort Lauderdale, Florida
If you are New York-adjacent and willing to fly on New Year's Eve, Hipmunk expects flight prices from Newark to Fort Lauderdale to drop by almost half for December 31. That means you can get yourself to the beach, to the sun, away from the slow creep of slushy garbage, for $113. You should check out our guide to the best things to do around Fort Lauderdale, but you're also just a 45-minute drive from Miami. The Wynwood NYE Party -- DJs, dancing, fire-eaters, food trucks -- is free.
Orlando, Florida
Still in Newark? Is that because you (or your children) prefer a different part of Florida? Very well. Per Hipmunk, New Year's Eve flights from Newark to Orlando International Airport are dropping as low as $129, which translates to a 40% saving. You can ring in 2019 with any of the multiple NYE parties and fireworks displays at Walt Disney World, plus attempt to impress your offspring with knowledge of which rides are actually the best rides. Or skip the family-fun route with Universal CityWalk, where you'll find food and drink and live music and good cheer until 2am.
Sign up here for our daily Thrillist email and subscribe here for our YouTube channel to get your fix of the best in food/drink/fun.