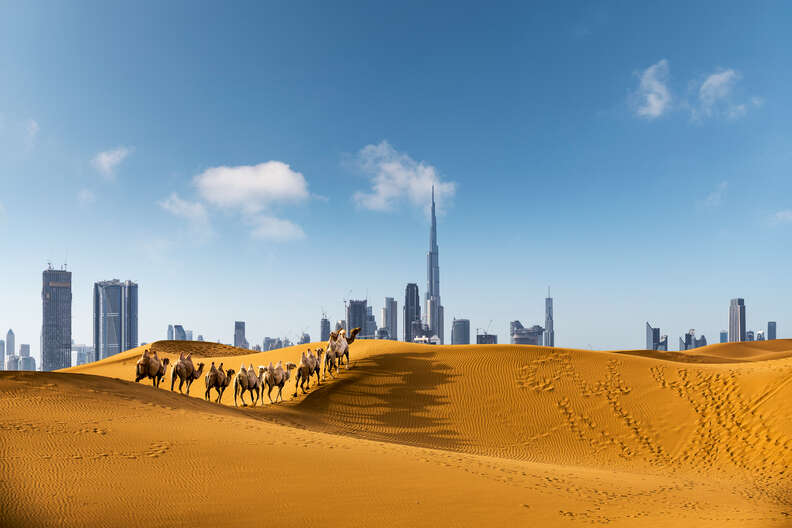 Super Cheap Flights for a Holiday Getaway You Can Actually Afford
Mid-December through the first week of January is the most expensive time to fly all year -- even more expensive than around Thanksgiving. Of course, it's also precisely the time of year when you've already committed to flying home to see your Nana, or you're feeling guilty about not flying home to keep said Nana company, or you need a warm-weather break that conveniently doubles up as an excuse not to see said Nana. Any way you look at it, it's all the more important to get a good deal on those late-December flights.
Do not panic. We know you didn't ask, but we talked to the folks at some of our go-to sites for cheap flights nonetheless, and Hopper and Hipmunk came through with heaps of fun options. Round-trip airfare to somewhere warm (or cold!) for an even lower price than they are the rest of the year? Happy Holidays indeed.
MORE:You could also take Nana on a cool Thanksgiving trip to one of these destinations...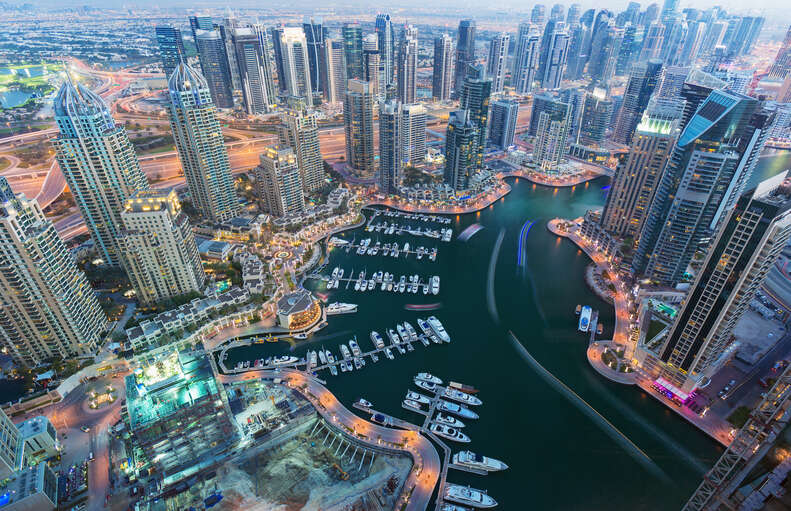 Dubai, United Arab Emirates
The biggest discount goes to you lucky New Yorkers -- or at least those who live in proximity to JFK, from whence you can grab late-December flights to Dubai for $1,295, a full 44% cheaper than such flights are the rest of the year. You want somewhere warm this holiday season? You got it. One of my favorite small things about Dubai is that the bus stops are air-conditioned (but remember, dress modestly while you're here). If you're visiting over Christmas, head to Madinat Jumeirah's Christmas Market, where from December 13 through December 28 you'll find live music, visits from Santa, and much decorating of baked goods.
MORE:Here's everything you absolutely need to see in Dubai
Dallas, Texas
Dallas was also one of the best deals to fly into this time last year, and according to Hopper flights this year are still 6.7% cheaper than they were in December 2018 -- you should be able to get a round-trip ticket for around $329, depending on your point of origin. Which is fantastic, because December is a very good time to get to know the Big D. Ice skating at Panther Island is a seasonal favorite, but if you've not that much faith in your ability to stay upright/unembarrassed in front of strangers you can get your winter wonderland fix touring the endless displays of holiday lights. In addition to the famed Neiman Marcus store windows, these include Enchant Christmas, which bills itself as "the world's largest Christmas light maze and market" (running through December 29th). The massive Galleria Dallas shopping center will hold a nightly Hannukah menorah lighting from December 22 through 30.
MORE: Here's everything you need to plan the perfect trip to Dallas
Oklahoma City, Oklahoma
According to Hipmunk, from December 15 through January 6 flights from Denver to Oklahoma City will be down to $144 -- 20% cheaper than they are the rest of the year. Do all your last-minute gift-shopping at the beloved Holiday Pop-Up Shops in Midtown. Once you're all gift-shopped out, wander the city and you'll stumble across niche-interest neighborhoods like Film Row, Deep Deuce District, and Automobile Alley, which you can take in before relaxing at a wine tasting somewhere like Water's Edge Winery.
MORE:Oklahoma City contains a very legit whitewater rafting course
San Francisco, California
Our travel buddies over at Hipmunk say that holiday flights from Portland, Oregon, to SF will be $169, which is 18% cheaper than they are the rest of the year. And flights to SF from Seattle will be $218 -- down 10% from the rest of the year. You could do much worse than San Francisco over the holidays. The city's Winter Comedy Festival runs December 21st, and all season long you'll find everything aglow with Illuminate 2019, when artists set up dozens of festive light installations in neighborhoods across the city.
MORE: Get the best intel on the best things to do in San Francisco
Boston, Massachussetts
We didn't say every place on this list was gonna be warm. Per Hipmunk, holiday flights into Boston from Philadelphia will be $180, which is 16% cheaper than usual. And from DC they'll drop to $211 -- 14% down. Boston may be icy, but it does the holidays hard. Visit for New Year's Eve and you'll be able to catch First Night -- fireworks over the Harbor of course, but also a parade, live music, ice sculptures, and loads of family friendly fun for those of you who did not (only) come to party.
MORE:Plan your ideal Boston trip
Sydney, Australia
You've heard about Sydney on New Year's. You know you're supposed to be there -- the fireworks, the boats all lit up along the harbor, the fireworks again. the And if you happen to be in San Francisco, you are very much in luck, because per Hipmunk holiday flights from SF to Sydney will be down $16%, dropping them to $1,634. Still expensive? Yes. But flights to Australia are … generally expensive, so if you're ever gonna go, you probably wanna go when flights are A) cheaper than usual and B) gonna put you there over New Year's. These would be those flights.
MORE:Technically, this is the most perfect stretch of beach in the world
Seattle, Washington
Per Hipmunk, late-December flights for those of you in Los Angeles (near LAX, at least) will be $265, a solid 10% cheaper than they are most of the year. Famous for rain, Seattle looks possibly its most lovely in the snow. On December 20th, swing by the Winter Solstice Beer Festival by day (tickets start at $10) and the Winter Solstice Night Market by … night. Meanwhile, the ever-popular Enchant Christmas runs in T Mobile Park through December 29th -- let not your children (or yourself) miss the opportunity to explore the world's largest Christmas tree maze. Tickets start at $19.99 for adults and $14.99 - $16.99 for the youths.
Orlando, Florida
Per Hopper, late-December flights to Orlando International Airport are dropping to around $405 (depending on your point of departure). That's a hair cheaper even than last year, whence the city also graced this list. You can ring in 2019 with any of the multiple NYE parties and fireworks displays at Walt Disney World, plus attempt to impress your offspring with knowledge of which rides are actually the best rides. Or skip the family-fun route with Universal CityWalk, where you'll find food and drink and live music and good cheer until 2am.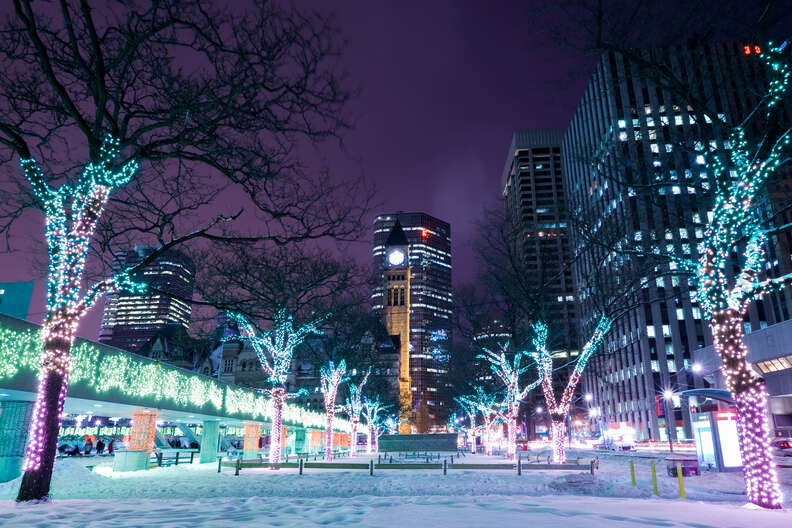 Toronto, Canada
Surely you want to see Sugar Beach all covered in snow. Toronto is a great pick for the holiday season, so it's nice that according to Hipmunk those of you in NYC can enjoy roundtrip holiday flights for $175, a 20% drop from what they'd run you the rest of the year. The absolute must-see Toronto Christmas Market runs in the Distillery Historic District til December 23rd, and what better way to hose a flight or three of beers than while surrounded by twinkling lights, a cozy liquid blanket allowing you to continue drinking apace amid the softly falling snow.
MORE: How to move to Canada. Y'know, just in case
Washington DC
Hipmunk reveals that flights into DC from Orlando will be down to $143, which is about 19% cheaper than they are the rest of the year. Go have a snowball fight in Farragut Square, then warm up with aPlus, DC is a lively town right now; impeachment proceedings an' all. Worth it to go and just shout Happy Holidays across the White House lawn!