Just because you can spend a lot of money on a hotel (right? no?) doesn't mean you want to. And just because you want to travel on the cheap doesn't mean you're relegated to the Roach Motel on the highway, four miles from every popular restaurant and tourist attraction. Your flight was probably expensive. But an amazing hotel doesn't have to be.
Here's a rundown of super swank hotels where you can treat yo'self and treat yo' wallet at the same time -- all for $100 or less.
Beijing, China
Price: From $75
The lowdown: Take your American notion of "Made in China" and flip it on its head. While the name's a mouthful, this place is more likely to leave you speechless, based on its ridiculous appointments and low pricepoint. Turn-on words include prime location, spa, nightclub and wall-to-wall polish. Being near the Forbidden City makes this hotel ideal for vacationers, and, in a forward-thinking move, the hotel even offers bike rentals, allowing you to take in all that smooth Beijing air. It really is smooth -- in the way peanut butter is smooth or chunky. Maybe more biking will help cut into all that pollution.
Mineral de Pozos, Mexico
Price: From $100....
The lowdown: For plenty of younger Americans, "vacation in Mexico" is synonymous with cramming seven people into an all-inclusive room with unidentifiable stains on just about everything. Well, those days are long gone, and now that you've upgraded from cheap tequila to something that costs at least $25 a bottle, you might as well do the same with your hotel. El Secreto de Pozos in Mineral de Pozos has just three rooms, so you're already guaranteed to be treated with personalized status. Said rooms have fireplaces and access to the traditional temezcal, which is basically an indigenous Mexican sauna. You wouldn't think you'd need a sauna in Mexico. But you also wouldn't think you'd ever end up in a fancy hotel for $100 night, would you?

Bangkok, Thailand
Price: From $88
The lowdown: Anantara, as a brand, brings to mind images of infinity pools and luxurious spas, and this Bangkok outpost is no exception to your mind's eye. If you had to describe the hotel in a word, it'd be: sleek. While rooms look straight out of a suite in a Las Vegas resort, Anantara Bangkok Sathorn's price will leave you wondering why you'd ever pay five times as much for the same level of luxury elsewhere. Even better, it's within walking distance of the city's sky train and situated near a row of street food that'll save you in the wee hours after you've spent your hard-earned American dollars on Bangkok's nightlife. And if there's one thing everyone learned from The Hangover Part II, it's that money-grab sequels are horrible. And that Bangkok's nightlife is insane.
Budapest, Hungary
Price: From $100
The lowdown: It's a cozy guest house with just 11 "unique and individually designed" rooms, meaning you get a more intimate experience than most luxury hotels offers. Plus, the entire hotel is decked out in everything your little Boho-chic heart desires, featuring local art, paint-stripped walls that probably cost a lot to make them look like they didn't (#hipster), and an overall design aesthetic that appeals to everything you aspire to be as soon as you pay off your student loans. But why wait until 2030 to experience luxury? We'll probably all be living in the Matrix by then, anyway.
Las Vegas, NV, USA
Price: From $40
The lowdown: This hotel oozes sex appeal -- and it's on the Strip. Why wouldn't you stay here? You don't have to pay to stay in Treasure Island or The Bellagio to hang out near lava eruptions or fountain explosions. Hot draws at SLS include the Fred Segal Collective, the Ciel Spa, the many pools, the casino, and sooooo many pretty people, who may even hang out with you because you have all this money to spend now that you're saving on your accommodations.
Hong Kong, China
Price: From $54
The lowdown: It costs an arm and a leg for most Americans to get to HK, if you value an arm and a leg at $1,000. If you do, that's weird, but hey, this article's not about judging you. Hong Kong's pricey in general, but here, you're chilling right in Causeway Bay (if that means nothing to you, just imagine restaurants, luxury shopping, and all other things you can spend those extra dollars on). Additionally, the entire hotel looks like it fell out of Andy Warhol's head, and frequent pop-up events like wine tastings just add to the value. Go East, and spend all that money you've made in the West.
San Sebastian, Spain
Price: From $83
The lowdown: Live out your Hemingway dreams at prices closer to what Papa would have paid back in the '20s and '30s. Actual movie and literary stars haven't stayed here, but each room is dedicated to a particular movie star, helping you feel like one, too. This retro-themed boutique hotel even has a red carpet that runs through the lobby, so you can make it rain with all your extra dollars (or euros, as it may be) as you strut to your room. Or, you can spend all that extra dough on the many pintxos about town. And if you've never been to La Concha beach, well, you need to get yourself to La Concha beach: it's one of the best in Europe.
Ho Chi Minh City, Vietnam
Price: From $55
The lowdown: It's exactly like the "hotel" Martin Sheen stayed at in the beginning of Apocalypse Now... if that hotel had endless shelves of vintage and contemporary books, clean lines with neutral colors, a concierge to tailor personal itineraries, and none of Martin Sheen's blood. It's the opposite of "the horror." And all you need to do is pay $55 a night, no **SPOILER ALERT** killing Marlon Brando necessary.
Ubud, Bali
Price From $64
The lowdown: If you're going to Bali, you're likely after paradisiacal beaches, cheap prices, and getting relatively off-the-grid. Well, the Sri Bungalows offer all that, from $64 per night. You'll only like this if you like luxurious villas and an infinity pool, all surrounded by verdant rice paddies. You definitely should like that. Add to that a luxury spa and all the yoga you could ever handle, and this is pretty much your Eat, Pray, Love moment... except you're not Julia Roberts having a mid-life crisis. Or maybe you are. If you are, we're here for you, Julia.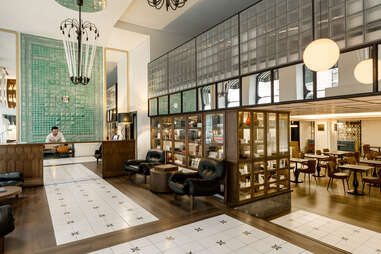 Istanbul, Turkey
Price: From $100
The lowdown: Here's a roommate you won't have to worry about leaving dirty dishes in the sink or keeping weird hours. Nope, this is out-and-out luxury. If there's one neighborhood to know in Istanbul, it's the Beyoglu district, where you'll find Taksim Square, the shopping and bars of Istiklal Street, and easy access to the Blue Mosque and Hagia Sofia. If you had an Istanbul bucket list, all this stuff is likely on there. The 61-room hotel was recently renovated in 2014 and even has its own Turkish bath and spa. Where better to experience a Turkish bath than in Turkey?
Palermo, Sicily, Italy
Price: From $82
The lowdown: The letters B&B often drive fear into the heart of any young, modern traveler, what with the imagery of organized bird watching and afternoon tea with a couple from Altoona. Fortunately for you, Il Giardino di Ballaro includes none of those things -- well, no guarantees about couples from Altoona. Still, the cave-like hotel is reminiscent of an underground wine cellar or rustic trattoria with exposed stone, hardwood floors and mood lighting. Make the most of your Bed by booking the room with the skylight. Make the most of Breakfast by taking it outside on the terrace, dining in the fresh Sicilian morning air. The good life doesn't have to cost much.

Meagan Drillinger is a freelance writer for Thrillist. She secretly plays Eat, Pray, Love in her head during long train rides. Follow her on Twitter, Instagram or Facebook at @drillinjourneys.