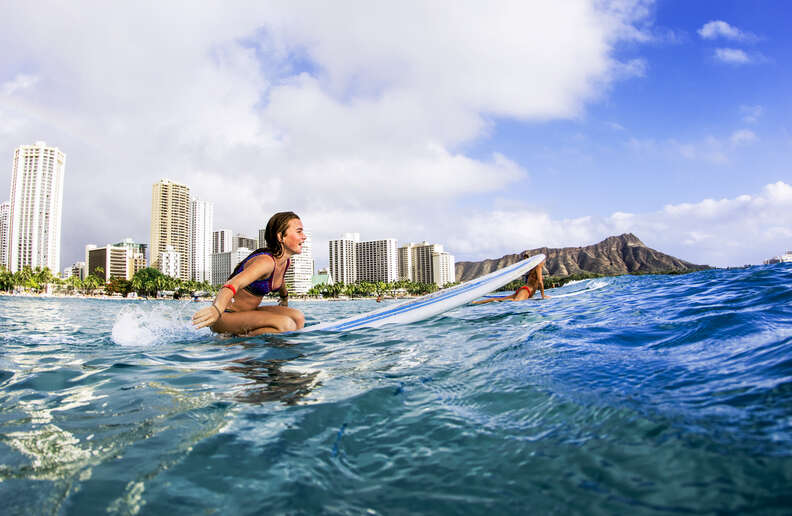 WAIKIKI BEACH, HONOLULU

| Robert Cravens/Shutterstock.com
WAIKIKI BEACH, HONOLULU

| Robert Cravens/Shutterstock.com
The Best Travel Destinations Where Prices Are Falling in 2018
People's biggest excuse for not traveling more is usually that they hate seeing new things, right? Got all the scenery I need right here in the apartment, thanks. Trying exotic regional foods? I got UberEats, bro, I'm good.
Just kidding, it's money, and understandably so -- we've all got a budget. But if you haven't been paying attention the past couple of years, discount airlines have opened up the world to small-budget travelers. Places we used to refer to as "cheap once you get there" are now just plain "cheap." And even costlier locales with sticker shock airfares now won't eat two-thirds of your vacation budget before you even land.
If your New Year's resolution is to get out and see the world, this might be the one you finally keep. We chatted with Gabe Saglie, a senior editor at Travelzoo.com, who crunched a bunch of numbers for us surrounding airfare, hotels, and other costs. Here are the best cheap -- or much cheaper than they used to be -- places to travel in 2018.
Cabo San Lucas, Mexico
Why it's so cheap: All of Mexico has been a great discount destination for years, but this year Cabo has become the best deal of the bunch. Flight options expanded considerably in 2017, with Southwest adding new service between a handful of California cities. "Price points on legacy carriers have also softened year over year thanks to that added incentive from Southwest," Saglie says.
Why you should go this year: After Hurricane Odile whacked Baja California in 2014, Cabo took the chance to reinvent itself. Hoteliers invested millions in 15 new properties that are finally opening this year. The ever-cheap 19:1 exchange rate with the peso will make your deep-sea fishing a bargain. Hitch a boat trip out to the rock formations at Land's End, where you can lounge on Lover's and Divorce Beaches, among the most distinct beaches in the world.
Banff, Alberta
Why it's so cheap: Thank the Canadian Dollar, which is still about 25% cheaper than it was just five years ago. Your lift tickets in the stunning Canadian Rockies, to take one example, will run you less than $80 US, a steal compared to similar slopes in Utah and Colorado. Hotel prices follow suit, with wintertime rates in decent spots well under a C-note a night.
Why you should go this year: The loonie has been gradually bouncing back, so best to get the discounts now while you can. The skiing here is just as good as you'll find in spots like Aspen, Park City, or Steamboat, and when prices here eventually catch up the epic Canadian Rockies snow weekend will be a thing of the past. In the summertime, campsites run about $8 per person per night, a small price to pay to wake up every morning to some of the most gobsmacking mountain scenery on planet Earth.
Hawaii
Why it's so cheap: United Airlines ramped up its mainland-to-islands service in late 2017, igniting a price war between major carriers that's making sub-$400 fares from the West Coast the norm. Southwest is also expanding its Hawaii service in 2018.
Why you should go this year: Because they do some crazy stuff with SPAM over there. Oh, and, it also happens to be freakin' HAWAII. Stupefyingly beautiful nature, remote beaches, fruity drinks, a surprisingly cosmopolitan capital in Honolulu. A trip to any of the neighbor islands -- particularly the Big Island -- offers rustic, raw paradises galore. (Though a glut of cheap flights isn't likely to improve that.)
Portugal
Why it's so cheap: Portugal has been the discount darling of Europe for a while now, but this past year saw staggering offers, like weeklong $499 air-hotel deals popping up regularly. The Azores, islands almost 900 miles off Portugal's Atlantic Coast (i.e., closer to the States), also ran some insane weeklong packages. With new nonstop service from Boston coming this spring, the Azores are going to be a relative bargain to explore.
Why you should go this year: Amazing as these rock-bottom deals to Portugal are, as the world discovers this historic, coastal paradise it won't be quite so cheap anymore. Right now, you can roam the bars of Lisbon looking for a party and enjoy beers that rarely cost more than $2. You can hit the surf in Porto and stay at a decent hotel for under $40. Or you can tour the wine regions of Porto and Douro and drop a fraction of what you would in Napa. So do it all now while you still can. The country isn't that big, and it can all be explored for less than most domestic destinations.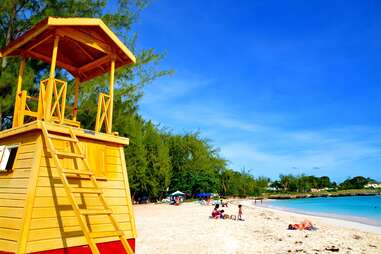 The Caribbean
Why it's so cheap: People have mistakenly lumped the entire, 29-country/territory region into one big mass of hurricane destruction, even though only a handful of islands suffered damage in 2017's wild storm season. As such, resorts are offering massive discounts, and new service to some islands is driving down expensive airfares.
Why you should go this year: Eventually, people will figure out the entire Caribbean was not wiped out and resume traveling here en masse. The half-off specials at five-star resorts will end. But jumping on deep discount airfares is never a bad idea, and with Southwest's new service the Turks and Caicos, it's prime time to check out the prettiest water in the region. Other cheap new routes include the Cayman Islands, with fares from Miami under $70, Guadalupe and Martinique with fares from the East Coast starting at $59-$79 on Norwegian Air, and Barbados with flights as little as $75.
Australia
Why it's so cheap: "Australia is primed to see some big flight competition," says Saglie. "United, Virgin Australia, Air New Zealand, and Air Canada are all adding flights out of the West Coast, which makes both airfare and vacation packages more affordable." He also pointed to a historically favorable exchange rate that's pushing your USD a lot further once you arrive.
Why you should go this year: Sydney and Melbourne are always a great time, and with the future of the Great Barrier Reef uncertain, the sooner you get there, the more of it you'll see. Kangaroo Island in South Australia opened a new 38-mile wilderness trail in 2017 and has a big April food festival in which Michelin-starred chefs cook you dinner among the marsupials. Out west, Perth just got three new hotels and upgraded its airport, giving travelers unprecedented access to the mostly unspoiled Coral Coast.
Savannah, Georgia
Why it's so cheap: Thank Allegiant for ratcheting up flight service. Saglie also says the city has eased regulation on hotel expansion, allowing more -- and bigger -- hotels to set up, including a new property from Marriott Collection.
Why you should go this year: "There is a historic reality there," says Saglie. "It's one of the more forward-looking destinations in that part of the country, and people get there and realize there's the Southern charm, but there's also islands and beaches just out of town." Savannah is also a low-key foodie paradise, with souped-up soul food at A.Lure, farm-to-table stuff at Five Oaks Taproom, and South African cuisine at Zunzi's complementing the solid lineup of Paula Deen entries and college staples. St. Patrick's Day is the craziest time to go, if not the cheapest. Though if you plan to just pass out in the street and subsist on green beer, I guess it can be a bargain.
Monaco
Why it's so cheap: Monaco? A cheap place to go? You better believe it. The only prohibitively expensive things in this teensy country are the luxury hotels, fine dining, and real estate. And with cheap flights to Italy easy to find, it's one of the most surprisingly affordable places to visit in the world.
Why you should go this year: Monaco is up there with Dubai and Las Vegas as one of the most impressively-over-the-top places to see before you die, so get the cheap flights while you can. The opulent architecture, insane cars, and obscene yachts in Port Hercule are like nothing else in the world. All that before you even look at the royal palace. That wealth won't change, but your ability to see it cheaply might.
Take a cheap flight to Milan then board a discount carrier like EasyJet to Nice. From there it's a short bus ride into Monte Carlo, where you'll find 10-euro-minimum tables and free admission for players club guests. Sites like the prince's car collection, the zoo, and the naval museum are under ten euros. Hit the Brasserie Monaco at the port and yacht gaze while sipping on 3-euro craft beers at happy hour. It's the cheapest way to feel like the star of your own forgotten Bond movie.
Cuba
Why it's so cheap: Like shoppers waiting for Target to open on Black Friday, US airlines poured into Cuba as soon as travel restrictions were lifted in 2016. This of course has led to fierce competition and some of the cheapest flights in the Caribbean. Cruise lines have also made Cuba a regular stop on short itineraries, making the island easy and affordable to reach.
Why you should go this year: If you went to Cuba before 2016, you remember how it seemed like a time warp, untouched by American influence since the 1960s. Now tour buses pack the narrow streets, and guided groups meander through the Spanish-colonial architecture. It's not a full-on tourist trap yet, but it's on its way. There is, of course, also the issue of a shifting political climate that may increase restrictions on travel to Cuba. It's not hard to get there now, but nothing is guaranteed. For a low-cost cultural trip to one of the most photogenic places in the Western Hemisphere, you've got no better option.
Los Angeles, California
Why it's so cheap: With five airports to choose from, if you can't find cheap flights into one, you can find it into another. This past year saw 6,000 new hotel rooms come online, with another 2,300 expected by year's end. More options lead to lower prices, and a cheaper trip for you.
Why you should go there this year: LA keeps adding reasons to visit beyond Hollywood and ocean sunsets. "It's a city in the throes of reinventing itself," Saglie says. "And this year is a great opportunity for people who've been before to come and check it out again." Most notable is Downtown's Arts District Los Angeles, where design studios and art galleries serve as a sort of retail modern art museum. On Sundays, Smorgasbord LA fills its Alameda Produce Market with open-air vendors, making for a cheap way to experience some unique entrants to the LA food scene.
On the coast, you can kill a day on Venice Beach for only the price of tips to the street performers. The boardwalk is still awash in human statues, chainsaw jugglers, breakdancing, and the best pickup basketball you'll ever see with a view of the ocean. In a city this sprawling, you can always find fun free stuff to do without ever setting foot on the Walk of Fame.
Sign up here for our daily Thrillist email and subscribe here for our YouTube channel to get your fix of the best in food/drink/fun.