America's Best Ski Destinations Are Dirt Cheap This Year
Your friends will cite a litany of plausible-sounding reasons for not wanting to go on a ski vacation this year: the cold, the potential to blow out their knee, the humiliating sensation of taking a messy fall and hearing some wisenheimer yell "yard sale!" as you collect your poles and hat and gloves and skis and dignity.
Don't listen to them, though. The only legit reason not to take a ski vacation is always price. A lift ticket at a half-decent resort can run up to and over $150 a day, especially for out-of-staters. Factor in airfare to Colorado or Utah or Washington, the cost of lodging, equipment rentals, plus the usual food/drink/gas and (perhaps a bit of legal weed), and you can be looking at a quick grand for a long weekend of sliding down a big hill.
This season, though, a handful of big factors are aligning to drive down almost all of those prices. Start doing your wall sits to get those quads in shape, because resorts desperate to fill beds and airlines adding routes are going to make a ripping ski or snowboarding trip in the Western US more accessible than it's been for a long time. Here's how you stand to take the best trip of your year for less money than you'd expect.
Vail Village, Colorado

| darekm101/room/getty images
United and Alaska are practically dropping you at the ski lifts
Since late 2017, a few carriers have been eyeing expanded territory in cities mere minutes from the slopes. United, specifically, increased service from a number of its hub cities to 21 destinations nestled next to ski resorts. The company's fleet is practically a conveyor belt to Colorado, making direct jaunts to Aspen, Vail, Steamboat Springs, and Montrose/Crested Butte border on the ubiquitous.
Expanded service on United further spreads to Jackson Hole, Wyoming; Sun Valley, Idaho; and Bozeman, Montana, among other Western destinations. The directive, which kicks off this season, unabashedly caters to skiers and their shred-seeking brethren.
Most important, though, are the deals that factor in for literally zero dollars. Alaska Air's Ski Free endeavor didn't make for splashy headlines when it debuted last November, but it should have: By partnering with 12 resorts, all on the West Coast, the carrier promises cheap and typically sub-$200 fares to mountains in Colorado, Canada, Idaho, California, Oregon, Alaska, Montana, and Utah. The kicker? Anyone who presents their Alaska boarding pass at the lodge gets a free lift ticket for a day.
The terms and conditions apply, but the promise of a gratis afternoon at any one of the resort partners -- including Mammoth Mountain, California; Big White, British Columbia; or Mount Bachelor, Oregon, among others -- shows that snowboarding isn't always synonymous with a bloated credit card bill.
Frontier Airlines also enters the equation with a bunch of low-ball fares to Denver this season. The airline announced a surge of 20 new routes to and from the Mile High City last July. A glance at recent fares from the West Coast shows the strategy at work:
Google Flights
Although cheaper to fly into, Denver isn't exactly a stone's throw away from the Rockies, so getting to the slopes from the airport might pose an issue. But Amtrak's Winter Park Express, which makes weekend trips from Union Station to Winter Park, promises to shuttle you straight to that Triple Black Diamond for under $60 round-trip.
Salt Lake City, Utah

| Christian Kober/Getty Images
Salt Lake City is a deal-hunter's best bet
As the leader of SnowSearch, an aggregation site that combs the internet for the country's best deals on everything related to lodging, gear rentals and more, Bryan Dunn thinks Salt Lake City is the bargain hunter's hack this season.
"They have 10 resorts within an hour of the airport, many of which can be reached via public transportation," he tells Thrillist. "Hands down the easiest spot for a West Coast ski trip."
Dunn points to the Ski City Super Pass as the ultimate gateway to pure, powdery bliss: The passes can be used at four mountains -- Alta, Brighton, Snowbird, or Solitude -- allowing you to explore boundless acreage for roughly $90 per day. You get to leapfrog the ticket window, and have access to free transportation to and from the mountain.
Getting to SLC isn't that bad either, comparatively speaking. Flights from the West Coast are a little over $100, while those from the East Coast are $267 nonstop.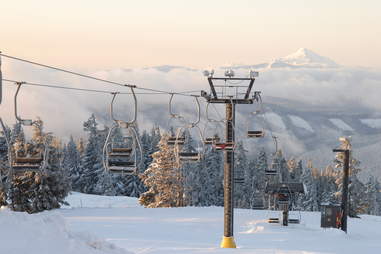 mt. hood, oregon

| mishaAshton/shutterstock
Lodging offers the best deals this season
America's ski resorts haven't been doused with snow this season. In fact, the accumulation has been particularly lean. But because attendance at many resorts has slumped as a result, so too have the prices for cabins, condos, and other slopeside accommodations.
One strategy is to look for multi-day packages, if you can stretch your trip by a day or two. Colorado's Copper Mountain, a pretension-free local favorite resort 90 minutes west of Denver, is offering a third day free and guarantees its lowest prices on lift passes when you book at least a two-day stay through its website. Ultra-primo resorts like Whistler-Blackcomb are knocking off 30% on six-night packages with lodging and ski passes. It's still nothing close to cheap, but you can at least prolong the magic if you're making one splurgy outdoor snow trip this year.
Dunn notes that lodging prices for late-January and February are starting to crater a bit, as inventory providers hope to lure skiers to the mountains.
Scouring his site, it's easy to see what Dunn is talking about. Again, Utah factors in strong: a number of listings are available either in the heart or on the outskirts of Salt Lake City, in close proximity to any number of premier mountains. The more the merrier, too, as many of these condos and houses easily sleep 10 to 12 guests. With this in mind, it's not inconceivable to spend $15 a night in a cabin piled high with your best friends.
But it doesn't end with Utah. Dunn sees prices dipping across Colorado and in Tahoe, as a result of the "unseasonably dry" December. The powder might not be the best on record, but 2018 could be the best time to hit up some of the country's primo ski spots.
Sign up here for our daily Thrillist email and subscribe here for our YouTube channel to get your fix of the best in food/drink/fun.
Sam Blum is a News Staff Writer for Thrillist. He's also a martial arts and music nerd who appreciates a fine sandwich and cute dogs. Find his clips in
The Guardian
,
Rolling Stone
, The A.V. Club, and
Esquire
. He's on Twitter @Blumnessmonster.