Ocean Drive

| Alexander Spatari/Getty Images
Ocean Drive

| Alexander Spatari/Getty Images
How to Do South Beach and Not Get Played for a Tourist
If you're even thinking of being in Miami, check out the rest of our DestiNATION: Miami guide. It's stacked with expert advice from locals on what to eat, where to drink, and what to do.
Look at you, taking your talents to South Beach. Unlike LeBron, who played home games four miles to the west, you're hellbent on actually taking your shot in the city of Miami Beach: palm trees, low riders, chiseled-ab rollerbladers, state-school spring breakers, all-hours tweakers, all-night freakers -- a scrubby, bubbly beach town packed equal parts with perma-tanned retirees and Latin American swimsuit models.
So welcome to the good life! But buckle up. You're about to be taken for a ride.
Locals know this. They avoid South Beach. They say it's not the real Miami. But, like you, they used to (and still) stride confidently in the direction of their mistakes there. The siren song is too strong. Plus, who said you're going to Miami to do anything "real"?
Nah, you want the poolside drinks, the bathwater-warm Atlantic, the dynamic food scene, and the decadent parties. There is a way to get all of that without getting sucked into tourists traps. Here's a quick guide of DO's and DON'Ts in South Beach, so you can max out your trip and leave hating yourself no more than absolutely necessary.
Getting there and getting around
DO: Fly into Miami International Airport. Without traffic it's less than 20 minutes from South Beach, and it has nonstop flights almost everywhere in the country.
DON'T: Try and save a few bucks by flying through Ft. Lauderdale. The time and money involved in getting to that airport (about 25 miles away) will negate any savings on your airfare.
DO: Take an Uber or Lyft from the airport to South Beach. Unless it's between 7-10am (rush hour) it shouldn't cost you much more than $20. Or take a taxi for a flat rate of $35 anywhere south of 71st St. North of that is $40 -- you shouldn't be charged more.
DON'T: Save a buck with the Airport Flyer bus. It'll take at least an hour to get to wherever you're trying to go, and if you've got more than a couple of people a ride-share won't cost you much more.
DO: Take the time to walk around. Even if it's punishingly humid (aka, any time between May and October) the South Beach Local bus circles the island and costs a quarter. Or take one of the Swoop party golf carts and ride for only the price of your driver's tip.
DON'T: Take taxis in the Beach. Not only are they more expensive, but drivers aren't above sitting in unmoving traffic just to drive up a fare. If they ask, "Where are you from?" say "Hialeah" and see how much faster they move.
Drinking
DO: Remember this if nothing else: The tip is almost always included in the price of your drink. Not the menu price, mind you, but the price the bartender says when she hands you an ice-cold Miller Lite and says "$11." Always, always ask if tip is included, and look at your credit card receipt to see if the tip line says "additional gratuity." Or ask for an itemized bill and see if "18% service charge" is on there.
DON'T: Be afraid you'll look cheap or tacky or, heaven forbid, not impress that hot bartender by asking if the tip's included. She's not into you. In a town where everyone worries about how they appear, they count on you not to step up and ask.
DO: Stop into the Clevelander for a drink on Ocean Drive and send snaps telling everyone, "I'm in Miami, bitch!" It's the best atmosphere, has the least tourist-gouging drinks, and has the ESPN Radio studios there to boot. And a pool.
DON'T: Drink anywhere with margaritas the size of your torso, even if they are "two-for-one." First of all, one costs $50. Second, not even the child of Andre the Giant and Amanda Bynes could finish one of those by himself. And in case you skipped freshman-year health class, sugar fuels hangovers, and those things are like a C&H refinery in a glass with a splash of tequila.
Also, you can safely avoid Mango's. It's like a Latin-flavored Hooters, if the waitresses wore leopard-print pants and busted into ear-splittingly loud salsa dance numbers every 15 minutes.
DO: Hit some of the locals bars, if you want to see how Beach denizens live. Look for the red light in the alley behind Domino's Pizza on Alton Rd. That's the Foxhole, a hangout for service-industry types who live in the high-rises along West Ave. Nearby, the outhouse door at Bodega Taqueria leads to a not-at-all-secret speakeasy in the back, also popular among off-duty servers and Beach locals. Next to that is Ricky's, if you're looking to play beer pong or sing live-band karaoke.
DON'T: Start asking people at any of these joints where you can buy drugs. It's a dead giveaway you're a tourist, and you'll be charged at least triple.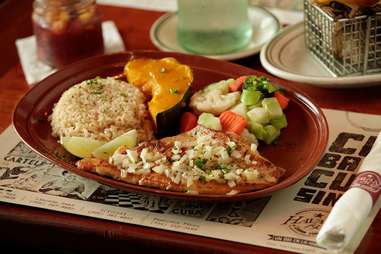 Eating
DO: Eat on Ocean Drive. Hardened locals who think they're too good to dine under neon will tell you, "NEVER eat on Ocean Drive," but these are typically the same locals who need directions to get anywhere more than six blocks from their house. Ocean Drive has a handful of actually great restaurants you will both afford and enjoy.
The best among them is A Fish Called Avalon, a seafood staple that's in most people's price range. LT Steak & Seafood at the oddly colonial Betsy Hotel is in the conversation for the best steakhouse in the city. News Cafe is your go-to for breakfast, or any meal between the hours of 3-11am. And Sugar Factory is your best bet for an actually good, over-the-top Ocean Drive dining experience.
DON'T: Just wander into any ol' joint on Ocean Drive. Not even Fridays.
DO: Get some Cuban food. South Beach rents have priced out most of the grittier local-favorite Cuban joints, but if you don't want to head over to mainland Miami, Havana 1957 and Larios are both delicious.
DON'T: Eat anywhere because someone told you it was "authentic." That's a nice way of saying it's a health code violation in waiting.
DO: Get sushi at Toni's Sushi on Washington Ave. It's as good as anywhere in Miami (including Nobu), minus the scene.
DON'T: Pay the beautiful-people upcharge for sushi at anywhere playing "chill" music, or that's lit up like a Virgin America flight. Models eat there because it's free, not because it's good. Also, they don't eat.
DO: Go to Sunset Harbour for the best concentration of restaurants in the Beach. It has the best Mexican spot in Tequiztlan, two phenomenal healthy places in Icebox and Paradigm Kitchen, and the best Southeast Asian food in greater Miami at NaiYaRa. The pizza at Lucali isn't bad either, even if it is $22 a pie.
DON'T: Walk up and down Lincoln Rd looking for a place to eat. Or get suckered in by any hostess offering cheap drinks -- a reliable sign of a tourist trap. If you want to people-watch on Lincoln Rd, grab a coffee at Paul or a beer at Finnegan's and enjoy the show.
Lodging
DO: Stay south of 5th St, or north of Lincoln Rd. At time of publication, everything in between has become a sad wasteland of empty storefronts and thigh tattoos. But check back again; that might change by September. Right now, the best new hotels (and the bars, clubs, and indoor ice-skating rinks that come with them) are between 20th and 41st, so staying there is never a bad bet.
DON'T: Stay much north of the Fontainebleau. Saving a few bucks to stay up there is a losing proposition. The extra money you save is more than lost on cab fare getting anywhere near where you'd want to go.
DO: Stay in a hotel or hostel. They're not all five-star, $400-a-night places, just make sure you do your research.
DON'T: Get an Airbnb. Our esteemed mayor has cracked down on Airbnbs HARD, so reserving one is a serious roll of the dice. You might well reserve one, and have it taken off the market before you get there.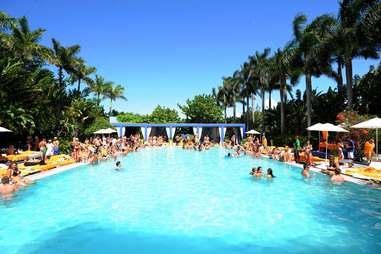 Sunning and partying
DO: Hit the beach south of 5th St, full of seasonal residents from around the world, plus some savvy locals. Parking down there is harder than Final Jeopardy, so walk if you can. You'll find 12th St is the gay beach, if you like gay beaches. Beaches north of there tend to be less crowded and more family-friendly. If you want human scenery, stay south of 17th. If you want peace and quiet, go north.
DON'T: Ever go anywhere near the beach at 8th St. It's lot of loud music, first tattoos, and cigarette smoke. If you're a woman, it's like walking into the world's largest construction site, complete with iPhones ready to put your new bikini all over the internet whether you like it or not. Also, up around 100th St is Haulover Beach, which is fully nude. And it's not pretty.
DO: Go to pool parties on the weekend. The SLS Hotel has the best party on Saturday. On Sundays head to the Mondrian to party with a view of the skyline, or the Nautilus to party by the beach. It's not on the level of Vegas, though, so don't think you'll be knee-deep in anything other than chlorinated water.
DON'T: Plan on buying drinks there. Or meeting women. The drinks are $20. The women are considerably more. (Yes, many of them are professionals.)
DO: Hit the off-the-beaten path attractions that are both relaxing and not that crowded. The Miami Beach Botanical Garden might be the city's most underrated attraction. The Holocaust Memorial is impressive, if sobering. The Jewish Museum, the Wolfsonian, and the World Erotic Art Museum might have you, God forbid, learning something on your vacation.
DON'T: Ask your concierge for a recommendation. Those poor sacks make $8 an hour and earn almost their entire living off the commissions that tours, charters, attractions, and restaurants pay them for your booking. So concierges won't be sending you to the best places -- they'll be sending you to whoever is paying them.
Sign up here for our daily Thrillist email, and get your fix of the best in food/drink/fun.
Matt Meltzer is a contributing writer for Thrillist who lives in Miami. Follow him on Instagram @meltrez1.