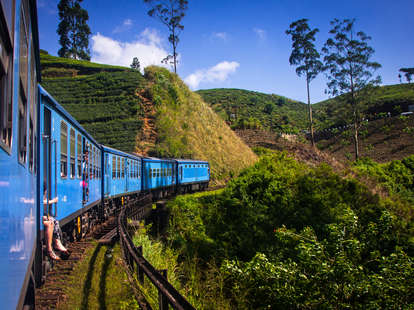 The World's Most Epic (and Cheap!) Train Journeys
You've entertained whimsical fantasies of crisscrossing foreign lands on a dreamy, opulent train ever since you saw Darjeeling Limited. Do they actually look like that IRL? If you're loaded, yes! If you're on a budget, not so much.
But when you consider the cheap snacks, cushy place to sleep, and first-rate views, train travel can feel ultra luxurious even with a thin wallet. Some of the most epic journeys can also be the most affordable, clocking in several time zones, countries, and sublime landscapes for less than the cost of a domestic flight. Here are the most glorious train journeys in the world, at the most economical prices around.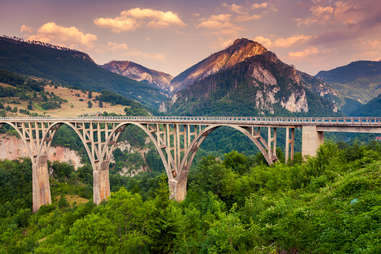 Belgrade, Serbia to Bar, Montenegro
Cost: At just $24 a ticket, this trek gets you 12.3 miles for your dollar. Or in terms of bridges, that's 36 per buck.
Look, train travel through Europe ain't cheap (in fact, we're partial to riding by bus, when it's possible to hit 15 European capitals for under $500 in one go). But the Balkans still boast a multitude of extravagant rail routes at affordable prices. Among the best is the 296-mile route connecting the Serbian capital to the stunning coast of Montenegro. Built by former General Tito (not, like, literally), the line cushions Lake Skadar before descending into plunging mountain plateaus, where it crosses Europe's highest railway bridge, Mala Rijeka Viaduct. In total, this single slab of track crosses 435 bridges, offering views across majestic canyons, valleys, and Balkan landscapes.
Kandy to Ella, Sri Lanka
Cost: One of the most scenic train journeys in existence also happens to be one of the cheapest, with tickets starting from as little as $2.60.
At a distance of 93 miles, totaling about seven hours, the route from Kandy to Ella takes passengers alongside Sri Lanka's famously beautiful tea plantations and rolling green forests, past waterfalls and through mountainous fog. Booking ahead is a must during high season given the train's huge popularity; a third-class ticket will give you a taste of the local culture, while a $4.20 second-class ticket is your best bet for guaranteed views and more manageable crowds. (First-class seats are quiet, but air-conditioned, so you can't stick your head out the window. Lame.)
The Lhasa Express Sky Train: Qinghai, China to Lhasa, Tibet
Cost: One-way tickets start at $50, with buffet options of fried pork and vegetables at your disposal. Oh, yeah, you get to see the Himalayas too.
They said it could never be built. And they were very wrong. The 1,300-mile track that connects the Qinghai province to the Tibet Autonomous Region -- nicknamed "the sky road" -- is a straight-up miracle of engineering. Passing over the massive Tibetan Plateau ("the Rooftop of the World") and the Tanggula Mountains at 16,640ft above sea level, it's the highest train track in the world, built on plains of permafrost and cutting through snow-filled landscapes along sheer, impenetrable mountain faces. The ascension is so high, it's recommended you acclimatize before even stepping on board the train. Additional oxygen is pumped into the carriages and several doctors travel on every journey to treat those suffering from altitude sickness. You'll catch glaciers, the largest lake in China, and ancient Tibetan architecture before arriving on the doorstep of the mighty Himalayas.
The Trans-Siberian Railway: Moscow to Vladivostok, Russia
Cost: This five-night journey will cost you around $590 in second class, which includes a bed and three meals a day. What it doesn't include is that Russian visa, the travel insurance, and tip money for the staff. Still, all in all, that's 10.5 miles to the dollar for the longest train journey you'll ever take.
At over 6,152 miles long, connecting Moscow to the Pacific port of Vladivostok, the Trans-Siberian Railway is the longest line in the world. So if you're into trains, this is the big-kahuna bucket list journey you just have to take. It spans across eight time zones, the Ural Mountains, the largest and deepest freshwater lake on Earth, desolate fields of ice, and Siberian scenery of incomparable grandness. Along with the views, an adequate amount of food is included, and you'll find extra delights like Russian vodka and beer in the railcar.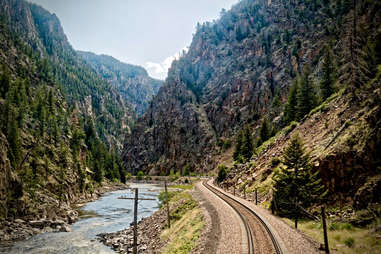 California Zephyr: Chicago, Illinois to Emeryville, California
Cost: The ticket with the best value comes in at $134, although added food and drinks will start setting you back after a while.
Traveling across these mighty United States by train is certainly a romantic notion, but can also be stupid expensive, as anyone who's ever clicked around on Amtrak can attest. But on the list of most stunningly beautiful train rides in America is the legendary California Zephyr. At 2,438 miles, this three-day ride between Chicago and California is what you'd call a very good deal. It retraces the trail the original pioneers took in covered wagons, journeying along the Colorado River, and through the Rocky Mountains, the Nevada desert, and the Sierras before arriving in San Francisco Bay. It offers viewing carriages, tour guides, and meals delivered to your seat. Bonus: Connect to the Lake Shore Limited train from New York to Chicago; combined with the Zephyr, that's a once-in-a-lifetime coast-to-coast trek for just $213.
New Delhi to Goa, India
Cost: Sleeper tickets start at 12 bucks for a whopping 1,300 miles -- completed in less than 40 hours. Grabbing cheap snacks and chai from the passing porters at every opportunity only ups the value.
Connecting the Indian capital through to the lush, coastal region of Vasco da Gama, the super-fast Goa Express gives you a broad taste of India in one easy-peasy journey. Travel through Rajasthan, the thick jungle of the Western Ghats, the Dudhsagar Falls, and along the blissful Goan beachline. Out of all the train journeys you can take in India -- and the options are indeed plentiful -- this one is the most exquisite, and the only one that actually goes through a freaking waterfall.
Chiang Mai, Thailand to Singapore
Cost: Three countries and 1,375 miles for $60, plus small bites and a coupla good nights' sleep
Here's your chance to see the entirety of the Thai peninsula (and so much more!) in less than 48 hours. The trip begins in the lush northern mountains, then rolls through Bangkok and Kuala Lumpur alongside tropical coastlines and plantations, and across bridges made famous in Hollywood movies. Train travel in Thailand reeks of old world-meets-new charm, with modern carriages and relentlessly friendly staff.
Ollantaytambo to Machu Picchu, Peru
Cost: Rates start at $35 for a distance of only 24 miles. But getting to Machu Picchu can set you back up to $450, so taking the train at Ollantaytambo is easily the most economical way to see one of the greatest wonders of the world. It's also just fun to say "Ollantaytambo."
Rail networks have struggled to take off in Latin America -- and especially in Peru, options are limited. Those in operation are mainly used by luxury operators, so it's hard to score a good deal to Aguas Calientes, the quaint town at the foot of Machu Picchu. Your best bet is to take a bus or taxi from Cusco to beautiful Ollantaytambo, where you can see two massive Inca ruins, then hop on board and journey past temples, jagged mountains, and panoramic views of the ancient Incan world. Think of it as an apéritif to what awaits you at Machu Picchu.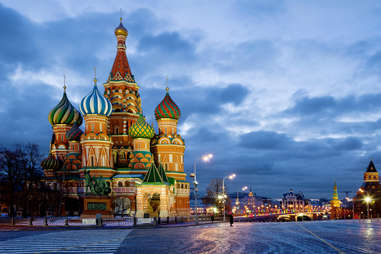 Red Arrow Express: Moscow to St. Petersburg, Russia
Cost: Prices range from $75 at its cheapest, to around $150 at its most expensive -- plus optional meals and one night of accommodation.
This fairytale connection between Russia's two main hubs has been running since 1931, and even has its own theme song that plays as it departs the station. With the option of traveling in three different classes, each with its own coach car, you can opt for a standard compartment sharing with three others, or get fancy in a luxury suite with a shower, heated floors and meals included. Journeying overnight and waking up the next day in the country's mighty north is the best way to experience that old-school Russian regalness.
Sign up here for our daily Thrillist email and subscribe here for our YouTube channel to get your fix of the best in food/drink/fun.