As you know, Europe is cheap right now. Like mad cheap. Which is great news for your big summer adventure to stalk the continent's hottest royals. Or visit Lichtenstein.
It got us thinking: are certain European airports consistently cheaper to fly into from the United States than others? To find out, we asked the travel/data experts at both Hopper and Kayak to analyze round-trip flights from the US to Europe over the next three to five months. While, obviously, exact ticket prices depend on where in the US you're flying from, both sites were able to provide fares from a "typical US city" (essentially, an average of all major US airports).
In the end, we combined their data, sorted it from most-to-least expensive, and discovered that (surprise!) Russia is where we should be headed this summer. Or, well, one of these other European airports...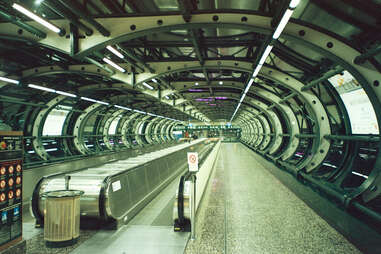 12. Milan–Malpensa Airport (MXP)
Milan, Italy
Average price: $882

11. Oslo Airport (OSL)
Oslo, Norway
Average price: $878

10. Berlin Schönefeld Airport (SXF)
Berlin, Germany
Average price: $853
9. Pico Airport (PIX)
Pico Island, Portugal
Average price: $851

8. Keflavík International Airport (KEF)
Reykjavik, Iceland
Average price: $840

7. London Stansted Airport (STN)
London, UK
Average price: $827
6. Istanbul Atatürk Airport (IST)
Istanbul, Turkey
Average price: $765

5. Boryspil International Airport, (KBP)
Boryspil/Kiev, Ukraine
Average price: $761

4. Stockholm Arlanda Airport (ARN)
Stockholm, Sweden
Average price: $756
3. João Paulo II Airport (PDL)
São Miguel, Ponta Delgada, Portugal
Average price: $752

2. Luton Airport (LTN)
London, UK
Average price: $725

1. Sheremetyevo International Airport (SVO)
Moscow, Russia
Average price: $708