Karpathos island, Greece

| leoks/shutterstock
Karpathos island, Greece

| leoks/shutterstock
The Best Countries to Visit When You're Spending American Dollars
Out there on that open road, the concept of going cashless is overrated. Way. Credit cards are convenient but leave you open to ID theft. And I haven't used an ATM internationally in five years, not since the Guatemalan cash machine I used (in the presence of heavily armed guards) led to five daily ATM withdrawals in Colombia that wiped out my checking account. My bank returned the money, as a skimmer in Guatemala was the culprit, but I now testify that, while abroad, cash is king -- as in, walking into a bank with a few crisp hundies and walking out with local currency.
My simple pro tip for dodging money snafus: Head to countries that use American dollars as their official or unofficial currency. Suffering an electronic cash loss can take days to fix and blow up your trip. Exchanging currencies is an expensive hassle and tends to leave you with coins as souvenirs. (OK, but you say, carrying cash is risky, right? Less so if you wear pants designed to stop pickpockets, which I can vouch for.)
Several countries use dollars as their own currency, either because they don't have a currency of their own or because the dollar just makes more sense. This is called dollarization, and you're going to enjoy redefining bang for your buck. In other countries, the dollar simply kicks ass in less formalized ways. If you're carrying American currency in your wallet, this is a great time to take a cheap trip somewhere fantastic.
Cambodia
Go for world wonder Angkor Wat, stay for the dynamite nightlife of Phnom Penh.
Dollar dollar bill y'all: Upon arrival you'll have to buy your visa in US dollars. A buck will buy you about 4,000 riel, give or take, but you might as well hand out greenbacks, the country's second currency. ATMs dispense dollars, but a word of caution: I've had more than one eat my card across an entire weekend.
How you'll spend it: This tropical, jungly Southeast Asian kingdom of chilled-out Theravada Buddhists is magic for budget adventurers. Health food (pretty much everything they eat), basic-but-merry accommodations and party supplies (local beer or whiskey) are mind-bendingly cheap -- budget $20 a night for celebrity mode. Its bustling capital, Phnom Penh, is a gritty, round-the-clock, every-day-is-Saturday city where its version of Uber is you waving at any passing motorbike -- driven by a grandfather or a teenager -- who'll take you where you need to go for less than a buck a mile. Tip generously, then lose your shirt to the sharpshooting gents and ladies who shark the local pool halls.
The real magic happens in the countryside villages where you can sit outside on a mini-stool where your bent knees don't fit under the plastic table. There, a three-course meal will arrive from the nearby food stall -- a hard-boiled egg served as a delicacy with three additional finger bowls presenting spices, limes, and mint to be consumed with a tiny long-handle spoon. This might set you back 50 cents. These same hospitable locals might only travel to Phnom Penh once in a lifetime to behold their first shopping-mall escalator. Do visit Angkor Wat, just try not to sync it with 1,000-person-strong bus-tourist groups.
Canada
Your friendly neighbor speaks your language and knows your favorite sports team.
Dollar dollar bill y'all: Canada has its own dollar (nicknamed the loonie, slang for its $1 coin whose backside depicts a floating loon) but honors ours without blinking. On a recent visit there, a meal split with a friend was paid by $25 Canadian and $20 US bills. That's how allies roll.
How you'll spend it: Canada surely seems to be having more fun than we are these days -- add the 25% currency discount and you're off, eh? They're like us, kinda. Toronto is a dandy Canadian starter kit where getting around is a breeze. Compared to in-your-face New York, there's barely a murmur on Toronto's low-stress subways and buses. Think of it as a chiller Chicago with more pubs containing the word "beaver," and a waltz through customs if you're traveling on an American passport.
My Canadian pal put it like this: Britain had one son (the US) and two daughters (Canada and Australia), implying that Canada is less fidgety and boyish-delinquent than the States. He also noted that the Canadian wit -- they've sent many legendary comedians into US fame -- is a byproduct of The Great White North being culturally halfway to Britain. Toronto's Bata Shoe Museum is a mind-blower, housing footwear from the ages, including prehistoric Otzi Alps-man foot sleds, an Apollo space boot, and the Dalai Lama's flip-flops. The Toronto 2017 North American Indigenous Games (July 16-23) are expected to be the largest sporting and cultural gathering of Indigenous Peoples in North America. Go see your long-lost cousins.
Ecuador
South America's equatorial gem straddles the hemispheres.
Dollar dollar bill y'all: This small, yet amazing, Latin American nation needed a stable currency, and our dollar has been their answer since 2000. Only a few dollar-pegged sucre coins now change hands along with American coinage. Bring singles and fivers, which they prefer since making change for US 10s and 20s is difficult for them. (Hint: Most things you'll need cost less than five bucks.)
How you'll spend it: The sun comes up at 6am and sets at 6pm year-round in this Pacific Ocean-hugging country sandwiched between Colombia and Peru. Its multiple World Heritage charms and earth-shaking attractions include both high-altitude bliss and under-water hallucinating. Most people land in its capital, Quito, encircled by the 9,300-foot mountains, and its steepness and vibe recall a San Francisco at one-tenth the cash. The largest preserved colonial city bustles with locals who will invariably drop what they're doing and receive you like they have all day to rap. The stretched empire overspills with fantastical Baroque, neo-Gothic, and Renaissance churches -- and chocolateries. Many ills, hangovers included, are cured here via herbal rubs and drinks. The daily temperatures stick between 60 and 75 degrees year-round, sans seasons. Packing will be a snap.
Later, explore the world's most cherished waterworld: the Galapagos, Ecuador's own. You'll find unmatched encounters with animals that defy logic and multiply your awareness of the color spectrum. As they've never been hunted, most creatures calmly return your gaze. The Galapagos Archipelago comprises hundreds of protected islets dusted across 17,000 square miles of ocean, and 13 accessible islands that will forever capture your imagination as you roam amid two-ton tortoises and dragon-like iguanas (cute dinosaurs). Add epic kayaking and snorkeling or diving with sea lions and unhurried tropical fish. Start strategizing here.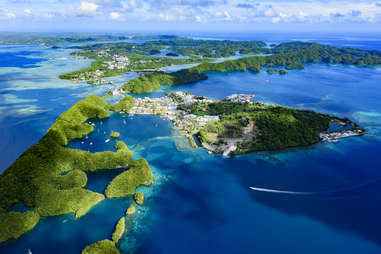 Palau
An unforgettable slice of tropical Americana on Southeast Asia's doorstep in the Pacific.
Dollar dollar bill y'all: Palau is a republic that is closely allied with the US. As an associated state -- technically a United States-governed Trust Territory -- it relies solely on US dollars to make its world go round. Residents also speak English and enjoy beer. Triple play.
How'll you'll spend it: For starters, relax. Palauns may use our dollars, but they don't use them to keep score. I asked about the delerrok, Palau's mythical money-bird, an archaic but slightly blinged-out dove representing spiritual wealth. The image is all over the place, including dozens of symbols etched on the capitol. The bird seems to be ingesting coin-shaped bits while concurrently crapping them out. Palauns explained its pose: "Eat money -- crap money," and "Can't take it with you." Their tranquil posture toward riches, and pretty much everything else, are the antidote to anything worrying you.
Former president Johnson Toribiong, sporting a floral-pattern tropical shirt, told me: "The islands' biggest imports from the US are democracy and Budweiser." But Palau's internationalism runs deeper than liberty and lager. Locals use chopsticks to eat fries. This multinational intersection offers a taste of Asian diversity, American comfort, and the islands' homegrown affability. There's no shortage of cheap, basic accommodations where mixing with locals is a given. Your dollars will land you both on and under seawater, and that's a beautiful thing. Most of the 100,000 visitors who make their way here arrive for some of the world's most sought-after diving areas.
Greece
Savor pure Mediterranean Greece -- mountains, fresh air, and real people.
Dollar dollar bill y'all: Buying euros is a steal right now; the US dollar has never been stronger against the European Union's currency. Even if you want to shell out greenbacks, most of the Greeks you'll meet on their home turf have relatives in America whom they routinely visit, and they'll be happy to accept dollars.
How you'll spend it: You've known about Athens (where you'll fly into) since grade school, and the ancient city truly rocks -- as in inspiring ruins and literally overflowing with rock-and-roll clubs. But also consider a walk on Greece's wild side on one of its outlying islands. There's more to this Mediterranean hero than tourons (bonehead tourists) on their Greek island vacations, infesting beaches like locusts fleeing rows of hotels. Karpathos, an island with 5,000 full-time residents, is where you'll hike ancient shepherd trails while meeting farmers, fishermen, boat captains, and, yeah, lingering shepherds. You might call this southeastern island in the Aegean Sea "Greece's Montana." Mingle with old-style Greek musicians while snacking in traditional open-air restaurants (enter: hand-rolled and notched makarounes) and behold the grandmas still wearing tsemperi headscarves and traditional kavai, non-religious "habits" that make them look like nuns.
Pretty much everything you'll eat here will be "biological," the European term for 100% local organic (possibly your first encounter with a real olive). A telling factor of the famed Mediterranean diet is what they don't eat: cow stuff. Beach barbecue of pork souvlakis, roasted peppers and eggplant, ember-roasted potatoes, and garlic yogurt? You're in. Remember that Aristotle's word for happiness, εὐδαιμονία, decodes as eudemonia, which means human flourishing. Go for it -- the Greek phrase ola kala, "all is good," was the origin of OK.
Puerto Rico
America's most raucous, enthusiastic corner of the Caribbean is a bona-fide bargain.
Dollar dollar bill y'all: The UN views Puerto Rico solely as a US Territory with an economy based on dollars, both of which are true. It's neither our 51st state nor its own country, but it feels like both.
How you'll spend it: The island's nexus with the Caribbean Sea, Atlantic Ocean, lush agricultural valleys, and steamy rainforests are all spiced by Afro-Caribbean, European, Latino, and American taste buds. This gives birth to an incredible variety of food modes, including its ubiquitous national dish, mofongo: seasoned plantains mashed-potatoes-style blended with beef, chicken, pork, or seafood. The locals are decidedly pro-American, but broach politics only if you want to deep-dive with a citizenry that averages 90% voter turnout. You can always stick to sports: Puertorriqueños are huge fans of American baseball and basketball.
For things to do in San Juan, start in the ultra-colonial Old San Juan. Its friendly bars and landmarks are way older than anything on our mainland (El Morro Castle is the US's oldest fort and National Park; the Spaniard-made treasures St. Augustine, Florida, hijacked El Morro's design). Sixteenth-century architecture, antique everything, and bluish-tinted Belgian-made cobblestone streets make this a fresh world right on your doorstep. The 100-mile long island boasts majestic limestone pinnacles and cliffs that shelter a gourmet coffee region. Check out El Yunque National Forest, the sole tropical rain forest in the US National Forest System, and the Saborea food.
India
Still among the least expensive, most expansive destinations in the world
Dollar dollar bill y'all: Anything goes in India, a welcoming country for English-speakers. Capitalism alongside Communism, rich atop poor. If someone can't make on-the-spot change for your dollars, they'll surely send a sprinting street kid on his way to make it happen ASAP. Of note: The dollar has gone up 50% against the rupee in the past five years.
How you'll spend it: I can sum up India with a single memorable haircut. In Delhi, a good first stop for the uninitiated, you'll find a maze of street cows and horn-mad drivers and rickety buses and bull-drawn carts. It's great; seriously, go. I ducked away to shop for a trim in Delhi's Paharganj Bazaar, I was sold on a pitch by Mohammed Arkan, who stood in front of his open-front workplace. After an expert, no-gadgets cut, he swayed me into an Ayurvedic face massage that soon tumbled into a full head-massage and skin-nourishing treatment with rosewater. The head massage left me drowsy and in no mood to contest my final bill, which had ballooned to over $3. Mohammed, a Muslim, was an 18-year employee at the Hindi-owned Punjab Hair Salon (storefront sign also boasts: "Since 1947 -- The Evolution"). I lingered inside the dingy shop for another hour, discussing faith, policymaking, Chinese tourists.
Delhi is this schizophrenic hallucination of ultra wealthy and desperately poor existing side by side. Flip the coin and in minutes you're inside Le Méridien New Delhi, where the artsy lobby showcases 25 stories of colorful hanging plant life and is a beacon for international executive-types hunting swanky cocktails. When you need a break, drive five hours into the countryside and enjoy the Chambal Safari Lodge, a calming royal campus-enclave a world removed from the mayhem.
Panama
America's tightest friend in Central America caters to birders and benders.
Dollar dollar bill y'all: Alongside the dollar-pegged Panamanian balboa (that guy who discovered the Pacific Ocean), Panama has used the US dollar as legal tender since 1904, because of the Panama Canal and its trade status with the world's richest country.
How you'll spend it: Panama City is a bizarre, kinda inept, seemingly-built-overnight real estate overkill that somehow manages to charm. The water-encircled metropolis is where most of the country's 4 million people live and sin-with-a-wink as oddly parked skyscrapers loom over 1980s-style bohemian Miami Beach buildings. The more down-to-earth drinking spots are where ex-military, contrary investor-type expats, and in-the-know locals mix until the sun comes up. Yet it still adds up to a great cheap vacation country.
Pretty much everything else in this Central American country that kisses the Pacific Ocean and the Caribbean is national park. This is where the Audubon Society and the Smithsonian Institution study wildlife. Look into kayaking in the Panama Canal -- seriously, it's actually a series of wild lakes connected by locks. Check out an indigenous Embera Indian village situated deep in the rainforest where locals will invite you into their homes and demonstrate how they live; they've learned to rely on tourism to survive amid the restrictions on hunting and farming in the national park where their village is located. The whole country, city and jungle, is just that wild.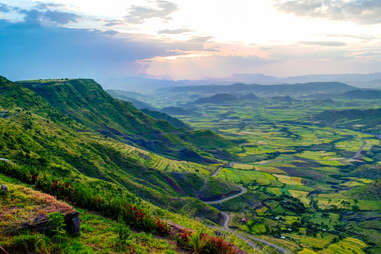 Ethiopia
The birthplace of humanity, the long-distance foot traveler, and coffee
Dollar dollar bill y'all: The African Union is headquartered in Ethiopia's vital capital of Addis Ababa, making it a crossroads of global humanity, travelers, and currencies.
How you'll spend it: Search for Ethiopia on the US State Department's ominous travel-warning website, and it'll scare you off, just like it will for most of Africa's 54 countries. But don't fret. And don't dote too much on its unjust government. Your visit will help locals survive or even thrive -- they need help in whatever form it comes. Contact outweighs isolation. Summon the courage, the time, and the funds, and you'll encounter one of the most amazing countries on Earth. Ethiopia's ancient underground rock-hewn churches -- Lalibela -- are 12th-century free-standing, hand-chiseled mind-benders. Imagine an epic church's roof even with the ground and having to descend a long, narrow tunnel underground to explore its first floor.
Walking is a way of life here. The country that invented wandering (everyone's DNA traces back to Ethiopia) epitomizes religious coexistence. Muslims and Christians marry and are often seen holding hands while strolling. This remains one of our planet's most Christian countries -- Ethiopian Orthodox, mostly. Foreign but familiar, Ethiopians will teach you about patience -- theirs, mostly. I'm seldom star-struck, but minute-by-minute moments in Ethiopia resemble a blockbuster Jesus-era movie set. Assigned a hue all its own, this part of Africa remains a deep-rooted destination for pilgrims and anyone drawn to humanity's starting line. Don't miss out.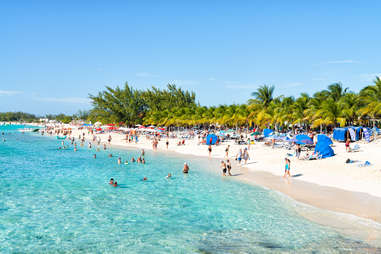 Turks and Caicos
A nation whose motto is "Beautiful by Nature, Clean by Choice." How can you go wrong?
Dollar dollar bill y'all: The US dollar is the official currency of Turks and Caicos, and Turks and Caicos' official currency is showing you a good time.
How you'll spend it: I once hopped a big, fat, autopilot-holiday cruise ship where the highlight was a long stopover on Grand Turk, one of the 40 still-British-colonized islands that makes up Turks and Caicos. Bajari Beach was in party mode: A classic beach-bar reggae party featured homegrown jerk chicken and free-flowing cocktails. Said the bartender: "Our entire island could go live on your ship."
As we sailed away, I wished they did. These islands offer what you'd expect on any popular Caribbean island -- parasailing, getting sunburnt, gorging at a fish fry, seductive beach bonfires, practicing baby-making, a fantastic private-island Caribbean resort -- but the unhurried locals leave you alone unless you need a hand or recommendation on where to go horseback riding. Their British heritage influence means they know their way around a cocktail buzz, or whatever you might fancy. It's a hell of a place for a weekend, but it can be pricey, difficult to navigate in budget mode unless you're willing to go bohemian. Translation, next drink is on you.
Sign up here for our daily Thrillist email and subscribe here for our YouTube channel to get your fix of the best in food/drink/fun.