"A house by the beach" sounds like one of those painfully unobtainable luxuries, like an Aston Martin or NFL season tickets or a post-12th grade education in America. Big, sexy coastal communities have astronomical housing prices, true -- but that doesn't mean you, the average citizen trying to scratch together $1,000 a month to live with a roommate, can't legitimately afford one. And not on a beach in Barrow, Alaska, either.
In the Southeast -- and in parts of the Pacific Northwest -- a number of cities boast beautiful coastline, white sand, and surprisingly affordable housing. SmartAsset crunched some data, factoring in median home prices, home size, property taxes, and annual housing cost (mortgage, insurance, taxes, etc.) to find which beach towns are the overall cheapest. After a few winters of shoveling snow with your bare hands, these look pretty inviting. Below we count down 17 of the cheapest, culminating with the overall most affordable beach town in America.
17. Deerfield Beach, Florida
Median home price: $124,900
The only city on this list to reside in a major metropolitan area, this beach town between Fort Lauderdale and Boca Raton boasts relatively easy access to almost all of South Florida. And might just be the most underrated city in the region. The beach here is big and wide, where even on weekends the sands never get too crowded. It's home to some of South Florida's best breweries, most notably Holy Mackerel and 26 Degrees, just south in Pompano. But perhaps the greatest thing Deerfield has to offer is its burgers -- some argue Charm City's are the best in Florida, and Tucker Duke's Lunchbox is known for one of the most insane burger eating challenges in America.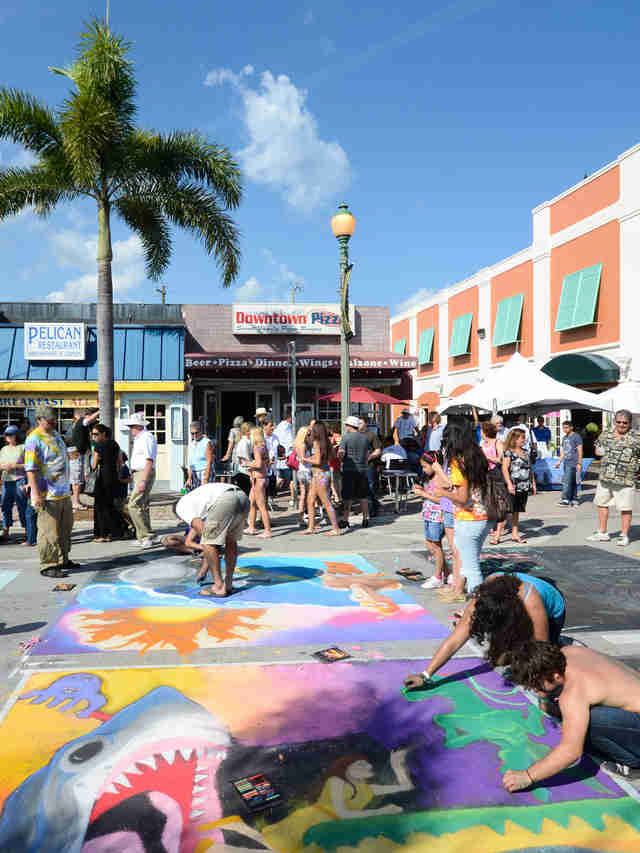 16. Lake Worth, Florida
Median home price: $151,100
Once regaled as only a place for your grandparents and University of Miami football recruits, Lake Worth has made some major strides to become a pretty respectable little beach town. Arts and culture dominate the resurgent downtown, with the Cultural Council of Palm Beach's art gallery anchoring countless other galleries. Lake Worth hosts one of the largest street painting festivals in the country, where artists from literally all over the world decorate the streets with incredible chalk murals. You've also got great spots like Mulligan's Beach House, right on the water.
15. Port Angeles, Washington
Median home price: $188,300
Though Washington state beaches skew a little on the gray side, don't let this town's proximity to Twilight-famous Forks deter you from making it your Pacific Northwest beach getaway. The town on the Olympic Peninsula sits just a few miles from spectacular Olympic National Park, and the only temperate rainforest in the contiguous United States. Port Angeles is also a popular jumping-off point for whale watching excursions, and even boasts its own historic underground tour of the original buildings left after the city elevated its streets in 1914. And if you're craving big city life, it's a short and scenic ferry ride across Puget Sound to Seattle.
14. Coos Bay, Oregon
Median home price: $166,200
While nobody's hating on the Haystack Rock and Goonies glory of Cannon Beach and Seaside, some of the most scenic shoreline in Oregon sits in Coos Bay. The scenic highlight is Sunset Bay State Park, surrounded by majestic cliffs where miles of hiking trails take you to breathtaking vistas looking out over this secluded cove and the Pacific beyond. Coos Bay also sits on the southern border of Oregon Dunes National Recreation Area -- not exactly the white sands of your Caribbean fantasies, but still some of the most impressive natural wonders in the west, with many dunes standing over 500 feet tall. As for that other thing Oregon is best known for (beer, we mean beer) hit 7 Devils Brewing in town, best known for its crisp, nutty Lighthouse session pale ale.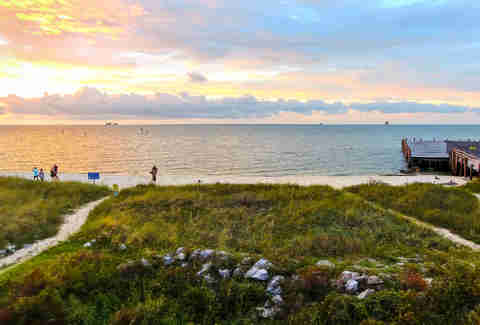 13. Gulf Shores, Alabama
Median home price: $236,300
The home of the vaunted Hangout Music Festival has a ton to offer the other 362 days of the year. In addition to bordering Alabama's best state park, Gulf Shores got its first brewery in 2016 at Big Beach, and opened 15 miles of bike trails. Add that to an up-and-coming food scene in nearby Orange Beach and some of the lowest property taxes in the country, and you've got a standout city for your beachfront home.
12. Myrtle Beach, South Carolina
Median home price: $173,600
The place once known as the Dirty Myrtle has seriously cleaned up in the past few years. Yeah, you've still got Myrtle Beach Bike Week to contest with, but the newish 1.2-mile beach boardwalk and downtown promenade have given this town a more urbane feel. The quaint minor-league baseball park ranks among the best in the nation. And with the lowest property taxes of any city on the list, you can enjoy the 60 miles of undeveloped beach along the grand strand with a lot of extra money in your pocket.
11. Fort Walton Beach, Florida
Median home price: $159,600
While the Redneck Riviera doesn't get enough credit as a world-class beach destination, Fort Walton Beach gets even less. The beaches here and on nearby Okaloosa Island are every bit as breathtaking as the ones in Destin and Panama City, with a fraction of the people. It's also not nearly as developed, which means you won't spend $160K to sit smack next to 14 vacation rental high-rises. Though it's Florida, so you never know.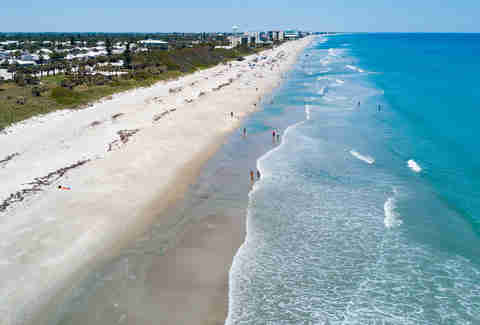 10. Melbourne, Florida
Median home price: $125,400
When you think of Florida's best beach cities, Melbourne is listed about as often as Orlando. But don't overlook this no-pretenses city of 81,000 at the edge of the Space Coast. Experts consider the Brevard Zoo perhaps the best small-town zoo in the country. The beaches here aren't nearly as crowded as in more hyped-up beach cities, and with two sets of barrier islands, the area boasts sand and wildlife galore. The price of a six-room house runs about a quarter the price of a Miami condo, so it's a place even mid-income millennials can look to for a beach escape pad.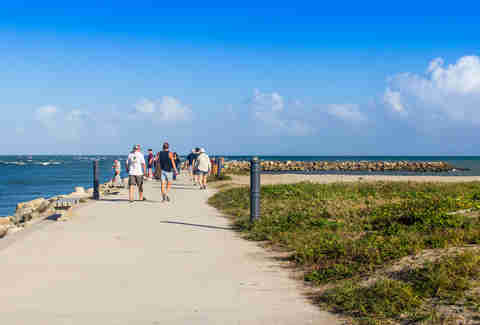 9. Fort Pierce, Florida
Median home price: $89,100
Looking for a Florida beach house? Nowhere will you find it cheaper than in Fort Pierce, the only coastal city in the state where you can still get a decent house for under $100K. On the so-called Treasure Coast you'll be squarely between Miami and Orlando, so if going to the beach gets slow, Disney and South Beach can be done as day trips. And just down the road in Port St. Lucie you'll find the spring training home of the New York Mets.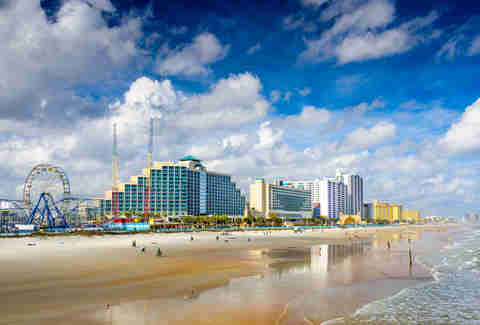 8. Daytona Beach, Florida
Median home price: $112,000
Since your home by the Great American Race isn't gonna cost you much, you'll have plenty of money left to buy a giant F-350 and cruise along one of the only drive-on beaches in the country. The city is moving away from its spring break image, which means your house won't be overrun by discarded Natty Light cans every March, unless you go on a bender. Plus, with Orlando just a short drive away, Daytona offers the perfect place for a beach escape with easy access to big-city amenities.
7. Freeport, Texas
Median home price: $71,000
If you're not from the Lone Star State, odds are you're pretending to have any idea what Freeport, Texas is. As the name might imply, it's a bustling port city, about 63 miles south of Houston, right on the Gulf of Mexico. While it's not known for long strands of white sands, the fishing here is as good as anywhere along the gulf, with far fewer annoying "other people" to muddy up the waters. It's a town of only about 12,000, a relatively sizable portion of whom could fit in the five-bedroom home you can buy for just 70 large.
6. Ocean Springs, Mississippi
Median home price: $151,500
The artsy, quintessentially Southern Mississippi Gulf Coast leads the nation in affordable beach cities, with four towns landing in the top 10. Of those cities, Ocean Springs is the beachiest. There you can wander over from your sub-$150K home to the bars of Government Street, where live music fills the air every weekend. Closer to the coast you're a short boat ride from the turquoise waters of the barrier islands, a big part of why this isn't just one of the cheapest beach towns in America, it's one of the best beach towns, period.
5. Bay St. Louis, Mississippi
Median home price: $161,300
Bay St. Louis is best described as Sausalito on the Bayou. The streets are lined with art galleries, antique shops, and pay-what-you-want restaurants, and the people are mostly artists drawn to the Cajun vibe of nearby New Orleans. Speaking of the Big Easy, commuters to that city often buy homes here, both to save money and live in a quirky, creative town that hugs the Gulf of Mexico. It's altogether a cheaper play than you'd find on San Francisco Bay.
4. Port Arthur, Texas
Median home price: $64,300
Yes, that price up there is in dollars... 2018 American dollars. The cheapest beach city in America to buy a house is Port Arthur, a city on Sabine Lake just across from Louisiana. It borders five protected areas, including Texas Point National Wildlife Refuge and Sea Rim State Park. The town isn't big, but it's peaceful and the weather is a perfect Gulf Coast warm. The only thing that keeps it from having the top spot overall are higher property taxes than in other states. But with a house that cheap you'll barely even notice.
3. Biloxi, Mississippi
Median home price: $149,100
Unlike its trademark casinos, Biloxi isn't just dangling affordable house prices like big five-bedroom prime rib buffets. This Southern party town is affordable even without free drinks in the casinos, with only $1,012 a year in property taxes and less than $10,000 a year in housing costs. Pretty impressive for a city that's risen from the destruction of Hurricane Katrina to become one of the most popular destinations in the region. And even off the strip, the city has fantastic access to beaches and wilderness along the Pascagoula River.
2. Pensacola, Florida
Median home price: $145,700
Many people know nothing about Florida's westernmost city other than that it had a regrettable syndicated TV series called Wings of Gold. Which is a shame, because while the Naval Air Station is a big part of Pensacola, so are the turquoise beaches along its Southern shores. The base draws a young, diverse crowd to the city, so if you're on the younger side and still want a place to party, Pensacola is a great choice. Especially since it's half-home to the famous Flora-Bama bar on the Alabama state line, a packed roadhouse of fun every weekend.
1. Gulfport, Mississippi
Median home price: $116,200
Don't sleep on Mississippi's second-largest city -- one of America's most underappreciated that happens to be a great place to live. Its once-downtrodden downtown has come back to life as young residents have moved back and brought with them a new energy, weekend block parties, and one of the state's best breweries in Chandeleur. To further enrich downtown, the city opened an alley in the model of Cleveland's East Fourth Street, closed to traffic and lined with bars and restaurants for people to enjoy the coastal sunshine as they sip. When it's time to check out Biloxi, the 27 miles of unobstructed beachfront along the way make for one of the most scenic drives in America
Sign up here for our daily Thrillist email and subscribe here for our YouTube channel to get your fix of the best in food/drink/fun.