Flight Prices Are Plummeting in the US This Fall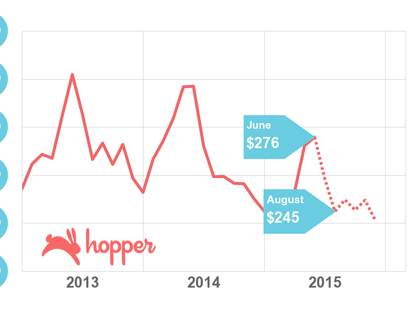 Anyone who's flown before knows the agony of locking down what seemed like the cheapest airfare, only for prices to drop even lower two weeks later. It sucks, and there's not much you can do but eat the inflated cost and try to not let it ruin your trip to Disney World.
According to Hopper's newly released Consumer Airfare Index, though, domestic flights booked this Fall will be the cheapest they've been in the past four years, averaging $248 round trip. For reference, that's nearly 4% cheaper than last year, and 8.1% cheaper than in 2013.
The Consumer Airfare Index takes into account current pricing and trends from previous years, and since this summer's peak airfares were cheaper than they were in 2014 or 2013, Hopper predicts the fall/winter price drop should be correspondingly impressive -- as in, 12.5% cheaper by December.
Check out Hopper's interactive map below to find the average price for each state:

Gianni Jaccoma is a staff writer for Thrillist, and he constantly misses the window for cheap flights. Follow his expensive travel habits @gjaccoma, and send your news tips to news@thrillist.com