Presented By

Experience a Little Slice of Home in America's Transient Capital
This is the hotel the pandemic built—in the best way possible.
Presented By

Photo courtesy of Yours Truly DC Hotel
Photo courtesy of Yours Truly DC Hotel
When Yours Truly, a Bohemian-chic independent boutique hotel in the heart of Washington DC's Dupont Circle neighborhood, debuted in May 2020, the response was muted. And that's putting it nicely. Between grounded international travel, the transition to a work-from-home economy, and the immense uncertainty the rapidly developing COVID-19 pandemic provoked, opening a brand new hotel in a city that depends on tourism and business trips was a monumentally risky venture.
"It was tough," admits general manager Tauseen Malik. "It was really tough. But what we saw was—once some of the restrictions were loosened—the local community really coming in and using the space, embracing us and our partners."
That embrace, as it turned out, was mutual. Large floor-to-ceiling windows swing open onto New Hampshire Avenue, easing the anxieties associated with indoor dining and inviting passersby to drop in and hang out awhile, lounging on the low-slung couches strewn throughout the space. Work-from-home became work-from-hotel, as Yours Truly invited area residents to set up shop with their laptops inside the expansive, laid-back lobby—or "living room," according to Malik. Cult-favorite "Jewish-ish" deli Call Your Mother began hawking bagels and coffee out of the far corner, only adding to the homey atmosphere.
Others found their way to that lobby, too: most notably Darius "Sunny D" Davie, a professional barber who found himself in search of a place to conduct his growing business after the pandemic shuttered so many DC salons. Davie, also known as Groom Guy, also found respite at Yours Truly, moving his operation into a converted pantry near the check-in desk and transforming the 275-foot room into a veritable self-care sanctuary.
"We heard of this amazing barber who needed a chair, and we just thought it was the perfect opportunity," says Malik. "People love it—it's worked out wonderfully for everybody."
Stocked with high-end, primarily Black-owned products and decorated with eye-catching art from prominent Black artists, the shop fits right in with the hotel's sleek, lively aesthetic. And much like its surroundings, Groom Guy welcomes all, whether you're stopping by for a quick fade or gearing up for your wedding.
Across the hall from Groom Guy sits El Donut Shoppe, which, contrary to its name, has nothing to do with fried pastries. The Orlando-born concept offers yet another unique amenity by way of a tightly curated array of vinyl records, available both for purchase or on loan to spin upstairs on your very own turntable. The eclectic mix of jazz, funk, soul, hip hop, and more provide the ideal soundtrack to your stay—especially when paired with a little something from Mercy Me, the hotel's buzzy in-house restaurant and bar.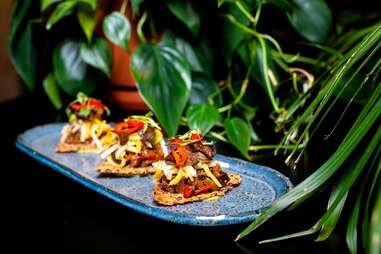 Described as "sorta South American"—Malik resists putting the cuisine in too tight of a box, instead preferring to let the team do its thing without constrictions—Mercy Me's forward-thinking menu traipses through Latin America and the Caribbean, melding flavors as fluidly as its lobby home transitions from daytime hangout to evening hotspot. Menu standouts include bright, citrus-spiked salads, roasted chicken dressed in a rich house-made mole, and a killer vegetarian Tostada loaded with roasted eggplant, smoked mushrooms, jicama, and green mango slaw. "I'm not even vegetarian," jokes executive chef Samuel Diaz. "But I can't get enough of it."
Beverage program director Micah Wilder takes a similar approach to his side of things, pitting classics like Espresso Martinis, Gin and Tonics, and draft Negronis with funkier options like a Mule dosed with Caribbean Scotch Bonnet peppers and an unstoppable frozen Miami Vice.
These days, Yours Truly is far from muted. Saunter over to the centrally located square bar on any given night and you'll catch a cross section of the nation's capital. Businessmen with their elegant shirt cuffs rolled to the elbow chat with the staff while indulging in an Old Fashioned. A family, road-weary after finishing their drive up from Texas, settle in with a few Sofrito Burgers as the family dog naps at their feet. A group of 20-something girls in neon crop tops pose for photos next to the lush greenery, clutching frozen Kick Ass Coladas. A couple of local bartenders, fresh off the day shift, talk shop over Clarified Tropical Milk Punches, while a Travel Editor—AKA yours truly—perches at the bar and considers ordering a third South Paw Manhattan. Because when the vibes are this sweet, you can't help but want to stay awhile.
Meredith Heil is the Editorial Director of Travel at Thrillist. She lives in Chicago and enjoys all things cocktails, crosswords, and women's soccer. Send good vibes to @mereditto.