America is Bursting with Cherry Blossoms Right Now
Consider this an upgrade to your socially-distant park hangs.
Note: We know COVID-19 is impacting travel plans right now. For a little inspiration, we'll continue to share stories from our favorite places around the world so you can keep daydreaming about your next adventure.
It's cherry blossom season, with trees around the world popping off in a fireworks display of pink-hued beauty. And while annual cherry blossom festivals around the world are being scaled back due to COVID-19, that doesn't mean the trees themselves will stop blooming. Some can be observed while out on a stroll. Others are the backdrop of scenic drives. And while many gardens are temporarily closed or operating at reduced capacity, you can still ogle at the blossoms via virtual tours and photo galleries to get a little extra color in your life.
The season lasts roughly from mid-March through the end of April, with trees in the southern states blooming earlier than those farther north. Here are 12 of the best places around the country to catch them, whether digitally or in person.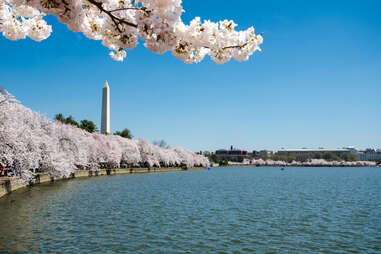 Let's turn our eyes, for a moment, to the nation's capital—this time, not for an unprecedented political event, but for a very soothing, very precedented display of nature's wonder! With trees that frame the landmark Tidal Basin in pink, Washington D.C.'s annual bloom is among the most famous in the US—and this year, it's expected to arrive right on time. A lot of the National Cherry Blossom Festival will go virtual for 2021, but those who can explore in person are in for a spectacular (and much less crowded than usual) sight.
Branch Brook Park, New Jersey
The state of New Jersey actually contains more cherry trees than Washington, DC. Branch Brook Park, though, has the distinction of containing the highest concentration of cherry trees anywhere in the country—somewhere around 4,000 of them. Although most of their annual Cherry Blossom Festival has been canceled for 2021 (runners are in luck: the 10K will go on!), the blooms will still be out in full swing: The season generally peaks in the first half of April, but the park is open 365 days a year. There's also a roller rink and an arcade on the south side, because New Jersey.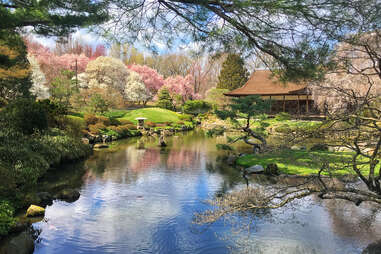 Philadelphia, Pennsylvania
Springtime visitors to Philly's Fairmount Park have been mesmerized by the annual cherry blossom bloom since the trees were first planted in 1926—and this year will be no exception. One of the most popular viewing spots, the Shofuso Japanese House and Garden, is available to the public after a long winter's nap. If you need somewhere to clear your mind (and after this year, don't we all?), their weeping cherry blossom tree, waterfall, and koi fish pond have your back. And although the Subaru Cherry Blossom Festival is canceled for 2021, the Japanese Garden plans to host a virtual ohanami (or cherry blossom appreciation), including a cherry blossom webcam, a taiko performance, activities, and more.
Imagine spending a spring day packing a picnic, walking with a friend or two beneath the cherry trees around Gateway Arch, sprawling out in the grass for a spell, and giving your brain a break from doomscrolling, at long last. Heaven. Also in St. Louis, the Missouri Botanical Garden is another particularly lovely spot to go relax in the shade of a few dozen Yoshino cherry trees; their collection includes not just flowering trees, but fruit-bearing trees that produce everything from peaches and nectarines to apricots and (of course) cherries. As is the case with many botanical gardens, advance tickets are encouraged due to the pandemic.
San Francisco, California
One of the more beloved jewels housed within San Francisco's Golden Gate Park is the Japanese Tea Garden, the oldest of its kind in the US. Leisurely trails wind through zen gardens, tea houses, and sculptural pagodas. Outside the garden, San Francisco's loaded with cherry blossoms: Many are Yoshino cherry, but you'll find all manner of fragrant pink and white varietals sprinkled around the city each spring. Due to the pandemic, the gardens are operating at reduced capacity and advance tickets are encouraged—but otherwise, the cherry blossoms are still ready to be ogled.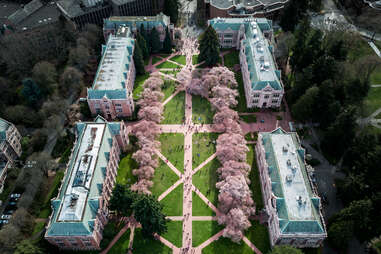 The University of Washington quad is fairly famous for its luscious displays of cherry blossoms. There are well over 100 cherry trees on campus, and because they're all different varietals some of them will be blooming even after the initial rounds have already peaked. And if you can't make it out in person this year, you can check out the blooms online à la UW's virtual viewing.
In the gorgeous Brooklyn Botanic Garden, the cherry trees in the Japanese Hill-and-Pond Garden and the Cherry Esplanade will bloom as late as mid-May, so folks in the tri-state area should be able to catch them in real life this season (and celebrate that we're not stuck inside like we were this time last year)—just be sure to book advance tickets. But if you're feeling a little hesitant on heading out (we don't blame you—this thing ain't over yet!) you can at least enjoy these blossoms via a virtual tour of the Japanese Hill-and-Pond Garden.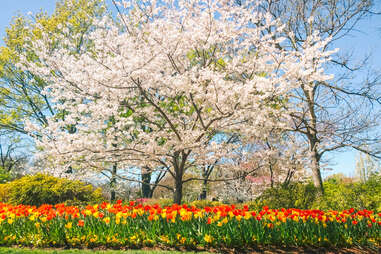 With more than 150 of those classic Yoshino cherry trees, the Dallas Arboretum is a beloved destination for visitors and locals alike each spring. Aim for the Pecan Grove and enjoy the contrast of all the pink and white blossoms against the bright colors of half a million other blooms like daffodils and ranunculus. At the moment, reservations and face coverings are required.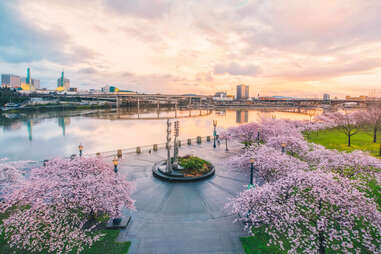 The Japanese American Historical Plaza alone contains 100 Akebono cherry trees along Portland's iconic downtown riverfront, which can be viewed via a stroll down the esplanade or from your car as you drive across the city's river-spanning bridges. You'll find dozens more at the Hoyt Arboretum, Laurelhurst Park, and the Portland Japanese Garden, the latter of which claims the title of being the most authentic Japanese garden experience that is not actually in Japan. (Japanese Garden guided tours are currently unavailable due to—you guessed it—COVID-19, but the garden itself remains open to the public with timed entry tickets.) There are a number of different varietals throughout these sites, including the double-flowered Shirofugen. Bloomtime here can last well into May, too.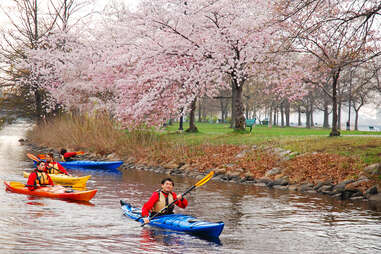 The cherry trees lining Boston's Charles River Esplanade make for an especially lovely walk (or bike ride!) each spring. Enjoying the view and the breeze along the river while you slowly work your way toward the Hatch Shell amphitheater is a springtime rite, and conceivably something at least a few of you can do this year when you're out dosing your socially isolated brain with some quick Vitamin D.
Traverse City, Michigan
Traverse City, for those of you not in the know, is the Cherry Capital of the US -- possibly the World, depending on whom you ask. To take in the best views, head to Old Mission Peninsula or drive along County Road 633. Cherry-picking is a beloved local pastime here, too. Here's a timelapse of Traverse City's cherry trees blooming as a consolation prize for those who can't make the drive in person.
Macon calls itself the Cherry Blossom Capital of the World; unclear if this is in competition with Traverse City or if the addition of the word "Blossom" makes for a sufficient distinction. No matter! Macon contains more than 350,000 Yoshino cherry trees, which earns it the distinction of having the most cherry blossoms of any city in the world, so it gets to call itself whatever it wants. Their annual International Cherry Blossom Festival is on for 2021 (woohoo!), with all events held outdoors to adhere to pandemic safety guidelines. Are you simply somewhere that is not Georgia? Then perk yourself up with a visit to Macon's cherry blossom bloom cam.