My wife Carol and I are on a mountaintop in Bhutan. It's 2009, and we are having tea with His Eminence Neyphug Trulku Rinpoche. He's the ninth reincarnation of Terton Ngawang Dragpa, one of the 25 disciples of Guru Rinpoche, who brought Buddhism to Bhutan in the 8th century.
I have an important question to ask him. I tell him that I know Buddhism teaches that life is suffering. What advice, then, might he offer Chicago Cubs fans, whose team has not won a World Series in more than a century? I explain briefly who the Cubs are: a popular baseball team, playing in one of the great American cities, nonetheless unable to win a championship since 1908. He pauses a moment to think. "Well," he says, "you should not be too sad. Think of the joy that you have brought to other teams."
This is decidedly not the advice that I want to hear. I personally have suffered for almost 65 years as a fan. I have sought answers to my suffering in my own religion, Judaism, to no avail. And now, on a mountaintop near Paro, Bhutan, thousands of miles from Wrigley Field, I am being told to take heart because of the joy I'd brought to the teams that have caused my suffering. Let's just say that this was a mite overly Buddhist for me.
But I hit upon an idea. I would encourage Rinpoche to adopt this team of mine. Perhaps then he could appreciate my anguish, perhaps even offer help. I told him that I wanted him to become a Cubs fan and, to mark his conversion, I gave him my Hebrew Cubs hat. He accepted it graciously, and put it on at a rakish angle. We'd bonded. And now, like so many of us fans, who have died over and over again, this gentle soul now on his ninth life would come to know true suffering.
Recommended Video
Timothy DeLaGhetto and David So Devour all the Bacon at the Blue Ribbon Bacon Festival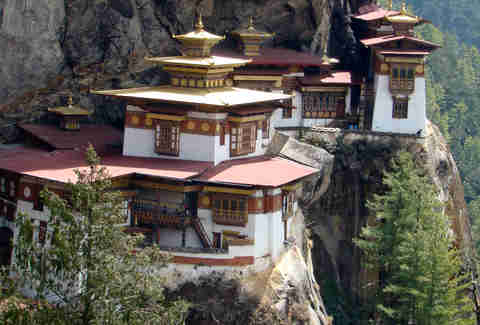 A peculiar kingdom in the clouds
Bhutan is a magical land, a sort of Camelot, nestled in the Himalayas between India and China, just east of Nepal. Getting in and around the country, though, is no simple trip. Ruled for more than 30 years by a much-loved king, Jigme Singye Wangchuck -- who voluntarily abdicated in 2006 so that the country could become a constitutional monarchy and a parliamentary democracy -- it has as its guiding principle the goal of creating happiness. Bhutan takes this goal seriously, shunning the potential riches that could come through increased tourism: It maintains only one international airport, in Paro, and eschews development that might harm the environment.
The country is clean and beautiful, its people friendly and dressed in national uniforms. Its historic monasteries are welcoming and visually stunning. If you want to watch the national sport, archery, just watch for teams of archers on roadsides. They'll be shooting arrows at targets barely visible a hundred yards away, dancing and shouting joyously when a teammate scores. It would be hard to invent a country like Bhutan from scratch.
I'd made friends with someone who knows how to call in favors from high places.
On our journey there, hoping for an audience with Rinpoche, my wife and I are told that he can spend only half an hour with us, as he has just returned from four months of teaching in Singapore and attending to his dying master in India. Carol and I jump at the opportunity, and we ask our driver and guide to take us 35 minutes up a bumpy gravel road to the top of the mountain, where his decaying, but historically important, Neyphug Thegchen Tsemo Monastery, built in 1550, is situated.
We sit cross-legged with him on the floor of an open room, where we are served tea and biscuits. Outside, we can see young monks playing. The monastery houses 51 boys from disadvantaged (orphan or poor) homes. Rinpoche schools them not only in Buddhism, but in computer and language skills to prepare them for life outside the monastery, should they decide not to spend their lives as monks.
As we talk, the allotted half-hour passes -- and stretches to five hours together. Rinpoche is both engaging and engaged. Carol spends a good deal of time talking to him about his role as a father figure to the boys. He may be 450 years old, as he tells us, but he has the life experience of a 29-year-old, and he's open to learning from her experience as a psychotherapist.
 
Rinpoche inhabits two different worlds -- the modern and the monastic -- in which he seems equally comfortable. He has an unmistakable aura: The elders who identified Rinpoche as the ninth reincarnation at age 9 knew something.
I'd come to Bhutan, at the roof of the world, hoping to commune with the spiritual. Unexpectedly, along the way, I'd made friends with someone who knows how to call in favors from high places.
"Think of the joy that you have brought to other teams." This is decidedly not the advice that I want to hear.
You don't need to believe in fate this year
Within a week of returning to Chicago, I get a request online from Rinpoche to friend him on Facebook. I accept. He introduces me to WhatsApp, so that we can communicate with one another, cost-free. I have met with him two more times, once when I accepted his invitation to be his guest at the annual festival at his monastery, and once in Singapore, where he teaches frequently.
And, as I'd hoped, my friendship with Rinpoche is about to end my long suffering as a Cubs fan. A few weeks ago, I wrote to him on WhatsApp, telling him that the Cubs had a chance of winning the championship. Naturally I asked him whether he, as perhaps the only reincarnated Cubs fan, would please do a puja (a special prayer) for the Cubs. He said that he would.
At this writing, the Cubs are about to begin their first World Series since 1945. For once, the team was not only great during the season -- the best record in baseball -- it has tromped deep into the playoffs. In Chicago, strangers in Cubs hats high-five one another on Michigan Ave; "Try Not to Suck" T-shirts, with manager Joe Maddon's glasses pictured on them, are ubiquitous. This is the opposite of suffering. The city has truly come to life.
Pundits and fans have wondered why now, why this year, after generations of Cubs fans have waited so patiently. Many credit Theo Epstein, the Cubs' president of baseball operations, who helped to end the Boston Red Sox's 86-year World Series drought in 2004. Maddon has proven himself a wizard throughout the playoffs. Young players like Anthony Rizzo, Javier Baez, and Addison Russell are talented, hungry, and immune to the team's legacy of jinxes.
Delirious and hopeful, Chicago fans point to any number of causes for this year's breakthrough. Contrary to their nature, they're even embracing rational explanations.
But I know the real reason that the Cubs will win the World Series.
Sign up here for our daily Thrillist email, and get your fix of the best in food/drink/fun.