The worst airports for winter flight delays, according to Hopper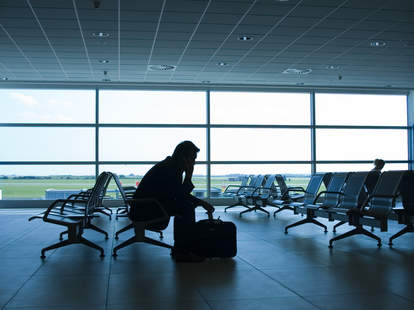 Unless you're really into Tortas Frontera, don't fly from Chicago O'Hare International Airport. That advice isn't exactly reinventing the luggage cart, but in fact, the country's third-busiest airport is also the worst when it comes to delays. At least there's guacamole?
Hopper crunched data from this year's flight searches and the Bureau of Transportation Statistics to find the 20 busiest US airports plagued by delays, and O'Hare came out the worst, with 42% of its flights delayed. If O'Hare were a baseball player, it'd be an incredible hitter. Unfortunately, it's more like an everyday starter for the Cubs.
You'll also want to avoid visiting grandma in Fort Lauderdale; 38% of flights don't depart on time at Fort Lauderdale-Hollywood International Airport, making it the nation's second worst. Crap weather in other parts of the country spills over to Florida, too, since it's so popular in the winter.
Tied in third place, Newark Liberty International Airport and Denver International Airport have 37% of flight delays apiece. Basically, you can't win in any region. Unless you're on the West Coast. And in that case, why would you ever leave during the winter?
To see which other airports make life hell, check out the handy map below. Hint: steer clear of the big red/purple dots!
The best place to visit this winter, if you want a delay-free flight? Hawaii! Unsurprisingly, 14% of flights out of Honolulu Airport experience delays during its off-peak, winter season. No Christmas luau, anyone?!
Other warmer places like Miami (22%) and Phoenix (25%) also have less flight delays.
But Seattle (22%), tied with Miami for the second best airport for avoiding delays, proves it's not all based on the weather. And Fort Lauderdale, of course -- granted, most of us will be traveling there for Thanksgiving dinner with our elderly relatives living in condos. And Cousin Todd, who never did move out of the nest.
But before you pack your lei and bid your holiday plans "Aloha!", here's a breakdown of the most delayed airports.
Chloe Pantazi is an editorial assistant on Thrillist's travel team. The Megabus she's taking upstate for Thanksgiving is looking pretty good right now. Follow her on Twitter at @ChloePantazi.