O'Hare Airport Workers Are About to Go on Strike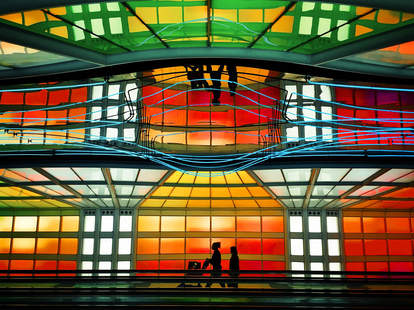 Fighting for more pay, baggage handlers at Chicago's O'Hare International Airport recently announced plans to go on strike. The good news for your holiday travel: They opted against the original plan of striking on Thanksgiving, which could've disrupted one of the world's busiest airports on one of the busiest days of the year. Instead, the strike will kick off on November 29th -- still a potential disruptor for the Christmas travel season if the strike runs long.
And that's to say nothing for the routine workweek in Chicago, where a post-Thanksgiving strike will only be slightly less disastrous. O'Hare's one of the busiest airports in the world at even the best of times, with the third-longest security wait time in the country, and the fourth-worst track record for flight delays. Plus, it's not as if baggage handlers are some superfluous workforce whose absence can be easily ignored: they literally handle your baggage, which is kinda key to the whole "traveling" thing.
If you're wondering why this is happening on the 29th, that's because it's the "Day of Disruption," a day of nationwide protests by fast-food workers pushing for minimum wage increases, held on the fourth anniversary of the first McDonald's protests in New York. Although O'Hare's baggage handlers aren't unionized, the Service Employees International Union Local 1 has been helping to organize. While O'Hare's the only airport with workers walking off the job, 18 other US airports will see protests, including Boston, Atlanta, Denver, and Los Angeles. 
This is always a go-to flying hack, but doubly so in the coming weeks: Plan to travel light.
Gianni Jaccoma is an editor for Thrillist. He once spent nine months in a terminal at JFK, and Tom Hanks made a movie about it. Follow him on Twitter @gjaccoma