Photo by Katie Kauss
Photo by Katie Kauss
Summer in Chicago has long been synonymous with massive music festivals. Thanks to a thriving local performance scene, plenty of centrally located green spaces, and years of city investment, world renown festivals like Pitchfork, Lollapalooza, the House Music Conference, and Riot Fest have been drawing crowds for more than 15 years. Factor in relative newcomers like ARC, Spring Awakening, Lyrical Lemonade Summer Smash, and the Breaks—not to mention the endless block parties, neighborhood fests, and arts fairs—and you're looking at a season jam-packed with nonstop live entertainment spanning all the familiar Chicago-centric genres: indie rock, punk, pop, rock 'n roll, house, EDM, hip hop, soul, blues, R&B, and jazz. This is the soundtrack that courses through the city's veins, from the South Shore to Rogers Park and every district in between, uniting otherwise disparate communities with a single beat drop.
But a country-western festival? In the birthplace of Sam Cooke, Earth, Wind and Fire, Smashing Pumpkins, Kanye, Common, Rise Against, and Chance the Rapper?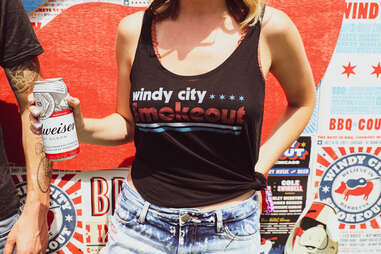 "We started in 2013, just five barbecue teams and Brett Eldridge headlining in a very small parking lot in River North. We had 12,000 people throughout the course of three days," says Callie Revel, partner at Chicago's Windy City Smokeout and project manager at backing restaurant group Lettuce Entertain You Restaurants. "Now, we've grown to a four-day event, and instead of 12,000 people throughout the course of a weekend, we're doing upwards of 15,000 people each day."
That four-day event is Windy City Smokeout, a raucous country music and barbecue festival that triumphantly sets up shop on the United Center's sprawling grounds each summer. And this year's shindig promises to be bigger and badder than ever—especially in comparison to the admittedly lackluster lineups attached to giants like Pitchfork and Lollapalooza. We're talking the likes of modern day superstars like Morgan Wade and Sam Hunt, decorated lifers like Tim McGraw and Miranda Lambert, and none other than Willie Nelson himself.
Despite its quiet success, though, the Smokeout wasn't always such a sure bet. Its original debut coincided with the launch of LEYE barbecue hub Bub City, but even for a city as 'cue-crazy as Chicago, linking smoked meats with country twang was a bit of a gamble. Thankfully, the team was in good hands.
"We weren't really sure what to think, but Ed Warm, our partner, books all of our talent—he's had Joe's on Weed for, gosh, 25 years now, and he's known for bringing country music to Chicago," Revel explains. "He had a lot of confidence in our model and that put us at ease. Obviously, Lollapalooza owns Chicago—we're just happy to have people come out and enjoy our event. But the growth year over year? That speaks for itself. Even I started drinking the Kool-Aid."
As it turned out, hot links and brisket served as the perfect ambassador for country music. Folks from the Chicagoland area gravitated to the fest in droves, enticed by the promise of sizzling pork shoulder, hulking beef ribs, or tender pulled chicken whipped up by some of the country's most renown pitmasters. And while there, they couldn't help but tap their toes to the sweet sounds of country's finest.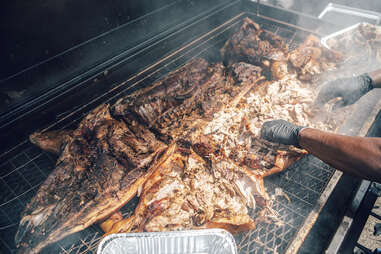 "We try to make it equal between barbecue, craft beer, and the headliners, so there's three main buckets that really draw people in," says Revel. "There's always been a lot of synergy between country music and barbecue. Obviously, if you go down to Texas, it's very evident, but I don't know that that existed in Chicago prior to our event."
Barbecue isn't the only aspect driving interest in country music, though. The genre has escalated in popularity over the past few years, breaking free from its narrowly conservative, John Wayne-esque reputation thanks to crossover pioneers like Lil Nas X, Kacy Musgraves, Mickey Guyton, and ex-Hootie and the Blowfish frontman Darius Rucker. According to a 2021 GQ article entitled "Why on earth has country music suddenly exploded?," country saw a 16% rise in streaming in 2020—a year in which overall streaming was up just 3%. The subgenres are endless: Pick-up trucks, Stetsons, and other charms of rural life still rule the airwaves, but now they're accompanied by feminist power balads, out-and-proud hip hop-inspired tracks, and something called "boyfriend country" (soft-spoken boys singing about feelings, apparently).
Due in part to widespread lockdowns, country music made its way off of car radios and Walmart CD shelves and onto Tik Tok and Instagram, turning a new generation on to its finger-picked melodies. And, GQ conjectures, it captured their hearts, too: "Country is often homespun, rooted in stories about family and faith. Perhaps that offered comfort to weary listeners feeling adrift in the world. Once people clicked off of 'WAP', they wanted a tamer kind of 'WAP': wholesome and pleasant."
Smokeout partner Revel is happy to see the genre thriving, whatever the reason. "We were the first event to come back after COVID, and the numbers were off the charts," she says. "I don't know if people had more time on their hands or were checking out new stations on Sirius or something, but there's definitely been increased interest."
And in yet another surprising turn, this year's hot ticket headliner is about as far from a Gen Z social media star as it gets.
"Ed Warm's wanted to bring Willie Nelson to Chicago for years, and I'm not going to lie—I didn't know how that was going to go over," laughs Revel. "But the response to him in particular has been overwhelming, and Thursday's set to be our busiest day on record. I guess it's a bucket list item."
No matter their Spotify preferences, it seems that Chicago fans have one thing in common: They'll always keep you on your toes.
Meredith Heil is a former freelancer, former-former Staff Writer, former Senior Cities Editor, and current Editorial Director of Travel at Thrillist.