This Stunning South American Destination Is a Must-Visit for Stargazing Nerds
Screw the Virgin Galactic waiting list. Richard Branson's space port in the New Mexican desert may finally be gearing up to slingshot high rollers into space, but for down-to-earth astro-nerds like us, 2019 is all about "The Great South American Eclipse" and its path of totality across a particular region in Chile: the Elqui Valley.
Anyone can recognize Chile on a map. It's the slender nation big-spooning Argentina with the Pacific at its back. But zoom in between the desertscapes of the northern Atacama -- the driest non-polar environment on Earth -- and the soaring skyline of Santiago, for the Elqui Valley, one of our top 19 places to visit in 2019.
Maybe you were lucky enough to jet down to this special sliver of South America for the four-and-a-half-minute solar eclipse on July 2nd, which clocked in at nearly double the length of the 2017 solar eclipse. You know, the one Trump famously stared into without protective eyewear.
But, alas, most hotels and tours sold out for the highly-anticipated phenomenon. Luckily for us, the Elqui Valley doesn't disappear after the sun and moon play peek-a-boo this year. Plus, another solar eclipse will make a similar route in December 2020, so there's plenty of time to thoroughly plan that one out. So whether you're reaching for the stars or craving an underrated destination to visit, here's how you can tackle the Elqui Valley on your own.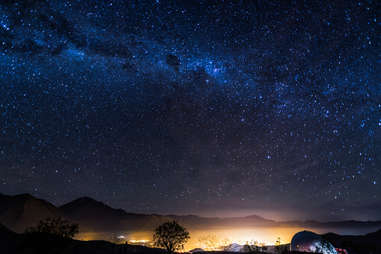 Chile is the undisputed capital of astrotourism, so there's that
Chile -- specifically the greater Atacama-Elqui region -- is expected to host 70% of the world's astronomy infrastructure by 2020. But it's the 90,000-acre Elqui Valley that holds the distinction of being the first-ever International Dark Sky Sanctuary, an official recognition of its virtually pristine and crisp night sky. Factor in high elevation and over 350 rain-free days on average, the Elqui Valley pretty much guarantees a cosmic spectacle year-round.
Pro tip: Plan your trip around the lunar calendar to avoid full moons, which paradoxically brighten up the sky too much for optimal gazing.
Clear skies, clear stars, can't lose
In Chile's astronomy heartland are about a dozen or so observatories. Not all are open to the public (some are purely for intensive research), but three conduct regular tours inside their facilities. There's Observatorio del Pangue, admired for its 25-inch telescope -- the largest in the region accessible to visitors. Mamalluca is the oldest and most convenient to reach with tours departing from Vicuña's main plaza. And Collowara, one of the country's newest observatories, which leads comprehensive two-hour tours across three viewing platforms.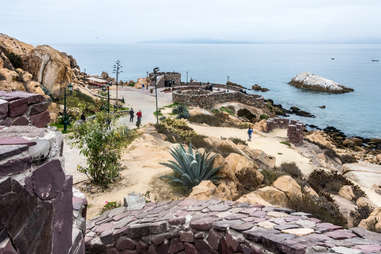 Start in La Serena, the gateway to the Elqui Valley
A speedy hour-long flight from Santiago is coastal La Serena, Chile's second oldest metropolis and the default port of entry into the Elqui Valley. Founded in 1544, this pastel-colored coastal city can easily fill up a few days with cultural attractions like the La Serena Cathedral, Museo Arqueológico and old Fort of Coquimbo right along the water. But if you're tight on time, rent a car from the airport and zip inland towards Vicuña, about an hour away on the appropriately named "Route of the Stars."
Sleep in a colonial mansion and a stargazing dome
Vicuña has a decent amount of hostels catering to budget-conscious travelers, but a just a few more pesos can afford a night at Solar de los Madariaga, a boutique hotel that occupies a 19th-century colonial mansion. As you hit the road the next morning, you'll notice the valley tapering towards the next stop: Pisco Elqui, a traditional town steeped in Chilean charm. Campgrounds are plenty for those wanting to rough it, though the set of design-forward villas at Aldea del Valle are a splurge-worthy retreat. If stargazing is your one true Elqui calling, book a dome with a retractable roof at Elqui Domos for some cosmos-viewing in bed. The property also boasts its own astronomical observatory.
Don't look into the sun, but cook with it
The Elqui Valley's astounding amount of sunshine has resulted in local restaurants harnessing the sun as a cooking tool. That's right: Solar kitchens are big 'round these parts, where you'll find ovens that harness and convert sunlight into heat used to cook food. These contraptions can be adjusted to face the sun so as to more efficiently generate heat -- it's an eco-friendly way to cook food insanely quick. Easy-to-find Solar Villaseca, Donde Martita, and Delicias del Sol are just some of the local spots making use of the sun's power to cook local fare.
Celebrate one of Chile's two Noble Laureates
The former home of Nobel Prize-winning Chilean poet Gabriela Mistrál is now a museum dedicated to a collection of her manuscripts, hand-written letters, and over 2,000 books personally owned by the icon. Visit for insight into the local culture and literary prowess of Chile's most celebrated poet. (If you make it back to Santiago -- and you should -- you can also learn about Pablo Neruda in his former home.)
Hurrah for syrah at Elqui's wineries
Thanks to an extensive irrigation system that waters the parched valley, the region has literally blossomed from an arid desert into one of Chile's foremost viticultural areas. Picture bright-green vineyards blanketing the cordillera's ochre slopes, where famed red grapes that grow in hot and dry climates -- syrah, malbec, and Chile's signature carmenere -- thrive. Check out Viñedos de Alcohuaz, a 10-year-old winery focused on growing organic and biodynamic varietals at a mindblowing 7,000 feet above sea level.
But don't sleep on the country's national booze: pisco
It's no shocker that with its abundance of wine, the Elqui Valley is also the epicenter of another famed Chilean export: pisco, grape brandy made from local grapes, in this case, moscatel. Chile and Peru have long grappled over whose pisco reigns supreme, but why choose? Pisquerias of all sizes dot the Elqui Valley, from emblematic Capel, Chile's behemoth producer, to artisanal distilleries like Fundo Los Nichos and Pisco Mistral. Most locations offer guided tours and tastings in English, ending with sips of their own version of a pisco sour, Chile's national cocktail. For the full picture, the Pisco Museum is a stellar place to learn about the entire pisco-making process, from harvest to barrel-aging.
Channel your inner space hippie
Cochiguaz is Chile's New Age capital (every country's got one) and home to many ballyhooed UFO sightings. Since the '70s, healers, eco-conscious hippies and UFO enthusiasts have flocked to Cochiguaz to just like, escape, man. You'll hear a lot about the convergence of cosmic and mystic energies in this truly stunning hamlet-- popular activities (beyond hiking and outdoor adventuring) include meditation, yoga and retreats with mystic leaders. Two groups, Tour Misticos and Turismo Migrantes, are trusted regional guides.