The Absolute Chillest Rides at Disney World
Take a break from the chaos on these relaxing rides.
If you've ever crammed your way into a crowded monorail or seen your life flash before your eyes as you plummet on the Tower of Terror, you might not describe Walt Disney World as "chill." The most visited theme park on Earth, famous for its envelope-pushing rides and infamous for the hordes of tourists, Disney isn't exactly a laid-back setting. Theme park fans tend to flock here for thrills more than chills, from iconic cornerstones like Space Mountain and that aforementioned nightmare tower, to immersive innovations in ride technology, like Rise of the Resistance and Remy's Ratatouille Adventure. But despite the omnipresent crowds and the surplus of adrenaline-pumping attractions, Disney World indeed has plenty of chill rides to go around. Slow-paced and relaxing, these are the kinds of rides that are more about basking in the environment and drinking in the views.
If you're looking to relax and take a break from the chaos of Disney, serene entertainment can be found in each of the four Disney World parks: Magic Kingdom Park, EPCOT, Disney's Hollywood Studios, and Animal Kingdom. Excluding animatronic shows, walk-through attractions, and rides geared specifically for children, here are the chillest rides you'll find at the park.
Jungle Cruise
Magic Kingdom
One of the adorably campy opening day attractions at Magic Kingdom, Jungle Cruise is basically a super-sized lazy river, captained by pithy guides making dad jokes as you sail by hilariously outdated animatronics. The innate silliness of Jungle Cruise is the whole point of the ride, which has no thrills to speak of, but boasts a cult following for the jokester narrators and the relaxed pace of the journey. It doesn't hurt that each of the boats is covered and shaded, providing shelter from the sun as you float through rivers inspired by Asia, Africa, and South America.
Spaceship Earth
EPCOT
The marquis attraction in Disney World's second park, you might know Spaceship Earth as the giant golf ball-looking orb in front of EPCOT. The dark ride attraction takes place within the massive geodesic sphere, providing visitors with a tour through time—but at a slow pace, set to the soothing narration of Dame Judi Dench. Spaceship Earth is all about tracing human history and ingenuity, as ride vehicles inch their way from the Stone Age through the Renaissance (sadly not the Beyoncé one), with an emphasis on pivotal moments of invention like the printing press, alphabet, and Internet. The whole experience is quite lovely and fascinating, and it's a welcome reprieve that usually has one of the shortest lines in the park.
The Haunted Mansion
Magic Kingdom
Aside from the ghoulish name—and the fact that some of the resident ghosts casually joke about committing murder with a hatchet—the Haunted Mansion is a Disney World keystone that's about as chill as it gets. Another opening day attraction at Magic Kingdom, it's been a requisite ride since 1971, and families still queue up for one of the most enduringly beloved features in the OG park. Once you get over the pitch-black creepiness of the "stretching room," wherein a crowd of strangers is plunged into abrupt darkness before embarking towards the boarding area, The Haunted Mansion is relaxing, fun, campy, and—perhaps most importantly—an air conditioned break from the heat outside. Once you board your "Doom Buggy," you're off on a silly, slow-moving romp through the dark manor, as playful ghosts sing and dance and joke about death.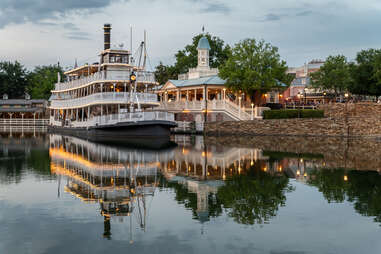 Liberty Square Riverboat
Magic Kingdom
Despite being a giant, impossible-to-miss boat chugging its way around Frontierland, the Liberty Square Riverboat is ironically one of the most overlooked attractions in Magic Kingdom. The giant paddleboat ride takes guests on a slow, peaceful loop around the Rivers of America, providing unique vantage points from which to view Big Thunder Mountain and Tom Sawyer's Island, along with kitschy scenery and settings depicting frontier life. The whole slow-moving ride takes about 17 minutes to complete, and the multi-story boat features plenty of rooms and alcoves where you can unwind in the shade as you soak in the views.
Kilimanjaro Safaris
Animal Kingdom
It may be a tad bumpy at times, but the engaging journey of Animal Kingdom's Kilimanjaro Safaris is all about utter immersion and enthralling landscapes. It's the most thrilling chill ride there is, in that the rush of excitement doesn't come from steep drops or dazzling technology, but rather from real live animals roaming in a savanna-like landscape so huge that this single attraction is larger than all of Magic Kingdom. Rides take about 20 minutes, and are conducted on huge open-air safari vehicles driven by insightful and funny guides. It's kind of like a real-deal Jungle Cruise, but vastly bigger and more impressive. Altogether, you might see 30 species of African animals, like giraffes, zebras, crocodiles, elephants, ostriches, lions, and more.
Walt Disney World Railroad
Magic Kingdom
A real blast from Americana past and inspired by Walt Disney's personal love for trains, the Walt Disney World Railroad is another Magic Kingdom attraction that's less of a ride, and more of a chill sightseeing experience. Basically the opposite of Disney's futuristic monorail, the railroad is comprised of four restored narrow gauge steam trains that take guests on a giant 1.5-mile loop around the park. Each outing lasts about 20 minutes, offering a fresh perspective on Magic Kingdom as the train winds its way around Adventureland, Frontierland, Fantasyland, Tomorrowland, and Main Street, USA. Boarding stations can be found in Fantasyland, Frontierland, and by the park entrance.
Gran Fiesta Tour
EPCOT
A true hidden gem in EPCOT, due largely to the fact that it's literally hidden inside a pyramid in the Mexico Pavilion, Gran Fiesta Tour is the ideal ride for when you just can't deal with other humans. The musical water ride features boats meandering through Mexico with Donald Duck and the Three Caballeros. It's got some It's a Small World vibes, but the music legitimately slaps, and the kaleidoscopic set dressing is luminous and fun. Tucked in the very back of the pyramid, behind the San Angel Inn Restaurante and under a perpetually moonlit sky, most folks don't even know this ride exists, ensuring that the line will be a breeze and you'll be floating along with Donald Duck in no time.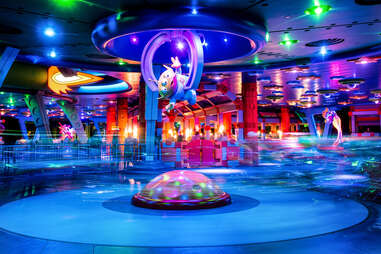 Alien Swirling Saucers
Disney's Hollywood Studios
Home to Disney World's most intense attractions, like Tower of Terror, the Rock 'n' Roller Coaster, and Rise of the Resistance, Disney's Hollywood Studios is probably the least chill of all the parks. When it comes to relaxing ambience here, it's mostly confined to shows, like Fantasmic! and Beauty and the Beast Live on Stage. The closest you really get to a chill ride here is Alien Swirling Saucers, a kind of spinning teacups-style ride in Toy Story Land that features cool arcade-looking decor and the cute aliens from the movies. It's not as simple and slow as some of the other attractions on this list, but it's an all-ages ride that's still straightforward and delightful. And it's the chillest ride you'll find if you're in Hollywood Studios and looking for a break.
Living with the Land
EPCOT
Unless you get an adrenaline rush from horticulture, it doesn't get any less thrilling than Living with the Land, the kind of gentle boat ride that typifies EPCOT's origins as the edutainment park. Basically the antithesis of a roller coaster, this indoor boat tour attraction is a fascinating behind-the-scenes look at greenhouses, hydroponic farms, and crops from across the globe—some of which are used in nearby Disney World restaurants Sunshine Seasons and Garden Grill.
Na'vi River Journey
Animal Kingdom
In the Avatar-themed Pandora section at Animal Kingdom, Flight of Passage whisks riders on an otherworldly multi-sensory journey atop the backs of banshees. And then there's the comparatively far calmer Na'vi River Journey, which is basically Living with the Land on another planet. The dark indoor ride features slow-paced boats navigating the Kasvapan River and the bioluminescent rainforest. The colorful sights and sounds are mesmerizing, culminating with some mystical tunes from the Na'vi Shaman of Songs. The whole experience feels like if your ambient white noise machine was a ride.
Peter Pan's Flight
Magic Kingdom
If you enjoy the dulcet tones of pirates and sword fights, set inside a dark environment lit up with London scenery and lost boys, then you'll love Peter Pan's Flight. Similar to other attractions that opened in 1971, this preserved-in-time relic is endearingly ridiculous with its hilarious animatronics, but that's half the fun. The other half is the opportunity to slowly and gently "fly" from London to Neverland, watching characters like Peter Pan, Wendy, Captain Hook, and Smee. The ride itself, all indoors and mercifully cool, is rather brief, but it's a timeworn gem that's as chill as it is nostalgic.