Kinda like how the Fourth of July gets neighbors together in a "friendly" competition to see who can almost blow their houses up with the coolest fireworks, so too does Christmas create an equally friendly neighborhood rivalry. This one, though, is to see who can jack their power bill up the highest while attracting the most visitors with outlandish displays of holiday lights and statues of Elvis dressed as Santa.
But some streets in America take things to a whole new, probably unhealthy level. Every city's got its standout, but these -- in no particular order -- are the 13 best-decorated streets in the nation.
34th Street
Baltimore, MD
The Hampden section of Baltimore boasts some of the city's most impressive row houses, and right after Thanksgiving it becomes Baltimore's own "Miracle on 34th Street". Residents have been stringing lights across these houses for 67 years, along with putting up other decorations like giant lit-up crabs, an overhead train, and snowmen made from bicycle rims.
Dyker Heights
Brooklyn, NY
Brooklyn may be America's hipster hotbed, but you wouldn't know it walking through this part of the borough. In what many say is the best residential street in the country for Christmas lights, very not-ironic stately brick houses are draped with lights and life-size Santas, not to mention nutcracker statues, sleighs, and other Christmasy cheer.
Peacock Lane
Portland, OR
Maybe the Portlandia people should do a special Christmas song called "The Spirit of Christmas is Alive in Portland", because despite all its anti-establishment hipsterness, Portland has been doing mainstream Christmas on this street since the 1920s.
Fabulous Forties
Sacramento, CA
The end of the line for Sacramento's old street car was this historic neighborhood between 40th and 48th streets (and J St. and Folsom Blvd) in East Sac. It's where Sacramento's oldest and grandest mansions (like the old Reagan home, for example) live up to their "fabulous" moniker, dressing up in their finest lights and showcasing their early 20th-century grandeur.
Eucalyptus Lane
San Carlos, CA
How do you get a white Christmas is San Carlos? Easy. You cover your entire neighborhood in bright white Christmas lights and pretend it's a real winter but, like, 30 degrees warmer. That's what the residents of Eucalyptus Lane do every year in the Bay Area's most impressive street for lights.
South 13th Street
Philadelphia, PA
Since the words "south Philly" and "bright and cheerful" really don't belong anywhere on the same screen, we'll have to find another adjective to describe this annual display draped across the 1600 block of South 13th Street. A canopy of lights connects the entire block of garden apartments, making the "Miracle on South 13th Street" the unmistakable symbol of Christmas in Philadelphia.
Smedley Street
Philadelphia, PA
While South 13th Street is the best urban holiday light display in Philly, if you're talking about big houses draped in bulbs, nobody beats the 2700 block of Smedley Street between 16th & 17th (and Moyamensing and Oregon Avenues). Its displays have earned it the simple-but-impressive nickname of "The Christmas Street". It also has its own FB page, here.
NE Park Road
Seattle, WA
Around a short bend in the road near northeast Seattle's Ravenna Park is a tucked-away row of homes that was easily the brightest spot in town until the Seahawks got good. Even WITH good football, the displays on Seattle's version of Candy Cane Lane are a traditional Christmas stop for every family in the city.
Thompson Avenue
Alameda, CA
The award for most illuminated street in the East Bay goes to the 3200 block of Thompson Avenue in Alameda. Every year Santa posts up in the median where kids -- after posing with some of their favorite inflated cartoon characters or watching the occasional performance from the Dancing Christmas Trees -- can sit on his lap and ask for a new iPhone 6. Or whatever kids are asking for these days.
Candy Cane Lane
Woodland Hills, CA
There are a lot of streets that refer to themselves as Candy Cane "Lane", although this one probably does it because it has a much nicer ring than Candy Cane "Intersection"; even though that's actually a more accurate description of this annual competition between the residents of Lubao and Oxnard Streets in Woodland Hills.
Ahwatukee
Phoenix, AZ
Ever wonder what a million LED lights look like? Or what they look like when you aren't in the magical fourth hour of a large-scale music festival? Wonder no more when you hit Chandler Boulevard between 24th Street and Desert Hills Parkway, where the streets appear covered in stars, as do front yards, cacti, and pretty much anything else you can hang an LED on.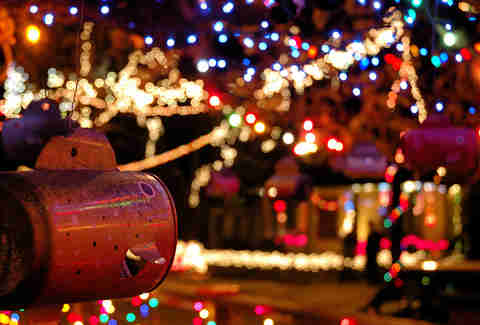 37th Street
Austin, TX
The section of Austin's 37th Street between Guadalupe and Home showcases probably the most impressive Christmas light display in all of Texas (aside from the one on Rainey Street, if it existed). What started out as a creative way to display leftover lights found at frat houses has become an annual tradition that draws thousands of visitors.
Christmas Card Lane
Rancho Penasquitos, San Diego, CA
In perhaps the greatest combination of Spanish-Mediterranean architecture and gaudy Christmas lights on Earth, San Diego's best street for Christmas lights features over 200 Span-Med mansions decked out in their Christmas best starting, at Twin Tails Dr. and Black Mountain Road.