Always been conflicted about whether or not you should run off and join the circus or stick around and finish your degree? Well I'll be damned if you can't do both at the world's first ever accredited circus college in London.
Welcome to Circus Space, the world's tiniest circus college!
JK! The real Circus Space totally fits normal-sized people, and is located in what used to be the Shoreditch Electric Light Station. But seriously, what is this place? Glad you asked...
It's a non-profit circus training program that, for qualified applicants who pass an audition, allows students to earn the British version of a Bachelor of Arts (e-hem, a "Bahchelah of Ahtts," if you will), but also works as a vocational/ professional circus degree for peeps like you.
While the peeps who are actually getting diplomas in this mumbo jumbo will end up doing polished performances like this, if we're being real honest with ourselves here, chances are you probably won't... But that doesn't mean you can't totally travel to London and use their facilities.
They've also got a thing called "Circus Experience Days", wherein $110 buys you the opportunity to learn how to do everything from the flying trapeze, to acrobatic balancing, to tightwire walking, to the deadliest of all... JUGGLING. And, maybe the best news is, you'll be able to keep your shirt on and not have to wear a Santa hat.
Always wanted to sit in a suspended hula hoop? Totally can, thanks to Circus Space.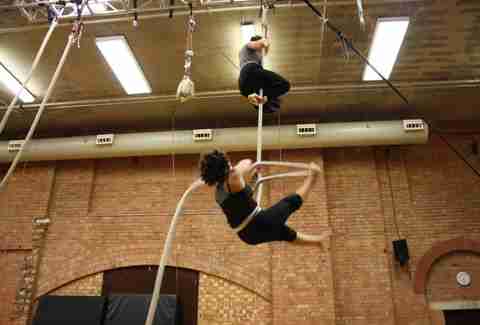 Chances are you'll be more like the dude on top who is clinging on for dear life... But still!
Alright, so they probably won't let you do a seated jump through a ring of fire with your one-day pass, but, if you show enough promise, maybe they'll invite you back to earn a BA in that?
What are you waiting for? Run away and go to Circus Space, and this could totally be you!