Holy Shit, Cirque du Soleil on Cruises Is Finally a Thing
Courtesy of Cirque du Soleil
Once upon a time, cruise ship "entertainment" meant a rousing game of trivia or lounge singers who couldn't cut it in Reno -- just a way to kill some time until the midnight buffet. You were lucky if you got a second-round contestant from American Idol.
But the bar for fun at sea has been raised. Like, dangerously high, swinging 180 degrees and topped with four contortionists. One of the world's biggest ships, the MSC Meraviglia, just sailed its maiden voyage this month, and with it for the first time came two original Cirque du Soleil shows that look nothing short of badass.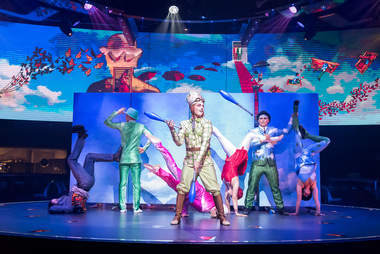 Courtesy of Cirque du Soleil
The performances feature the same caliber of jaw-dropping, I-should-look-away-in-case-something-awful-happens acrobatics, elaborate costumes, and trippy set design that you're used to. But these shows are exclusive to the cruise and offer sights, sounds, and stunts unlike anything Cirque has done before.
That's partly due to the venue. MSC went all out to custom-design a $20 million high-tech space, the Carousel Lounge, exclusively for Cirque du Soleil. And that's not even the most impressive thing on a ship that also boasts a water park, augmented reality, and a 262-foot LED dome. This is just the first of four brand new ships that MSC will be unveiling -- each of which will feature its own set of original Cirque shows.
Courtesy of Cirque du Soleil
The two Cirque performances are totally distinct experiences. One is Sonor, which MSC described as an auditory adventure that "conjures a world of unique sensations, astonishing sounds, bold music and immersive projections." The other is Viaggio, and though we all know Cirque plots are about as relevant as they are in Marvel Comics movies, here goes:
"The story of a passionate and eccentric artist who hears the call of his Faceless Muse. Mysterious and seductive, she beckons him into the vivid world of his unbridled imagination to complete his masterpiece. With each stroke of his paintbrush, the Painter reveals the details of his grandiose tableau. Electrifying colours fill the space with intriguing motifs and rich textures. Majestic acts transform the theatre into a living canvas. Before our very eyes, a masterpiece comes to life."
Seductive, indeed.
The shows are performed twice-nightly over six nights, so you can see 'em both. Watch them on loop, if your idea of the perfect vacation is nonstop Cirque du Soleil.
Courtesy of Cirque du Soleil
Seriously, if you've been flirting with the idea of a Mediterranean cruise, this one might tip you over the edge. The Meraviglia will be sailing the Mediterranean this summer on seven-night itineraries with prices starting around $929. Departures go from ten different cities: Marseilles, Barcelona, Hamburg, Palermo, Naples, Rome, Genoa, Cagliari, Messina, and Valencia.
Most of those cities are in Italy or Spain. You know what's freakishly cheap this summer? Airfares to Italy and Spain. So even though the familiar blue-and-yellow Grand Chapiteau might not be coming to your city any time soon, catching Cirque at Sea is well within your reach. And is definitely a big step up from Lido Deck trivia.
Courtesy of Cirque du Soleil
Sign up here for our daily Thrillist email and subscribe here for our YouTube channel to get your fix of the best in food/drink/fun.
Matt Meltzer is a contributing writer to Thrillist who owned trivia on the Norwegian Crown back in '04. Follow him on Instagram @meltrez1.