Picture your favorite American city, for just a sec. Could be big and friendly and cheap; could be small and hip and provocative. You don't have to live there, but consider why it's your favorite, and then try to recall the last time your way of thinking about that place really evolved. Cities move fast on the ground, yes, but they don't often make giant leaps in the collective imagination. Wait long enough, though, and all of a sudden muscle-powered Pittsburgh is a young, thriving tech hub, or the crime and grime of Brooklyn has sprouted schmancy coffee boutiques and million-dollar one-bedroom apartments.
So who made leaps and bounds in 2017? We polled writers and travelers across the country for the select cities that most successfully brought the heat this year, be that through an impressive burst of creativity or raw ambition or an outpouring of compassion. These are towns where, more than ever, you will want to play, eat, and explore in 2018 -- or, perhaps, to move.
Recommended Video
Please Don't Hang Up: The Best Things to See, Eat, and Do in Nashville
Washington, DC
A stiff destination took a huge leap toward balancing life with work, work, work.
The District has never been much of a going-out town, which is about what you'd expect from a mix of folks who got near-perfect SAT scores and/or love poring over agricultural bylaws. It did, however, take a huge leap forward in the cool department this year, with the arrival of the most impressive new waterfront development in the country. The DC Wharf opened in October as a $2.5 billion, 1.2 million square foot cornucopia of waterfront bars and gourmet restaurants, and a 6,000-seat performance venue. This is finally where young professionals can go to feel, you know, young.
Amenities abound. There's Potomac Distilling Company, a distillery from Thomas Thrasher slinging tropical drinks made from rum casked on site. The Wharf's 20 restaurants include an Italian food market, Requin from Top Chef alum Jennifer Carroll, and an outpost of the famed Hank's Oyster Bar. There's also Anthem, the live music venue from the people behind the 9:30 Club. It's a place that locals will flock to for entertainment, and find themselves mingling with tourists looking to let loose.
More quietly, DC neighborhoods keep adding some world-class stuff to their mix. Union Market continues to be one of the hottest destinations in America, adding new community events and concerts to its pioneering lineup of bars and restaurants. DC's most visible restaurateur, Mike Isabella, opened a food hall at Tysons Galleria, as well as one of the year's best new restaurants at Arroz.
This was also the year DC welcomed the Museum of the Bible, a high-tech showcase for the Good Book whose size and depth live up to its name. Starting with a 15-foot x 140-foot LED mural at the entrance that's a bit like a digital Sistine Chapel, digital planners map out a route through the museum based on your interests and the time available. A little stodgy yet surprisingly hip, it's a perfect glimpse of the DC of right now. -- Matt Meltzer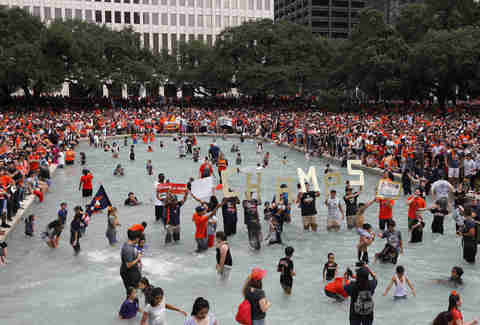 Houston, Texas
Not even an Old Testament natural disaster could keep Houston off the world stage.
 You'll have to pardon us Houstonians for our frayed nerves. 2017 opened with all the pomp and pageantry that comes with staging the Super Bowl. Then, in the late summer, Hurricane Harvey arrived as a biblical downpour -- nearly a year's worth of rain in four days -- turning Houston's famous bayous into garbage gumbo. Not long after those flood waters finally receded, the Houston Astros became the city's first World Series champions in their 56th try. It's been a trip.
We'll remember this as the year when Houston actually got comfortable with the world watching it, through thick and thin. The city dominates a major international industry (energy) and boasts an internationally elite healthcare facility (the Texas Medical Center). What the downtown lacks in architectural splendor, it makes up for in high-brow cultural attractions -- theater, ballet, opera, and orchestra -- while adjacent neighborhoods each have their own funky mix of galleries. If the city looks increasingly like the future, well, it's not a coincidence that our demographics reflect the future of American cities: Latino residents outnumber white residents. We're about 20% black and 7% Asian-American, the demographic growing fastest.
These diverse Houstonians are bringing the best from around the world and seizing the opportunity of sprawl-cheap rents and a strong economy. So someone like Hugo Ortega can immigrate to Houston from Mexico and go from washing dishes in a café to a culinary arts school and then, in 2017, win a James Beard Award for Best Chef in the Southwest on the strength of his newest restaurant, Xochi (so-chee), showcasing flavors from the Mexican state of Oaxaca. Another celebrated chef, Kaiser Lashkari, came to Houston from Karachi, Pakistan, with almost no money. But because retail space is so cheap, he was able to open a small restaurant in a shabby strip mall on the southwest side, and today Himalaya combines South Asian seasonings with Southern classics, like his famous fried chicken, earning him a visit in 2016 from Anthony Bourdain.
David Chang recently mused that Houston may be the "next global food Mecca" on the strength of chefs like Chris Shepherd, who named his restaurant Underbelly in reference to the Creole flavors beneath the city's surface and whose latest venture, One Fifth, occupies an old church built in the 1920s. It received raves when it opened as a steakhouse in 2017, only to close in August and reopen in September with new décor and a new menu of French, Spanish, and Italian cuisine. Shepherd intends to repeat this feat for the next three years. This is a city that can get on-board with a rebirth.
We eat well here, is what I'm saying, and you will, too, for much cheaper than on the coasts. Considering Harvey inflicted nearly $200 billion in damage, however, visitors are encouraged to spend generously -- the better to speed Houston's already rapid recovery. By all means, make it rain! Just, yeah, don't make any rain jokes. It's still too soon. – Thomas Francis
Denver, Colorado
The highest city in America is leveraging a legal drug boom to create a must-visit mecca.
If you're a young person on the move, Denver is where the action is -- much to the surprise to us native Coloradans, who spent our teens hanging out at its dodgy nightclubs (since demolished, the buzzy River North Arts District atop their graves). "America's de facto pot capital," the New York Times dubbed Denver this year, and there's a gold mine in every basement home-grow. Weed brought money (and young people), money brought young people (and tech), young people brought energy (and tech salaries to buy weed with). Something like 77,000 people moved to Colorado last year, and while many of them no doubt look forward to sculpting their calves on Table Mountain, many more are following Denver's construction cranes (third-most in America, after Seattle and LA) pulling empires up into the mile-high air.
Newcomers this year found booming central neighborhoods with revitalized loft and warehouse buildings. Visitors found new digs, too (Hotel Born, Le Meridien). The dining options keep mushrooming; the city was the site of Top Chef shoots during the summer. Denver even got its own International Church of Cannabis, where weed lovers can find a spiritual home or get married in a waft of smoke. When you fly into Denver International, you're only a half-hour light rail ride to our transformed Union Station. (When you fly out, don't be scared to take home some edibles for that enduring taste of Colorado.)
This is a city of substances as surely as it's a city of substance; if you're not a cannabis fan, you'll find beers beyond beers here -- and harder stuff, as at Whiskey Tango Foxtrot, which serves nearly two dozen Colorado whiskeys. Twenty years ago, we high schoolers weren't getting into anything stiffer than independent coffee shops. And even we knew the city wasn't what you'd call "cool." Now Denver is a real destination, one that rewards its visitors with a vibrancy that makes you feel part of a new, dynamite club. It's all abuzz. -- Emily Zemler
Indianapolis, Indiana
Innovative local chefs -- and a new wave of Burmese restaurants -- are booming in the crossroads of America.
Way back in the day, a popular Indiana amusement park lured tourists to the state with a rather silly promise. It was a TV commercial with a catchy jingle that many Hoosiers can recite by heart: "There's more than corn in Indiana." Of course, you say: There's also basketball and the Indy 500. But this year Indianapolis stepped up and earned a new designation, as a food destination in its own right.
In 2017 Condé Nast Traveler named Indianapolis the most underrated food city in America. And pretty much anyone and everyone will tell you to eat dinner at Bluebeard and brunch at Milktooth, which was also dubbed the best breakfast in America this year. Thrillist named it among America's surprisingly excellent food cities, a designation it could probably claim every year, given that it is, after all, Indianapolis.
Credit for the city's rise goes in large part to one local food family. Martha Hoover (owner of Cafe Patachou, Napolese, Petite Chou, and Public Greens) added to her restaurant empire this year with Crispy Bird, a fast-casual soon-to-be chain that serves fried chicken tenderloin sandwiches and has committed to giving back to the local community. Her son, David Hoover, also opened a 14-seat restaurant, Bar One Fourteen, that quickly became the toughest table in town.
These would be enough to shimmy into Indy proper the next time you're on Interstate 74 (or 70, or 65). But you'll want to plan a detour to the south-side suburbs of Greenwood and Southport, where a new crop of restaurants have sprung up in strip malls, offering one of America's densest pockets of Burmese food. Indiana, already home to the largest Burmese population in the US, took on thousands of Rohingya refugees in 2017. They've largely settled just south of Indianapolis in an area that's quickly being called Little Rangoon. Visit the family-owned Chin Brothers Restaurant, as well as Kimu Restaurant and Mimi Restaurant for staples, like Mohinga (a Burmese fish soup), as well as Singapore and Hong Kong-style noodles and Australian lamb stew. With this array of local and worldly offerings, it really should go without saying, but: truly, enough with the corn jokes already. -- Tim Ebner
Seattle, Washington
Amid a tsunami of tech-fueled growth, the city staked its future on culture and inclusion.
 Seattle can barely keep up with its tech boom these days, as construction cranes have become as much set dressing as Starbucks -- but, hey, the glass nature Spheres on Amazon's $4 billion campus aren't going to build themselves. Part of being America's fastest-growing big city year-after-year is that inevitably, after the initial flock of unpolished nerds settles in, cool arts and culture milestones ensue. That's best showcased in the revitalization of Pioneer Square, a neighborhood that in 2017 regained its pulse as the heart of the city.
A decade ago, Pioneer Square would have been an afterthought for a visitor, unless you were truly dedicated to a trashy evening of clubbing (woof). Now Seattle's OG neighborhood -- literally, the first neighborhood created in Seattle -- has developed an easy weekend's worth of must-do's. And, no, it won't require joining their insane cult of soccer fandom.
Eat at the London Plane, where the unorthodox dual-head chef team of Andrew Gregory and Ricardo Valdes have produced craveable vegetarian meals along with some of the Northwest's finest baked goods. Shop at Ebbets Field Flannels, makers of historically inspired sportswear and the only place on Earth you'll find a Winnipeg Whips grounds crew jacket or Seattle Rainiers satin windbreaker. Stop into Intrigue Chocolate Co., a customized truffle apothecary where delicious ganache is culled from ingredients like guajillo chili, rosemary maple salt, and Bärenjäger, a German honey liqueur. Party at Flatstick Pub, a giant adult playground with indoor mini-golf and a life-changing new drinking game called Duffleboard -- a cross between mini-golf and shuffleboard.
Pioneer Square also hosted the inaugural Upstream Music Fest this May, which stands to become Seattle's version of early-days SXSW. First-year music fests tend to be hot messes. Upstream, though, was the impressive exception -- one of the best festivals I've been to in years. The lineup -- and the crowd -- was a diverse mix of race, gender, and orientation. It was supremely easy to find inspiration in Macklemore's key-note about coming up through Seattle, Flying Lotus's jazz-inspired beats, and the litany of original local businesses on display throughout the weekend.
Seattle is proving that it wants to be better than just an ancillary north campus to San Francisco. It's daring to do better. As it has in decades past, Pioneer Square has been a barometer of Seattle's progress and an incubator for city-wide trends. It's poised to be a destination 'hood headed into 2018, and doing it without any faux hipster corner-cutting. -- Sean Cooley
Atlanta, Georgia
ATL rebounded from an all-time Super Bowl collapse to begin a sporting renaissance.
Ninety-nine-point-six percent. Late in Super Bowl LI, those were the calculated odds that our Falcons would be able to protect a 28-3 lead and claim its first-ever football championship against the New England Patriots. Instead, Tom Brady led one of the greatest comebacks in sports history to beat us in overtime, dooming the year 2017 in Atlanta to become The Year of Our Loss 34-28. Disbelief, anger, depression, fear, loathing, forever.
At least, that's what everyone figured. Instead, the city shook off the sting and proceeded to make 2017 a year of sports renaissance. Start with the Braves finally playing ball in SunTrust Park. The decision to move OTP (Atlanta-speak for "outside the perimeter"), just northwest of the city to Cobb County left some raw feelings, but SunTrust Park still qualified as an upgrade for fans. Its Terrapin brewhouse whips up exclusive beers there in the ballpark, while outside you'll find the Battery, a development of great new restaurants from respected Atlanta chefs like Hugh Acheson of Empire State South, and Linton Hopkins of Holeman & Finch. Even the hellish traffic brought a silver lining: Cobb County's questionable policy of not allowing Atlanta's MARTA rail service in the area is likely to be reconsidered. SunTrust could very well be the catalyst for making Atlanta more inclusive and more connected.
Meanwhile, on the "ITP" end of the westside perimeter, Mercedes-Benz Stadium opened as the new destination for pro and college football games, and as the home for our new MLS team, Atlanta United FC. Though the team had to play its first few games at Georgia Tech's Bobby Dodd Stadium, the mere fact that 50,000 soccer fans from diverse backgrounds were already showing up to cheer, drink, and hang together in those cluttered black and red striped jerseys meant that we were more of a soccer town than we ever knew -- not to mention the team had a great debut season. Atlanta United also partnered with local nonprofit Soccer In The Streets to build Station Soccer, the world's first soccer field in a transit station, at the Five Points MARTA station in Downtown. Plus Mercedes-Benz had everybody geeked to see how exactly a huge retractable roof works. Side benefit: Putting a huge building with a glowing Benz logo in your city has a way of making folks feel fancy. -- Mike Jordan
Las Vegas, Nevada
A land of transients came together and showed the world #VegasStrong was no mere slogan.
Most people you see in Vegas aren't from here. We welcome something like 40 million visitors a year. Vegas is cheaper than California, livelier than Arizona, and wilder than anywhere, so people from around the world come to see what's happening here and, wouldn't you know it, wind up staying in Vegas. This year, we learned what kind of city all those strangers have built together.
On October 1, a gunman smashed out his Mandalay Bay hotel window and opened fire on an outdoor country music concert. Fifty-eight people died. Almost 10 times that many more were injured.
When Las Vegas grabs national headlines, it's usually for some over-the-top new casino, or a Britney Spears residency. This time, Vegas was the site of what news reports kept calling the deadliest shooting in modern US history. The neon marquees of the Strip stayed lit, but a darkness had fallen over our city.
Then, Las Vegas stood up. We turned to one another -- and to those millions of visitors who kept pouring in -- to find a community of pride, strength, and solidarity. The city rallied, offering free hotel rooms for victims' families, organizing food drives for overworked first responders, and raising more than $11 million (and counting) via an online relief fund. Most of the victims were from out of town, but we still consider them "one of us" -- because #VegasStrong isn't just a hashtag for T-shirts and billboards. It's a philosophy that reflects the best of America: compassion, empathy, generosity, and a spirit that exceeds the city's "transient" reputation and reinforces its identity as a true melting pot where all are welcome. When you're here, you're one of us.
Days after the shooting, the Vegas Golden Knights officially debuted as the the newest NHL franchise and the first major league sports team in this city's history. Las Vegas found an emotional outlet in the team's unexpected success, but the tragedy didn't artificially inflate attendance. Season tickets sold out long before the first puck touched the ice.
Soon NFL and WNBA teams will also start up here, serving as further reminders of what we've known all along: Las Vegas isn't just a place to gamble, it's a place to live. For better and worse, Las Vegas felt different in 2017. But from the Strip to the valley, it's never been more united. -- Rob Kachelriess
Sign up here for our daily Thrillist email and subscribe here for our YouTube channel to get your fix of the best in food/drink/fun.