10 American Cities With the Coolest Architecture
<a href="http://www.shutterstock.com/gallery-578401p1.html?cr=00&pl=edit-00">Sean Pavone</a> / <a href="http://www.shutterstock.com/editorial?cr=00&pl=edit-00">Shutterstock.com</a>
You don't have to be an architect or a history buff to appreciate the beauty of America's cities. You just have to be capable of looking up and saying, "Yep, that's a pretty damn cool building."
And since we already showed you the coolest, most beautiful building in every state (and on college campuses) and, well, walked you through the country's most stunning historic neighborhoods, this time we wanted you to nod approvingly at the architectural prowess of America's most design-friendly cities. From Antebellum mansions to adobe palaces to glass skyscrapers, this is the stuff Instagram dreams are made of.
Detroit, MI
Detroit is in the midst of a renaissance, and it's one that pays homage to the city's history (and has earned it the title of a
UNESCO City of Design
). Many of Detroit's long-vacant, century-old skyscrapers have been brought back to life in recent years thanks to a harried flurry of investment and redevelopment efforts both Downtown and in the surrounding neighborhoods.
Idyllic historic districts like Boston-Edison are full of English manor, Tudor Revival, and Italian Renaissance Revival mansions, while Lafayette Park is a residential community envisioned by Mies van der Rohe, a mid-century modern masterpiece of urban planning full of glass-walled townhomes and high-rises. The city's financial, cultural, industrial, and intellectual centers are loaded with late-19th- and early-20th-century buildings designed by a veritable who's who of prominent architects -- Daniel Burnham, Minoru Yamasaki, and Frank Lloyd Wright among them. In addition, Albert Kahn was the foremost industrial architect of his day, and his thumbprint is still visible all over the city: from the beautiful Belle Isle Conservatory to the hulking remnants of the Packard Plant, one of Detroit's most infamous ruins (second only to Corktown's Beaux-Arts Classical-style Michigan Central Station in the thoroughness of its "ruin porn" documentation).
Santa Fe, NM
There aren't many cities in the US, even in the American Southwest, where you can find true Southwestern-style adobe architecture. Sante Fe, however, is full of it -- starting with the Palace of the Governors, which was built in 1610 and remains the oldest continuously used public building in the country. The San Miguel Mission was also built in the 1600s and is believed to be the oldest church in the United States, while the Santuario de Guadalupe (built in 1777) is considered the country's oldest church... dedicated to Our Lady of Guadalupe! All joking aside, Santa Fe really is like a museum, a centuries-old town that's been meticulously preserved under strikingly blue mountain skies.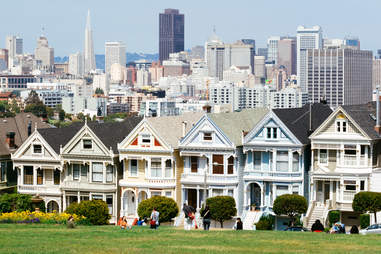 <a href="http://www.shutterstock.com/gallery-4003486p1.html?cr=00&amp;pl=edit-00">Tinnaporn Sathapornnanont</a> / <a href="http://www.shutterstock.com/editorial?cr=00&amp;pl=edit-00">Shutterstock.com</a>
San Francisco, CA
There's really no distinct architectural style unique to San Francisco; rather, it's how established styles were used in the topographically challenging city that makes it interesting. Among the significant sights are the Victorian row houses in the Haight-Ashbury, the seven pastel-colored Victorian "Painted Ladies" of Alamo Square (recognizable from the opening credits of Full House), the oldest and largest Chinatown in America (plus three younger and smaller ones), and the Beaux-Arts Palace of Fine Arts, a rotunda and pergola situated next to an artificial lagoon constructed for the 1915 World's Fair. But really, it's all about Alcatraz Island and the Golden Gate Bridge. You knew it had to be this way.
Washington, DC
Obviously, the nation's capital is home to the most significant architectural landmarks and monuments in the United States. Not sure we need to list them all, but let's just say... from Neoclassical marvels like the White House, the United States Capitol Building, the Herbert C. Hoover Building, the Treasury Building, and the National Gallery of Art, to breathtaking memorials like the Washington Monument, the World War II Memorial, the Pentagon Memorial, the Vietnam Veterans Memorial, the Thomas Jefferson Memorial, the Lincoln Memorial, and the Martin Luther King, Jr. Memorial, DC is at once a vibrant urban center (with the
nightmarish traffic to match
) and a sprawling quasi-mausoleum. It can take an extraordinary amount of patience to be a proper tourist in DC, but the National Mall really deserves a mandatory place on the bucket list of all Americans.
<a href="http://www.shutterstock.com/gallery-404404p1.html?cr=00&amp;pl=edit-00">Jorg Hackemann</a> / <a href="http://www.shutterstock.com/editorial?cr=00&amp;pl=edit-00">Shutterstock.com</a>
New Orleans, LA
While the Creole architecture (a hodgepodge of French and Spanish Colonial and Greek Revival) and distinctive wrought-iron balconies of the French Quarter have come to epitomize the city, New Orleans is the only spot on this list that can claim Egyptian and Moorish Revival as part of its architectural DNA (the US Custom House and the Immaculate Conception Church). Not only that, but in addition to the Creole cottages, shotgun houses, and the double-gallery houses that define the Garden District and Uptown, the Big Easy also boasts the largest collection of surviving Antebellum homes in the country, many of which are on display along St. Charles Ave. And let's not forget the "cities of the dead," the elaborate European-style historic cemeteries filled with stone tombs that are almost as famous as Mardi Gras.
Boston, MA
In a city that was central to some of the most significant events of the American Revolution -- from the Boston Tea Party to the Battle of Bunker Hill -- it makes sense that history would be prominently reflected in the city's architecture. From Back Bay's row houses and the cobblestone streets of Beacon Hill to the Beaux-Arts Boston Public Library and the Classical Georgian Old State House (one of the oldest public buildings in the United States, btw), Boston's buildings exemplify America's earliest colonial history.
But it's a modern city, too, with structures like Frank Gehry's Stata Center at MIT, the equally loved and hated Institute of Contemporary Art in the Seaport, and the cable-stayed steel Leonard P. Zakim Bunker Hill Memorial Bridge over the Charles River, which echoes the Bunker Hill Monument. Although, admittedly, Boston should probably lose points for its city hall. Awful.
Charleston, SC
Charleston is a city that
takes its historic preservation very seriously
-- the expansive collection of historic homes includes architectural styles of the Classic Georgian, Federal, Adamesque, Greek Revival, Italianate, and Victorian eras. Yeah, the works! Not only has Charleston been nicknamed the "Holy City" for all of its steepled churches, but it also maintains a ton of well-preserved Civil War sites and rocks Rainbow Row, an aptly named line of pastel-colored, 18th-century Georgian townhouses. Basically, if you're an American history or preservationist nerd, Charleston is your jam.
<a href="http://www.shutterstock.com/gallery-275071p1.html?cr=00&amp;pl=edit-00">Felix Lipov</a> / <a href="http://www.shutterstock.com/editorial?cr=00&amp;pl=edit-00">Shutterstock.com</a>
New York, NY
So, bottom line: this is New York. Pretty much every inch of this city is covered in concrete except for Central Park, with skyscrapers shooting out of the ground like blades of grass in... well, Central Park, again. There are endless -- endless -- gorgeous buildings and bridges and public spaces, too many to even try to recount here. A quick hit list, though, if you must: the Art Deco Empire State Building and Chrysler Building, the Gothic Revival St. Patrick's Cathedral and Trinity Church, the Art Moderne Hearst Tower, the Beaux-Arts Grand Central Terminal, the Neoclassical Metropolitan Museum of Art, the Woolworth Building, the Waldorf Astoria Hotel, the Museum of Modern Art, the
Frank Lloyd Wright-designed Guggenheim Museum
... there are hundreds of thousands of buildings in New York, each trying to upstage the one next to it, the skyline a steel-and-stone echocardiogram. And let's not forget one of New York's greatest architectural marvels: One World Trade Center, America's massive, gleaming middle finger.
<a href="http://www.shutterstock.com/gallery-1880297p1.html?cr=00&amp;pl=edit-00">LEE SNIDER PHOTO IMAGES</a> / <a href="http://www.shutterstock.com/editorial?cr=00&amp;pl=edit-00">Shutterstock.com</a>
Philadelphia, PA
Philly is another one of those colonial towns with architecture that spans the centuries: from 17th-century row houses (the first in America), to 18th-century Federal-style brick buildings, to 19th-century Greek Revival, to the steel-and-concrete skyscrapers of the early 20th century, and finally to the glass-and-granite towers of today -- you can see. It. All.
Here, glittering modern monuments like One Liberty Place, Two Liberty Place, and the Comcast Center collide with stately historic institutions like the Metropolitan Opera House, the University of Pennsylvania library, and the Reading Terminal Market -- one of the oldest (and largest) public markets in the country. And no trip to the City of Brotherly Love is complete without a visit to LOVE Park (officially JFK Plaza); located in Center City across from the magnificent Philadelphia City Hall, its focal point is a geyser-like fountain and reproduction of the iconic LOVE sculpture by Robert Indiana.
Chicago, IL
As a native Detroiter, it's hard not to resent the reality of living in the Windy City's shadow. There's only one problem with scorning Chicago's vast aesthetic accomplishments: the city is, quite simply, fucking gorgeous. Chicago was able to capitalize on its waterfront location better than just about anywhere, from Lakeshore Dr running along Lake Michigan with miles of urban beaches and bike paths on one side and the towering, glittering skyscrapers on the other, to the Chicago River that runs right through the city's center (and on which you can catch one of the city's popular architectural boat tours -- how appropriate).
Chicago is full of 19th/20th-century skyscrapers from the "Chicago School" of architects -- yes, their architectural talent was so impressive that it has an entire aesthetic movement named after it -- including the Chicago Building, Willis Tower, and the John Hancock Center. There is also the very recognizable Crain Communications Building (aka, the "Vagina Building"); the dramatic Neo-Gothic Tribune Tower; and Marina City, two circular towers that look like the cars parked on the lower levels are going to fall out the sides at any time.
And we haven't even talked about all the tucked-away parks, of which the city has tons. Or the 24.5-acre Millennium Park, which in the decade since it opened, has become Chicago's premier outdoor venue and boasts a bandshell designed by Frank Gehry. Let's just say that for discriminating aesthetes, Chicago is the most satisfying city in America.
Sign up here for our daily Thrillist email, and get your fix of the best in food/drink/fun.
Nicole Rupersburg lives in Las Vegas, where the identical tract housing is made from cardboard and spit and everything else is casinos. Even thousands of miles away from Detroit, she still has Chicago envy. Check out her IG @eatsdrinksandleaves, where she posts lots of pictures of mountains.