Drink 12 of the world's most classic cocktails in the bars that invented them
There's nothing better than kicking back on vacation with a classic local cocktail, and nothing worse than being interrupted by some blowhard waxing poetic about the drink's storied "history". Unless you're the blowhard, and you're sitting at the exact bar where the drink was invented. In which case, keep blowing.
To help you be that guy, here are 12 of the world's most celebrated cocktails, and their (sometimes alleged) places of birth.

Piña Colada
Barrachina, San Juan, Puerto Rico
While three Puerto Rican bartenders -- two of whom worked at the Caribe Hilton Hotel's Beachcomber Bar in San Juan -- claim the Piña Colada as their own, the Barrachina Restaurant has gone so far as to engrave a marble plaque crediting Ramón Portas Mingot with creating it in 1963; it also bills itself as the "Birthplace of the Original Piña Colada". Regardless, the island country celebrates National Piña Colada Day on July 10th.

Sidecar
The Ritz, Paris
This cocktail was allegedly created to cool down a Ritz regular who always arrived on a motorcycle with a sidecar. Though it appears in literature as early as 1907, the first official recipe wasn't published until 1922, in Harry MacElhone's Harry's ABC of Mixing Cocktails. For a brief time, a version of the cocktail made at the Ritz using a very rare 1865 Ritz Reserve cognac held the Guinness title for most expensive drink.

Singapore Sling
The Long Bar at Raffles Hotel, Singapore
While the first reference to a cocktail resembling the Singapore Sling dates back to 1897, it's widely accepted that the drink was invented in 1915 by Ngiam Tong Boon, a Hainanese bartender working at Raffles' Long Bar. In fact, the original scribbled recipe is on display in the Raffles Hotel Museum.

Mojito
La Bodeguita del Medio, Havana, Cuba
Originally named the Draque, after Sir Francis Drake, variations of today's mojito have been swilled by sailors since the 16th century. Eventually, it was fine-tuned with rum, and Havana's La Bodeguita del Medio claims provenance (though this is contested). True or not, Ernest Hemingway attests to their version's deliciousness with an original scribble on the wall that remains today and reads: "My mojito in La Bodeguita, my daiquiri in El Floridita".
Bellini
Harry's Bar, Venice, Italy
Giuseppe Cipriani, owner of Harry's Bar, invented this mix of white peach juice and Prosecco in 1931 and named it after 15thC Venetian painter, Giovanni Bellini.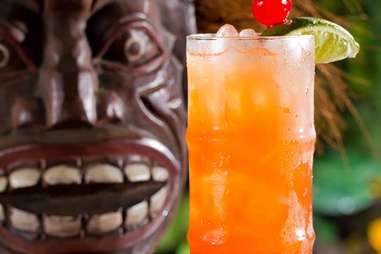 Zombie
Don the Beachcomber, Huntington Beach, CA
In 1934, New Orleans native Ernest Raymond Beaumont-Gantt moved to LA (not Lower Alabama) and opened the original Don the Beachcomber's in Hollywood. Credited with starting the Tiki craze, the joint became such a hit that he legally changed his name to Donn Beach.
Among a slew of other drinks (84 according to his 1989 New York Times obituary), Beach reportedly invented the Zombie to help a hungover patron get through a business meeting; the patron later complained, however, that the fruity, booze-heavy beverage instead turned him into a Zombie.

Hanky Panky
The American Bar at The Savoy, London, UK
Ada Coleman, then head bartender at The Savoy, is credited with mixing this classic cocktail in 1925 for a hotel regular looking for a beverage "with a bit of a punch". Upon tasting it, she later told a local newspaper, he exclaimed "that is the real hanky-panky!"
Hurricane
Mr O'Briens Club Tipperary, New Orleans
While the Hurricane was said to have been invented in Mr. O'Brien's Club Tipperary, a Prohibition speakeasy, the rum version we all know and love didn't come into existence until the 1940s -- thanks, allegedly, to shortages of scotch, bourbon, and whiskey during WWII. Apparently, shrewd liquor peddlers forced bar owners to buy a case of rum for every bottle of whiskey, which led to a lot of new rum drinks including Bourbon Street's most famous cocktail, the Hurricane.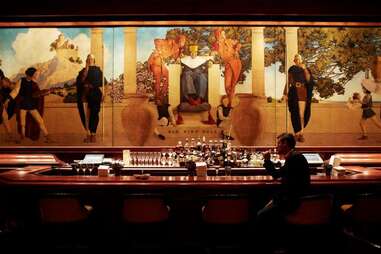 Bloody Mary
King Cole Bar, St. Regis Hotel, New York City
While everybody wants to lay claim to this favorite hair-of-the-dog brunch beverage, most agree that the St. Regis in NYC is its true American birthplace. Originally known as a "Bucket of Blood" or "Red Snapper", the Bloody Mary (named after Mary Tudor, Mary I of England) was reportedly conceived by bartender Fernand Petriot while working at Harry's New York Bar in Paris in the early 1920s, but it didn't gain in popularity until 1934 when he introduced it at the St. Regis. The hotel still claims to sell 850 Bloody Marys a month.
Daquiri
El Floridita, Havana, Cuba
Ernest Hemingway's Havana hangout of choice, El Floridita opened in 1817 as "La Piña de Plata" and boldly bills itself as "the cradle of the frozen daiquiri". While one story has the fruity rum drink invented there by Catalan immigrant and bartender, Constantino Ribalaigua Vert, according to another popular tale it was first mixed in Santiago, Cuba, by Jennings Cox and group of American mining engineers.

Mai Tai
Trader Vic's, Emeryville, CA
Despite being linked to Hawaii and the South Pacific, this drink was invented far from it -- in Emeryville, CA, to be exact. Victor Bergeron, who founded the original Trader Vic's, created the cocktail in 1944 for friends visiting from Tahiti, who allegedly exclaimed "Maita'i roa ae!" -- meaning "very good!" -- upon their first sip. The name stuck. Interestingly, Donn Beach (see above) also lays claim to creating the Mai Tai.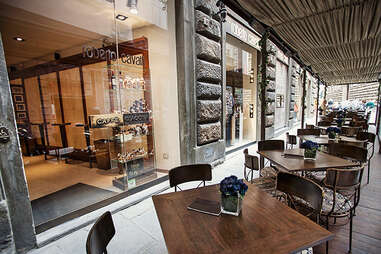 Negroni
Cavalli Caffè, Florence, Italy
While the origins of this cocktail, like many, are subject to heated debate, the Negroni is most commonly attributed to a rich Florentine (and apparently one-time rodeo cowboy), Count Camillo Negroni. He simply asked his favorite bartender, Fosco Scarselli, to add gin to the Campari and sweet vermouth in his Americano. Some cocktail historians claim Scarselli was working at the Hotel Baglioni at the time, but most say it was Caffè Casoni, now the Cavalli Caffè.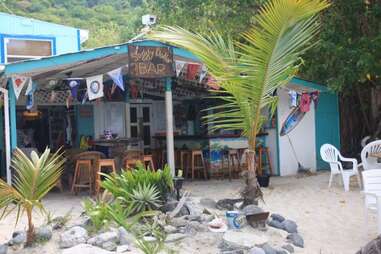 Painkiller
Soggy Dollar Bar, Jost Van Dyke Island, British Virgin Islands
The famous Painkiller cocktail is actually trademarked by Pusser's Rum and its origins -- which are backed up by Edward Hamilton's The Complete Guide to Rum -- point to the Soggy Dollar Bar in the '70s. Legend has it that Pusser's founder Charles Tobias loved the Soggy Dollar Painkiller so much that he insistently begged owner Daphne Henderson for the recipe; she repeatedly refused to divulge. After many years, many Painkillers, and probably many hangovers, he recreated the drink we know today and credits Henderson as the inspiration behind it.
Sophie-Claire Hoeller is Thrillist's über-efficient German associate travel editor, who's had frequent flyer status since her mother gave birth to her in a Lufthansa terminal. Follow her @Sohostyle