Kloofing: Eight amazing spots to cliff jump
Some people jump off cliffs because they say it feels more electrifying than sex, drugs, or the flood of emotions ignited when a waitress places the nation's best BBQ in front of you. Some jump to avoid the cops. But whether you're running towards benign exhilaration or away from jail time, these are the world's best spots for adrenaline junkies to earn serious kloofing cred.
kloof-ing:(noun) From the Afrikaans word 'kloof', meaning 'gorge' or 'ravine'. It has been adopted by English-speakers to describe hiking to the top of a mountain and either rappelling or throwing oneself into a body of water below.
8. Crater Lake, Crater Lake National Park, Oregon
Crater Lake's the deepest in the U.S., so unless your cannonball's so sick you can sink 2000ft, don't worry about hitting rock bottom. Even though temps are cold and the National Park Service frowns upon freefalling fun here, we're pretty sure they're not going to come after you.
See it in real time >> (GoPro lift-off at 0:13, but the anticipation-building backtrack proves a letdown when you realize the height-to-depth ratio).
7. Geoje Island, South Korea
Though South Koreans are generally conservative, their kloofing opportunities are over the top. Travel a couple hours southwest of Busan to arrive at Geoje Island, which has loads of gnarly granite faces you can fling yourself from.
See it in real time >> (GoPro lift-off at 0:33, but to get a taste of this group of guys' collective and assured sense of awesomeness, start with the slow-mo at 0:27).
6. Crystal Pools, Gordons Bay, South Africa
The water is dark and intimidating, so be prepared for the unknown. Upon arrival, there's a little waterfall to relax under while you watch others make the jump.
See it in real time >> (GoPro lift-off at 0:32. You might pee your pants a little, and we think the kloofer did the same -- azure amber waters, and all).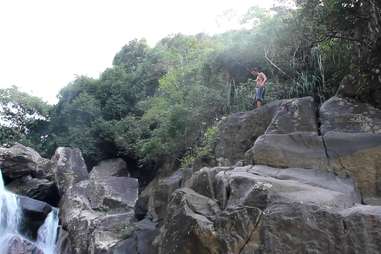 5. Ba Ho Falls, Nha Trang, Vietnam
These isolated falls are about an hour-long motorbike ride from the beach town Nha Trang, and trust us -- they do not disappoint. The hike there is dangerous and slippery, but the water is crystal turquoise, warm, and begging to be jumped into.
See it in real time >> (GoPro lift-off at 0:11, after an unnecessary crossing-of-oneself at 0:07. Note to kloofers -- no need for additional dramatics).
4. Tar Creek Falls, Los Padres National Forest, California
With three deep pools to choose from, this is the best cliff jumping spot in Southern California. You'll also find two waterfalls and a natural waterslide. Get Totally Krossed Out over and over here.
See it in real time >> (GoPro lift-off at 0:42, with multiple jumps, including reverse shots).
3. Portstewart, Ireland
Though most vacationers flock here for golf -- not exactly your most exhilarating extreme sport -- Portstewart has more to offer than manicured pastures and upscale lunches. While the water in Northern Ireland isn't warm, the view as you hurtle through the frozen air will hopefully make it all worth it.
See it in real time >> (GoPro lift-off at 0:23 and 0:34; it's worth noting these dudes are in full-body wetsuits -- this isn't your pop's Caribbean kloof).
2. Gozo, Valetta, and Bugibba, Malta
There's almost no better place in Europe to fling yourself off solid ground than Malta -- sprinkled with castles, lagoons, bridges, and heart attack-inducing heights from which one can leap, Malta is a cliff diving mecca. Take a bus to Valetta and jump off the bridge, stop by Bugibba for a dive right off a freakin' castle, hop on a boat cruise to Comino to enjoy the amazing blue lagoon (and do some practice jumps off the vessel on the way), and culminate with the ferry to Gozo; once there, you'll kloof one of the highest cliffs you'll ever see.
See it in real time >> (GoPro lift-off at 0:23, but for a funny German (?) rally theme, go to 0:13-0:15).
1. Massif des Calanques, Cassis, France
The sleepy fishing village of Cassis is misleading -- just a few steps outside its perimeters lies an entire world of wilderness adventures to be had. The Mediterranean waters here are blue and chilly, but thousands of thrill seekers flock to the cliffs between Marseille and Cassis to prove their cojones.
See it in real time >> (GoPro lift-off at 0:12; a dizzying spin to start, and bikini'd friend at 0:07).